by Chris Richards.
The last weekend in September is becoming known as the weekend of Macmillan Coffee Mornings and Adjustamatic Beds on Winchester Road went the extra mile On Friday, 27th September. Local representatives of Communicare Southampton, Carers in Southampton, Friends of St James Park, Action on Hearing Loss and Marek from Physio Soton came together on one shop floor to spread awareness and encourage support.  
Brave the Shave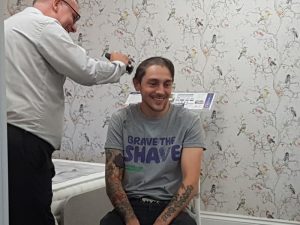 Along with the offers of warm drinks and an equally warm welcome, Michael Richards 'Braved the Shave' accepting sponsorship to publicly shave his head. Michael received support from Macmillan during his own treatment for testicular cancer six years ago and has organised a coffee morning and observed Movember every year since at his place of work. With his newly shaved head Michael spoke about the amazing support and treatment he received from Macmillan and Southampton General Hospital. The daily communication he had with Gus, his Macmillan contact, was "spot on and really supportive" both for him and his young family. Janine, Michael's mum, said she came along to supervise the shave and support her son, "It took 18 months to get his diagnosis and I think he's really brave. He's always worn his hair long," she said. Friend Joe, said: "as a man, it's so important to raise awareness especially for men between 18 and 45." 
Supporting the Event
A number of local businesses were present to support the event. Marek  Czeladzkiof Physio Soton is a local physiotherapist specialising in back pain and often refers his clients to Adjustamatic when their home care requires adjustments. He personally supports Macmillan after his own twice-fought and twice-won battle with lymphoma. Andrew Mountford, Martin Cox and Sara Mazzoni were present, representing Action on Hearing Loss.  Also at the event were representatives from community-based care charity Communicare, Carers in Southampton, and Friends of St James Park, which aims to bring the local community into the Shirley park.