by Katie Isham.
Pulling on my walking boots I felt like I was embarking on a legitimate walking mission. Not many Suburban Safaris have necessitated this level of commitment. Yet for this adventure, I dug the old clunkers out the bag for life and laced them up with bits of dried mud to remind me where I'd previously been. It's exciting to need walking boots for a walk.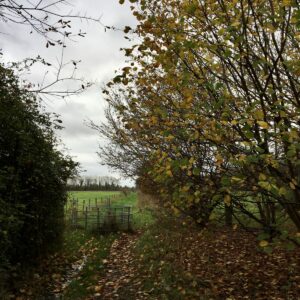 They were now to embark on the fabled Test Way, a 44-mile route following the River Test from Berkshire, through Hampshire to spill out into Southampton Water. Only a bit of it though. This walk was just a test. To see what the route was like and to get some fresh country air into my walking lungs. 
Park in the Romsey Rapids car park. It's a gem anyway as parking is free under four hours and only £2.10 for any longer, but it's currently my favourite type of parking facility: free. Test Valley Council has suspended parking charges for this, and indeed, all Romsey car parks during the second lockdown. Silver linings. 
Exit the car park through the tradesman's entrance and sneak past the football ground onto the main road. There the walk becomes slightly raucous as cars thunder past along the bypass, but hunker down and trudge on alongside the Broadlands wall. The highlight of this stretch is crossing a stone bridge over the River Test with a plaque that marks a "SITE OF SKIRMISH" from 1643 during the civil war. The mind boggles at what occurred right there to be considered a skirmish.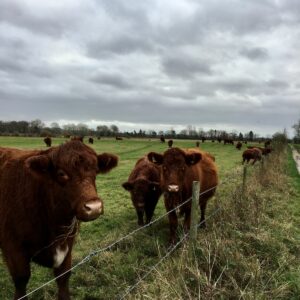 Keep your eyes peeled to the left and you'll spot the public footpath marker for the Test Way. Leave civilisation behind and head onto the Broadlands estate. Once through the gate, a long straight path beckons. Walk. 
Walk the path further into the welcoming countryside. 
Don't get me wrong, I love a metropolitan meander. I love people watching as I navigate around other moving vessels of humanity. But sometimes, you just need some peace. To walk amongst the fields and birds without the worry of keeping two metres distance. In a two-and-a-half-hour walk, I only said hello to one pair of advanced walkers with Nordic poles. Unless you count the herd of cows I chatted with across the fence. On reflection, I wonder if this walk into the countryside void was a subconscious reaction to the bustling experience of my previous Suburban Safari. Sometimes we need to walk alone into the wilderness. Or in this case, rural Hampshire. 
The beauty of walking the Test Way is that it takes the stress out of walking; there's no navigation or decisions to be dithered over. You walk the path that's laid down. You walk alongside the bountiful streams and loyal hedgerows. You walk alongside the mighty Test (or its tributaries) for company down towards its destiny in the city of Southampton.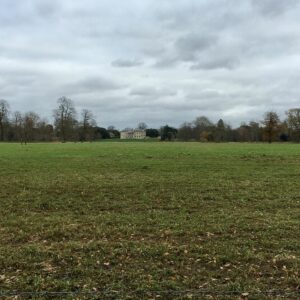 But I was only testing the Test Way. I wasn't walking its entirety. I didn't fancy the added obstacle of falling darkness in my mission. On reaching a certain point, it was time to turn around and retrace the muddy footprints. That may sound tedious, but I can assure you it's not. Every moment provides something different to see and each way allows an alternate perspective. 
Gaze across the fields at the grand Palladian façade of Broadlands House. (I couldn't work out if it's smaller than I expected, or if I was further away than I realised.) Peer into the clouds above as a bird of prey surveys its empire. (I couldn't tell what it was but it was magnificent.) 
My taster session was so peaceful and gave both my body and my mind an escape from hectic existence that I may need to lace up my boots for more meditative walking. There's a lot of the Test Way to walk so I shan't run out of path, sights or in the case of my friends the cows, smells, anytime soon.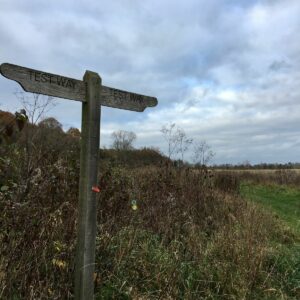 Cost: Free to access The Test Way. Currently suspended parking charges in The Rapids car park as well as other car parks in Romsey.  
Accessibility: Access Romsey Rapids car park from the A27. Pavement along the start of the route. Once you get onto the footpath, it's wellies or walking boots only to get through the boggy (bepuddled) ground. 
Facilities: No facilities along the footpath. Many options around the town centre for pre or post refreshments.