by Tony King.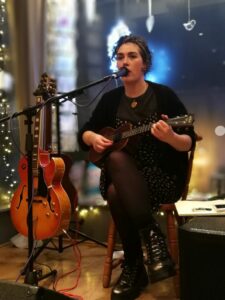 Micro Music was born out of an enjoyment of watching live music in small venues. There is something about the intimacy of seeing musicians in small confines where you get to really appreciate them that is quite magical. And what better way to appreciate it than to organise a night of music yourself?
The idea was to put small gigs in places that don't usually have live music. It's not a new idea for sure but I guess my USP was it's very small scale and my total lack of experience. The very first Micro Music night was in April 2019 in the very lovely Retro Café in Bedford place, a perfect venue for the idea. Cat Eliza T and Dan O'Farrell provided the music, and both were superb.
They had the enthusiastically assembled crowd enthralled from start to finish. Before COVD came along there were twelve shows in all kinds of places. Putting live music into the Bargate Coffee Lab was a huge success. An amazing venue with wonderful staff made those nights special. Seeing the usually hard rock Toreador do a delicate acoustic show there was a real musical highlight.
Just before the first lockdown the Micro Music podcast was launched with Anita Foxall as co-host. We chat about local music, new releases and we have even done a series of interviews with local musicians.  COVID hasn't stopped the podcast but we have moved to Zoom and learnt a whole new range of editing skills.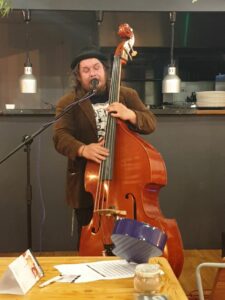 Micro Music has also taken to the online airwaves with a live radio show on The Bear Radio and Podcast network where we cover new and independent music from across the whole of the UK.  The live shows will be back but until then take a listen and support our musicians and artists – you might just find your new favourite band.
Podcast: Spotify, Apple etc or https://micromusicsoton.podbean.com/
Facebook: https://www.facebook.com/micromusic01
Website: www.micromusic.co.uk
Twitter: https://twitter.com/music_micro