by Katie Isham.
In a year as dark as 2020 has been, it's no wonder people are keen to bring light into their lives. The streets of Southampton are ablaze with twinkles; this is the year everyone has raided The Range for more rope lights and flashing neon than you'd find in Vegas. Southampton has turned on the glitz.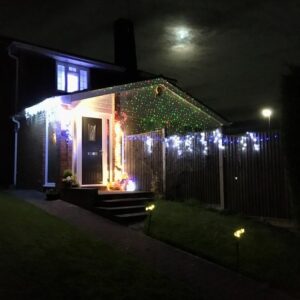 Everywhere you go, people have strung up fairy lights and made the effort to decorate their homes. I get it. We're basically on house arrest, so we might as well have a Christmas disco in the garden. Anything to brighten up our perspective. And here's the thing, it doesn't just lighten the lives of the residents. We wanderers have a whole festive fiesta at our feet now to brighten our spirits. 
Walk past a flashing Santa (not like that) and you have to smile. The lights make the winter darkness less imposing and take us all back to childhood as our wide eyes reflect the colours of magical dancing displays. I only need step out my front door to embark on a sparkling adventure; my road alone is keeping the National Grid in Christmas overtime. The Christmas gift that keeps on giving. 
This week I ventured further afield to visit some local hotspots for a light spectacle. Broadwater Road in Townhill Park has long been a Christmas favourite in my family. It's not quite the spectacular show it once was, but there's still enough shine to jazz up your evening stroll.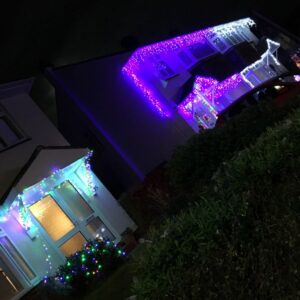 There are classic icicles hanging from the eaves, blinding neon signs, shimmering sheets of stars in windows and trails of light to welcome you to a winter wonderland. I used to shun the gaudy, flashing colours of my grandparents 80s tree, instead pandering to the gold or red only colour scheme to stay "classy". Now I realise my mistake. More is more. More colours are more fun. Fun is what we need right now. And most people seem to agree. 
On my wanders I've seen inflatable snowmen, herds of reindeer, illuminated palm trees, a washing line of Father Christmas's unmentionables, classic stars, many stars, stacks of neon presents, candy cane archways, tissue paper mosaics, revolving disco balls and even a T-Rex with a Santa hat. It really is the most wonderful time of the year. 
And that's not even the best bit. The real point of a "light walk" is to think about what's happening behind the lights. The warm glow invites you to peek into people's lives. This is the one time of year you can peer into someone's living room without being creepy. Just say, "Ooh I love what you've done with the tinsel," and you're allowed free rein.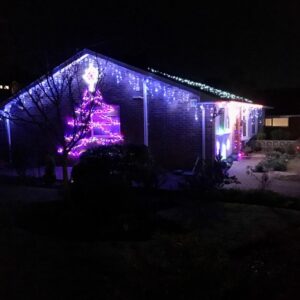 On my walk I passed my grandparents' old house. They are long gone, but at this time of year, and on walks past family homes, my mind wanders to arguments over a broken fairy lightbulb and mysteries over who ate the last chocolate tree decoration. I didn't intend to pass their house, but my feet led the way. As I stared at the wreath on the door and the moving figures caught my eye in the twinkling window, I wondered who was making new memories where we once had. 
Wherever you live, you can throw on a coat (or two considering the current Baltic chill that's settled over the Solent) and wander the streets to find your own sparkle. 
Whether it's a long stomp across the city or a quick evening constitutional, it'll be sure to warm your heart. But when it's this cold on your walks, it's hard to tell if it's the biting winter wind that draws the tears or the memories reflected in the kaleidoscope windows. Either way, it's a good time to pull on a woolly hat and wander your local streets, for the festive enjoyment of your inner child at least.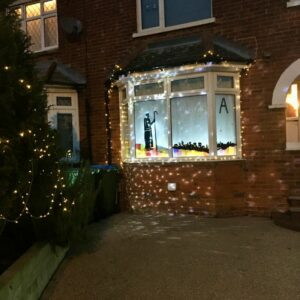 Cost: Free to walk the streets. Some light displays on residential homes have charity donation points that would increase your ranking on the nice list.   
Accessibility: Choose your own path. Most residential streets have good pavements.  
Facilities: No facilities along residential routes. It's best to take your own beverages and snacks if embarking on a particularly arduous safari.