by Anna-Maria Bauer.
Carol Boulton helps horses to come to trust with humans and people to lose their fear of the animals – and sometimes life in general.
It is the calmness you notice first. The grounded, strong way Carol Boulton walks, the relaxed manner with which she interacts with the horses that makes them tranquil in return.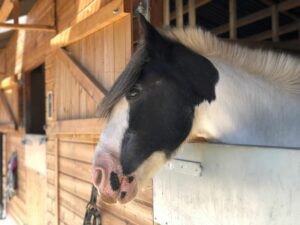 "Imagine a horse's brain the size of a walnut", Carol says now standing on a sunny spring day in the middle of the outdoor riding arena. "They are easily convinced to do what you want them to. But you need to be connected with them. Feel your seat bones being plucked into saddle, into the horse's spine like power sockets. Feel the connection."
The novice rider listens intently, too tense, until finally she exhales and the brown mare drops her head shortly after, snorting. Carol nods. Because, there, as the rider had not been aware of it, she had done it: built the connection and established the flow of energy that makes horse and rider into one.  
It is a unique experience you get in Southampton's West End – a process-oriented, kind, holistic approach to horse-riding that looks into the biomechanics of the rider and uses aspects of French Classical Dressage.
A combination that was developed by one of Hampshire's most qualified horse-riding teachers and the only woman who has ever crossed the Itchen River Bridge on horseback in side-saddle: 72-year-old Carol Boulton.
Together with her daughter Verity, a likewise experienced and qualified rider and coach, she leads Russells Equestrian Centre, a riding stable that recently found its new home on Allington Lane opposite the entrance to the Itchen Valley Country Park.
Entering through the farm gate one immediately feels the cosy and relaxed atmosphere of the place. A wild mixture of flowers is growing out of differently sized pots, the air smells of hay, herbs and that sweet-sharp smell of horses; from the stables comes the idle clopping of hooves and a few horses' heads curiously turn towards you.
Fifteen horses are currently accommodated in the stables, two of them privately owned. Carol's and Verity's focus is the riding school, teaching total beginners up to very advanced riders. A newspaper clipping in the tack room shows a former student who is now a professional rider. On the other side of the wall, above the desk hang various certificates, records of Carol's and Verity's achievements, her trainings with pundits like Mary Wanless, the founder of 'Ride With Your Mind'.
When you see the active ears, the shiny hair of the horses grazing in the paddock or making their rounds in the riding area, it is hard to imagine that a lot of them had a troubled past,  but most of them are rescues owned by the Epona Trust, animals given a second chance. 
Bandit, for example, the black cob that a rider now leads into the arena "was terribly head-shy, when he came to us," Carol says. He had been mistreated by his former owner and when the horse had  developed a badly infected ear it had not been not looked after. "Now, you can fiddle around with his ear and he is just fine." As the rider sorts out something on the headpiece, he really does not flinch.
There is also Nathan, a Gelderlander, that "you can now ride anywhere", but who was once labelled dangerous. "He would bolt, canter off, lose his nerve," says Carol "But he had just been frightened too much. He had lost his confidence with people."
How did she do it then, how did she change them?
"Oh, you just need to be calm with them. Calm but very clear in what you want." There is kindness in her eyes as she says it.
It was at the age of eight that Carol, then living in Birmingham, sat on a horse for the first time. Her parents had never been close to horses, her father had even been afraid of them, but Carol felt from a very young age that these were the beings she wanted to surround herself with.
She saved the money she made on newspaper rounds or worked in the stables to pay for the lessons and spent most of her teenage years there. By the time she was 18, she owned four horses.
It was then that she moved to Southampton to study English and Philosophy but didn't want to leave her horses behind. Luckily, she didn't have to. "I moved into an old Victorian house, together with 14 other students. There was an unused bit of land behind it – and we could turn that into a paddock. It must have been quite an unusual view, horses in the city centre," she smiles as she remembers. 
And it presented her with a unique opportunity. "I think I am the only person who ever held a horse-riding permit for the Common," she says, "because when your horses live within a two miles radius, you can apply for it at the council. So that's what I did."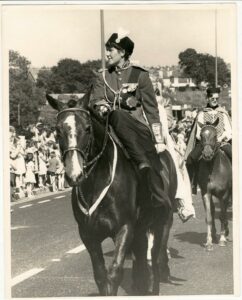 During her studies, she became president of the horse-riding society and discovered the forests in and around Southampton on horseback. One of her most memorable experiences: When the Itchen River Bridge was officially opened in 1976 and she, together with other members of the club, dressed up as former kings and queens of England and crossed the bridge on horseback. Carol was Elizabeth II, and to be as historically accurate as possible, she used a side-saddle. An achievement, only possible because of the strong connections she builds with the horses. The trust she creates. The hard work she puts in.
Doing, acting, getting things done – it was from that mindset, she got offered the job of riding centre manager when she was still in her last year of university. An offer too good to refuse, so she took a year off university to give it a try – and never left. It was the beginning of the journey of her life.
A journey that still continues. 
 For more information about Russells Equestrian Centre, visit  russellsec.com