by Katie Isham.
September is a busy time. Everyone has so many things to do yet the days are dwindling to do them in. So join me this week for a power walk though some pines. But just because it's a shorter walk, doesn't mean it's any less exciting or important. Sometimes, we need that brief escape off grid. Take time to go wander somewhere you can't see the sky for the trees. You'll be surprised how much you needed it and didn't realise.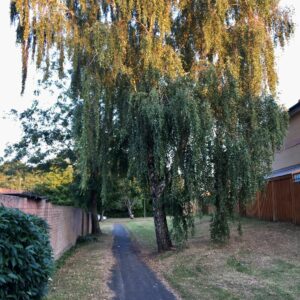 Pine Walk seems like a good a place as any to do this. Unless you live in the houses that back onto this tree-lined thoroughfare, you may not even know of its existence. Slicing through the residential streets of Chartwell Green is a pedestrian walkway flanked by great towering pines. (Dare you imagine how many hours of council meetings it took to decide on this moniker?) 
The beginning of the path is through some rails off the main road of Townhill Way just behind the community centre, yet there are so many tributary routes winding through the houses, you could join from any number of places. 
Join the path and walk. Past the playground. Past the dog-leg bend where you think the path runs out. It does indeed run out of pavement, but that's when the magic begins. The branches entice you in to lead you through their avenue like the fur coats welcoming you through the wardrobe to Narnia. 
Underfoot, the ground is a carpet of leaves, needles and other forest debris. Pinecones, both fruit-rounded and hurriedly nibbled versions are strewn along your route. Watch your footing for these along with the rogue roots rising up from the giants that surround you. This is a safari after all so keep your eyes peeled for scurrying squirrels and your ears peeled for winged warblers to accompany your trek. I was also ambushed by a local cat, so keep your wits about you. 
But do remember to look up.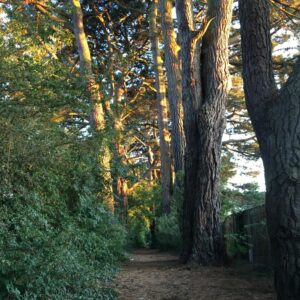 This is a walk to spend as much time gazing vertically as you do horizontally. These pine trees are immense. Individually, they are grand totems of past times standing guard over the back gardens of Townhill Park. However, their greatest splendour comes as they join together. The line merges as the branches entangle and crisscross the autumnal skies. These arborescent beings are reaching out for each other in community: conferring and sharing secrets of the woodland. Eavesdrop on their chat as you walk and bask in their wonder. And don't forget to give them a hug. 
It seems incongruous that such a dense, hidden woodland walk is nestled within a housing estate. Giant trunks with a girth greater than the wingspan of two humans (we tried) stand beside garden gates staring in at vegetable plots and garden gnomes (we glanced rather than stared). But this is another jewel of this safari: the view of human domesticity side by side with unstoppable nature and its thundering growth. 
Walk the length of the line of trees. It won't take you very long, but you will get distracted by the views along the way. Once conquered, you could complete the return leg as well. Or take a mild adventure of your own and divert along any of the minor footpaths that are abundant in this area. Pedestrians rule here and when the paths are this magical and this bountiful, it seems rude not to.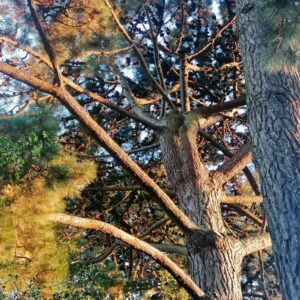 Cost: Free walk, free parking, free fresh air. 
Accessibility: Pine Walk starts with paved footpaths but then narrows into woodland walks complete with pine needle carpet and many roots that may prove problematic to wheels. Chartwell Green can be reached just off the A27 or at the northern end of Townhill Way. 
Facilities: A row of shops alongside Townhill Farm Community Centre including The Two Brothers pub. A children's playground behind the community centre.