by Nick Mabey.
I was very sad to hear Sam McQueen had been forced to retire from professional football at the much-too-young age of 26 after a three-year series of problems stemming from a serious knee injury sustained while he was out on loan at Middlesbrough. Sam has told his story on film and I found it to be a deeply moving 10-minutes. His dignity, eloquence and authenticity shone brightly through the interview and he did himself, his club and his city great credit.  You can find his video on the club's website or watch it below, from YouTube. 
Sam was born in the city and had been at Saints academy since the age of eight. It's hard to imagine the heartbreak of having to end a lifelong vocation at such a young age; I hope Sam finds something to fill the void now that he no longer spends six days a week trying to get back to peak fitness. As a player Sam was brave, creative, stoic, honest and enthusiastic – qualities that should serve him well going forward. He's had enough adversity already, which will hopefully strengthen him as he considers life after playing.
I was proud of the way Saints handled the situation too. His contract ran out last summer, but the club gave him a further six months, knowing full well that he was unlikely to play.  They also allocated him a place in the first-team squad, a kind, symbolic act surely designed to help Sam's psychological rehabilitation. I'm not sure many clubs would have acted with such care…or perhaps I'm just biased.  It could be because Sam was born in Southampton and has been at the club so long.
All of which got me thinking about other players I've supported who were born in the city.  There's a story in my head that back in the 70s and 80s, when I started supporting Southampton, the players had much more affinity with the city and were far more likely to be born locally.  But it turns out not to be true.  I was thinking about the successful Saints sides of the early/mid 80s and struggled to find players from Southampton.  My heroes were either aging internationals (Shilton, Ball, Nicholl, Watson, Mills, Armstrong) or youngsters pulled in from London and beyond (Moran, Williams, Wallace brothers, Shearer, Le Tissier).  Only Francis Benali, who I never really rated as a player, but loved his passion and commitment, seems to have been born in Southampton.  I am sure there must have been others from that era but none spring to mind.
 I decided to research the FA Cup-winning side of 76.  Only Nick Holmes was born in the city.  Stokes was next closest, although a Portsmouth birthplace was forgiven and forgotten when he scored the winning goal.  Channon and Osgood came from adjoining counties (Wilts and Berks), Peach and Gilchrist from roughly within 100 miles (Bedford and Dartford).  Everyone else was from far and wide – Turner (Middlesbrough), Rodrigues (Cardiff), Blyth (Norwich), Steele (Edinburgh) and McCalliog (Glasgow). Our sub (Fisher) was also from Glasgow and our most famous manager ever (Lawrie McMenemy) was born in Gateshead. Shows what I know about the idea of local players being the backbone of my club.
So Sam McQueen joins a rather select group of players who were born in Southampton and, in my lifetime, played most/all of their football for the Saints. Nick Holmes, Francis Benali and (at a push because he only played his first seven years for us) Wayne Bridge are the only other players I can think of who fall into this category. 
The eagle-eyed/Saints-obsessed among you will notice that this elite group of four were all left-footed players who were known as either left backs or left midfielders – statistically a very unlikely scenario. As a left-footed, left back myself, albeit Sunday league standard, perhaps I can only remember players of a similar ilk. I'd be grateful if you could suggest some other players born in the city who played the majority of their career for our club.
Good luck Sam with whatever comes next for you.
Note.  I wrote this before the announcement of Southampton FC's new owners.  First impressions are that this is very exciting news but I'll provide a more measured view in my next article.
Could you help to support In Common, for as little as £1 a month? Please help make us sustainable with a monthly donation. Visit: patreon.com/incommonsoton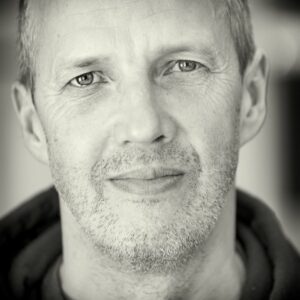 Nick Mabey  is In Common's new columnist, a dedicated Saints fan, sharing his thoughts on the team every fortnight.
"I often describe myself as a father, partner or brother and sometimes a coach, teacher or mentor. I rarely say I am a writer even though I do write a lot, personally and professionally. Most of my writing is self-published and so In Common is a new experience for me. 
I was born in Southampton but left early, only returning here to live six years ago.  This is the city I've always called home and I'm very happy to be back. When I'm not working I run Read Easy Southampton, a group that helps adults with literacy problems learn to read. I also volunteer at the place I was born, Southampton General Hospital.
One of my hobbies, though more like an addiction, is Southampton Football Club. I've had a season ticket at the Dell and then St. Mary's for over forty years, and kept it going even when I lived far away. The Saints bring me joy, sadness and stress in equal measure and so I thought I'd share some of that with you, the readers of In Common."