by Sally Churchward.
God's House Tower, a new multi-million arts venue in Southampton's Old Town, will open in September. It will house a permanent exhibition about the building's heritage, changing exhibitions, talks, workshops, events, a cafe and a shop, and is set to become a major tourist attraction on the south coast, and to significantly elevate Southampton's art scene. In Common caught up with the man behind it.
Twenty years ago, Daniel Crow was a fine art graduate, looking for somewhere to display his work, along with his friend, Ben Scott. Today, the arts organisation he and Ben went on to found a year later, 'a space', has transformed the art scene and opportunities for artists in Southampton. And that transformation is about to be taken to the next level, with the multi-million pound refurbishment of God's House Tower almost complete and the new arts venue set to open its doors very soon, offering a significant new attraction to the city and a place for local artists to showcase their work to a wide audience.
Northam Road
Daniel and Ben acquired a space to show their own work in Northam Road and began working with other artists to show their work in the gallery.
"Originally, it was a case of wanting a space to show our work, but the turning point came for me quite quickly and I realised how much I enjoyed working with artists to put their shows on," says Daniel, who continued to run a space after Ben left the project. I went from being a painter to running a gallery fairly quickly. As soon as we opened the doors at Northam Road, we started getting proposals from artists and it made us realise how much of an appetite there was for an independent space in the city. I remember when I finished university, opening the Yellow Pages to look for gallery spaces in the city and feeling really frustrated (at the lack of them). I managed to steer that into motivation. The process of running the gallery space satisfied my creativity, and my desire to be an artist faded into the background. I've never regretted making the switch. Running 'a space' is challenging, but there is an underlying need to be creative."
Art and history
One of the things that makes 'a space' so special is, alongside providing studio spaces for artists, the combination of art shows and historical locations. It would be hard to imagine a space using a purpose built gallery now, but Daniel explains that the pairing of art and history was serendipitous for the organisation.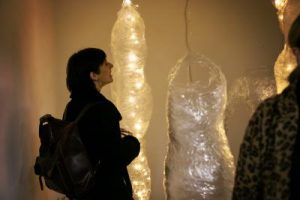 "Our openings at Northam Road were good parties, and I was at one of them, and got talking to a chap called Kevin White, who was historic team leader for Southampton City Council. I said that we liked the idea of a sculpture trail through the parks and he said it was a good idea, and had we seen the city vaults. I'm not from Southampton and I hadn't heard of them."
The conversation lead to the popular Art Vaults trails, taking people into rarely accessible historical spaces beneath the city to view contemporary art."We realised the dual pull of arts and heritage. We realised we'd stumbled across a powerful, dynamic mix, and after that, our projects were focused on combining art and heritage."
'A space' also had a gallery for several years in the Bargate, before being told they needed to leave it by the then Conservative administration. "I left brokenhearted," says Dan, "It was like splitting up with your favourite girlfriend."
A blank canvas
While 'a space' has done much to promote heritage in the city, Daniel feels that there's much more that could be done to highlight Southampton's fascinating past as well as its wealth of historical buildings. However, he adds that the general lack of awareness of the extent of Southampton's heritage, along with a relatively small art scene, helped 'a space' to establish itself.
"I felt Southampton was a bit of a blank canvas," he explains."If we'd opened a gallery when we did in Brighton or Bristol, we would have been drowned out. Even now, Southampton is full of opportunities – there isn't a big independent scene. If you do things in Southampton, you can still stand out."
Studio space
While, for obvious reasons the public may be more aware of projects such as the Art Vaults and God's House Tower, an important part of 'a space's' work is providing studio space for artists and other creative people.
"We wrote to Adrian Vinson, who was leader of the council at the time, and said the city really needed some studio space. He took us seriously and the council told us about the arches, and gave us arch ten and £8,000 to do it up and we were given a year to prove that it could work. We had seven artists in there from day one, and we were able to prove that we could run it and that artists were benefiting from it."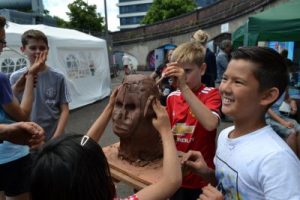 The arches, under Central Bridge in the city centre, which were once used only for storage, now provide 21 workspaces for artists, with a space taking on more arches, and the annual Arches Open Studios event is a popular date on the city's events calendar.
A space also now offers further studio space at its headquarters in Tower House, a 600 year old grade II listed building in Southampton's Old Town. It previously also ran The Sorting Office in Eastleigh, before handing over the reins to Eastleigh Council.
What impact?
So, almost two decades on from a space's inception, what does Daniel feel about the organisation's impact on the art scene in Southampton?
"I think we've made a difference but I wouldn't say our work is over – I'm not satisfied. I think Southampton has also been changing in the last 20 years, for instance with the move of the John Hansard Gallery into the city centre (from Highfield). The cultural scene is moving forward, and yes, we have been part of that momentum. I don't often stop and look back at what we've done, and I should do more. We have made a difference to those artists who use the studio space."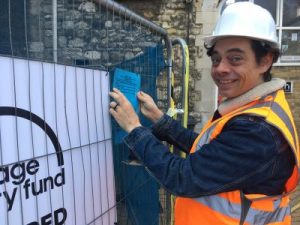 Having followed a space's progress over the years, it seems to me that Daniel and his enthusiasm have been key to transforming the city's art scene – but what would happen if he left the city and returned to his Essex roots?
"In 2009, a space became a charity, so it would be able to keep the momentum going if I left. They could appoint a new director, and things would carry on. I don't want to move on though," he adds. "I've never had a job! I've never worked for anyone else. I've never written a CV or been to a job interview."
What next?
So if Daniel isn't moving on from a space, what next, once he's recovered from the stress of opening God's House Tower?
"I think the next stage is bigger and better studio space. The Arches is fab, but we need to support more artists. I'd love to do something like Spike Island in Bristol. It's in an old factory and it's really impressive. It supports more than 70 artists and has exhibitions and other public events. Southampton's really going to need something like that in five to ten years, especially if the City of Culture bid comes off. I'd love to do something in one of the big empty industrial buildings in the city."
Daniel is also preparing to bid to continue to be an Arts Council Portfolio Organisation for 2022-26, so it's fair to say that while a break may be long overdue after opening God's House Tower and running a space for 20 years come July 2020, he won't be resting on his laurels for long.
"I feel equally excited and stressed about the opening of God's House Tower," says Daniel.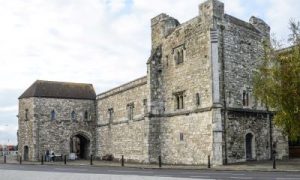 "It's full on, completely sadistic and I love it. It almost didn't happen on more than one occasion and there have been times when I thought we wouldn't be able to do it, but we persevered. We've hit a lot of unexpected issues along the way, and some of them have been major. Seven years ago, I didn't think it would take this long, but sometimes I think it's best not to know."
God's House Tower
The 700-year-old building will host a permanent exhibition which tells the story of God's House Tower over four floors, and gives visitors access to the roof, for fantastic views across the city and water. In the first year, there will also be an exhibition exploring the building's lost connection to the water, as well as talks, workshops, events and activities. The building will also house a cafe, bar, shop and events space.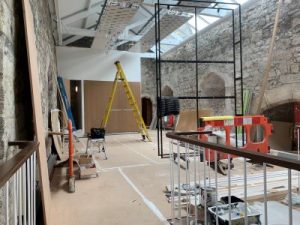 "I couldn't have imagined doing all of this when we started a space 19 years ago," he says. "It's been fantastic to watch artists we've supported to go on to bigger and better things but I think my proudest moment will be when we open God's House Tower. Sometimes it can be tricky to explain to people what I do," he adds. "I run an arts organisation in which we take old and often historic buildings and turn them into galleries and artists' studios.
"Our name is rooted in our ethos. We were never looking for a perfect white cube to display work in. We just wanted a space."