by Charlotte Ndupuechi.
As the new school year gets underway, with parents and carers setting their children into new classes and teachers eagerly planning for the year ahead, it's an interesting time to reflect on the education system. The new prime minister Boris Johnson, has promised more money for education by 2022. But with ten years of government cuts showing in the classroom, is this just a sticking plaster on a gaping wound? 
Help with the basics
We have all heard the stories of parents in Southampton and beyond being asked for regular donations to schools, to pay more towards trips and even basics like toilet rolls and pencils to help support budgets. In a number of schools, class sizes are growing and the curriculum is being trimmed down to have less focus on music and the arts, as schools try to claw back funding on the 'essentials' of education. 
Campaign group School Cuts state that 91% of schools have had their per pupil funding cut. For information on how your local school has been affected you can visit https://schoolcuts.org.uk/ and type in your post code to see the situation. 
Poor skills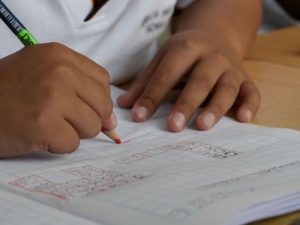 According to the Literacy Trust, one in six adults in England have very poor literacy skills. That's 16.4% or 7.1 million people! The Organisation for Economic Co-operation and Development (OECD) found that English teenagers aged 16-19 had the worst literacy levels of developed nations. Out of the 23 countries listed, the UK came at the very bottom of that list. We also had the second worst numeracy levels for this age group.
As schools reopen, 8,500 special educational needs and disabilities (SEND) children are without an appropriate school place this year according to School Cuts campaign group. We have even seen families having to turn to the High Courts to fight the government over providing appropriate support. 
Not enough teachers
If you start looking at recruitment for education, it paints a very bleak picture for the system. The government has failed to reach its recruitment target for training the number of newly qualified secondary teachers the system needs for five years in a row. So it is clear that their strategy is not working and leaving a massive shortfall in the numbers needed.
According to the National Education Association, approximately 50 percent of new teachers will leave the profession within their first five years of teaching. Stress, workload and increasing class sizes have been sighted for reasons for this.
Remarkable effort
Schools have done a remarkable job under very difficult circumstances. Many schools have managed to carry on providing a 'good' standard of education for its learners. With the hard work of heads, teachers and support from local communities, schools are doing their best. But, with the changing nature of the world, we need to have a workforce that is ready with ideas, creativity, and the skills to take us into the next phase. A well planned and fully funded education system is crucial at this challenging time. 
The National Education Union is planning a week of action from 2 to 9 November, showing they are keen to keep the pressure on, and the topic of education funding high on the agenda. Boris Johnson promise of more funds can not come fast enough. And as a teacher and mother of two school age children, I will be watching the implementation of that promise very closely.
Charlotte Ndupuechi has worked in education for about 16 years in a number of different roles. She started working in post-16 education with young people and in the last few years moved to more mainstream education. She currently works as a teacher in a Southampton secondary school.