Celebrated as 'the gateway to the world,' Southampton used to be known as somewhere you pass through, thanks to its famous cruise industry and commercial dockyards. But times have changed, and now it is a destination in its own right, thanks, in part, to its thriving leisure scene.
There has been a lot of redevelopment in the city, which has included an explosion in the number of restaurants and other food outlets. The city now boasts a huge range of restaurants, offering everything from Mexican street food to Sunday roasts, and catering well for everyone from meat lovers to the rapidly growing vegan market.
Indeed, the wonderful diversity of food on offer in the city has an annual celebration, in the form of Southampton Foodie Fortnight which this year runs until October 6. The event features lots of discounts at restaurants, cafes, bars and pubs in the city. Visit the website to see what's on offer and claim a deal.
Within the city boundaries, there are 222 restaurants, with a further 85 pubs offering full catering, many of which are offering discounts for the event. The WestQuay development alone boasts some 43 different places to eat and drink. Meanwhile, Oxford Street is long-established as a popular dining and drinking destination, boasting three award-winning restaurants, including the White Star Tavern, which has two AA rosettes, and speaking of winners,  two former Masterchef winners have opened restaurants in the city – Shelina Permalloo's Mauritian street kitchen Lakaz Maman and Thomasina Miers' Mexican street food restaurant Wahaca.
Meanwhile, the city's new Cultural Quarter is bringing the top end of the high street to life, with restaurants and cafes alongside art galleries, music venues and a theatre. In the heart of the Cultural Quarter, is Belgium and Blues. Set over two floors, it has an inviting gin bar and Brasserie upstairs, offering more than 70 different gins, while downstairs, the Belgian Beer Cellar offers a wide range of Belgian and British beers. Nearby is The Art House, a community cafe, art gallery, live music venue and much more, it has been at the heart of the city's bohemian scene for over a decade, selling exclusively vegetarian and vegan food, and supporting Southampton's underground arts community at the same time.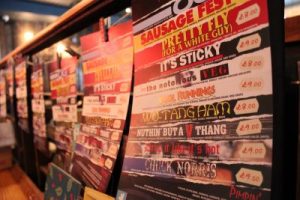 Not far from the cultural quarter is London Road Brewhouse. This modern and lively microbrewery and pub shows most sports fixtures, and also boasts a selection of old-school board games and retro console booth where you can play some classic video games, a pool table and a retro jukebox. The pub has a stone-baked pizza oven tucked in the corner of the bar, so you can see your pizza being prepared. 
From one of the city's newer venues to one of its oldest, towards the opposite end of the city centre, is The Dolphin Hotel. The Dolphin is more than 500 years old and is a popular destination for Jane Austen fans, or Janeites, as the much-loved author stayed there. It's also popular with anyone who likes good food, and has a great range on offer, including fabulous afternoon teas, where you can pretend to be an Elizabeth and Mr Darcy, should the fancy take you. 
With a growing interest in sustainability, locally produced food and drink have increased in popularity over recent years. There are a number of venues in the city which celebrate providing local food, including The Docks Coffee House in Oxford Street."Where we can, our food and drink is locally sourced, " says owner  Dishi Umfleet, proudly. "For example, our meat, sausage and bacon is supplied locally and our sourdough is baked in Ringwood. The Granola I make myself, and I won a Great Taste Award for it. Our coffee is roasted in Winchester by Winchester Coffee Roasters. We do a Bloody Mary which is really popular. In that, we use the Gorilla Spirits Vodka which is made in Hampshire using British grown wheat. The tomato juice we add to that is made in Romsey using Isle of Wight tomatoes." 
In and around Southampton there are countless more places to eat and drink, from cosmopolitan Banana Wharf beside the water in Ocean Village to another waterside venue with a very different vibe – The Jolly Sailor in Bursledon, which has the claim to fame of being featured heavily in Howard's Way (millennials, ask your parents). 
Meanwhile, if you have a sweet tooth, check out Sprinkles Gelato. The popular ice cream chain was started in Southampton in 2012, ahead of the explosion of ice cream parlours in high streets across the country.
Southampton has come a long way from being a gateway to somewhere else anymore. It's definitely a place to stay, explore, be entertained and eat.