Monday saw the opening of a community Vegan pop up cafe in October Books, Portswood. The cafe was opened on a pay-what-you-like basis as a way to prevent food waste (a large proportion of the fruit and veg is surplus food donated from local traders), fight hunger, spread  environmental and vegan messages, and promote strong community links.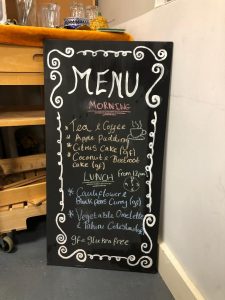 The menu is testament to Giulia and her team's creativity with the donated goods – there were two savoury options on the menu, one hot and one cold, and a selection of cakes including gluten free. The huge portion of hearty curry I had was deeply spiced but not too hot, served with a mountain of deliciously sticky rice and a handful of fresh coriander, which really brought the flavours to life. The vegan frittata and tahini coleslaw as the cold option, came highly recommended with a fellow diner complimenting the depth of flavour and crunchy texture of the coleslaw. Both of us were too full to try any of the cake but all around me people were commenting on how delicious both the coffee and cakes were.
Fabulous food, however, is not the main reason to visit Veg Out Community Cafe. The community aspect is what really made the atmosphere at the cafe so vibrant. Lunchtime was busy – all of the tables were at least part occupied – but everyone was so welcoming that I didn't feel at all intimidated to find a seat at a half occupied table and join in the conversation.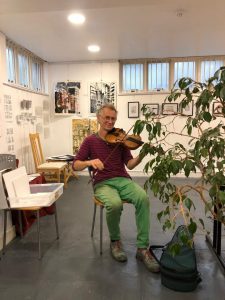 Live music was advertised; what I wasn't expecting was people getting up to dance! One of the team of volunteers danced the length of the room in what appeared to be a kind of Scottish dance, before grabbing a partner and doing a partner dance. The room broke into applause as the dancing came to an end, and it had all the atmosphere of an evening venue. People of all ages and from all walks of life had come together to enjoy good food and to embrace the local community; in the short time I was there I discussed 'greenism', politics, airport expansion, food waste, volunteering and I was taught some dance moves. As someone with young children who can't always join social or community activities in the evenings I really embraced the opportunity to dine with like-minded individuals, while enjoying great food and brilliant music all for a good cause and during school hours. I can't wait to return to try the cake!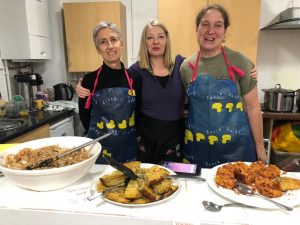 The pop up is scheduled to initially run for five weeks, with that hope that it can run for a further five weeks at a time if demand continues. Volunteers are always required, to find out about available roles please contact Giulia via the
Veg Out Pop Up Community Cafe Facebook page.