by Charlie Hislop.
The race is on
"17 years, 2 degrees centigrade – those are the only statistics you need to understand climate change," says Southampton filmmaker Paul Maple, director of 'The Race is On'.  Once Earth's temperature goes up 2 degrees, climate change is irreversible. We have 17 years left of pollution from burning fossil fuels before we have achieved an irreversible climate breakdown of our life support system. What is more important than that?"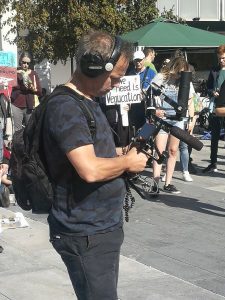 Paul made 'The Race is On' over three years, and says "It's a really important film, so we will spend three years now putting in the effort to get it seen." In just a couple of months, 40,000 people across the world have watched the film.  
Changing the world is a family affair for Paul: 'The Race Is On' features his sons in the opening shot with the clapperboard, but the mission began years before when Paul, wife Kate and the boys packed up their lives and toured Europe talking to people to try and make sense of what's happening and where the world is going. 
The result was 'Connected', a film that discussed peoples' idea of the future and the changes we need to make it sustainable, followed by 'Embrace the Change', a conference and interactive global webcast in conjunction with Solent University that took those ideas further. 
Paul and collaborator James Dyke, of Southampton University, are already onto the next film. They've interviewed experts, politicians and community leaders from across the world – but without the carbon footprint: they filmed them at a conference in Scotland. 
A duty to our children
Paul, who also works part-time at Solent University, describes himself as an environmentalist, which these days is a pretty broad description. Like Extinction Rebellion, Paul thinks we need a system change – economic, political and social. He says we need to take the profit element out of fossil fuel, and use people power to stop governments investing in exploration, as well as changing, and being prepared to change, our own lifestyles.  
His motivation is simple:  "We've got a duty to our children to clear this fossil fuel-based economy away. I'm working on Plan A. Plan A is where we decide that actually we need to change to a low carbon economy, have laws that curtail investment in fossil fuels and promote renewable energy. I'm not aware of a workable Plan B, but even according to the UN there are likely to be at least 25 million climate migrants by 2050, more flooding, famines……."
With that will come more social and political upheaval. "We have all the solutions to hand right now. We can implement them if we choose,"  Paul points out, having also made short films about cycling, and worked with Transition and Clean Air Southampton. 
A fantasy
But, he says, we can't rely on the government's current plans for keeping the rise below 2 degrees centigrade.  They rely on "negative emissions technologies" – new ways of taking carbon out of the atmosphere – except they haven't even been invented yet. According to James Dyke this is the biggest fantasy that humanity has ever created for itself. 
Last month Paul was webcasting live in London for Extinction Rebellion Southampton. "It was really powerful and inspiring to see so many people coming together and standing up for our future and the planet."  He was excited about the age range and backgrounds of the people he met, and believes that the climate emergency story is taking off. 
"Everything in nature emerges over time, and this story is emerging now. With XR, the Friday strikes and so on, people are asking 'what this is about?', Paul says "and crucially, social science says that we only need to reach and motivate three and a half percent of the population before change is inevitable." 
We all owe it to our children, fellow humans and other creature to watch 'The Race is On'; be the 3.5 percent and more; and be the change. 17 years is not a long time.
"The question", Paul says, "is how people will feel in 17 years' time if they are silent and just get on with their life. How are you going to look children in the eye, knowing that you didn't do anything? Now is the time to speak up." 
Watch the "The Race is On" at climateracefilm.org The website also has a section about taking action on climate change – playing our part in creating change as well as practical advice on changing our lifestyle. 
Find out more about Paul Maple's work at globaldocumentary.org