by Anita Foxall.
Southampton- based spoken word poet Jayne Ede, who was born in Brighton, says that words are her "favourite and sharing them a bonus." Jayne is a very familiar face to regulars at the Art House, where she has worked as a volunteer, where she became a most valuable audience member to various different performance and art events, and where she is now one the hosts for the slam competition Hammer and Tongue Solent. Jayne is a regular performer at several Southampton events and was in fact one of the winners of the slam Hammer and Tongue Solent.
How it all started
As a child, as well as later on at university, Jayne wrote a lot of poetry and also did a lot of sketching. Additionally she gained an interest in listening to rap and hip hop music at university, which became a strong influence on her writing style. Even though she regrets that this was the period where she got out of the habit of drawing, this was equally the time her passion for music took over and made her get more deeply involved in the spoken word/poetry circle, and subsequently kept stumbling across more and more spoken word poetry.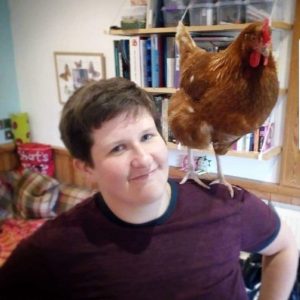 She wrote her first spoken word piece five or six years ago, "How Not to Speak to Chemists", and writing it proved to be a very satisfying experience, even if it took her a long time to decide that it would eventually meet a microphone.
It was the variety of artists she saw and listened to that gave her the motivation to do her own writing; musicians such as Aesop Rock and B Dolan with their wonderful skill using vocabulary. Nowadays, it is the different local performers she has met and admires that inspire her. Poets  Stewart Taylor and Damian O'Vitch are two of the local poets she looks up to the most, due to the way they use and play with the words, combine techniques and create incredibly interesting material. She also takes her inspiration from other performers, two of the ones who stand out in her opinion, are Clare LeMaster and Zena Edwards. She describes them as being "all dreamy."
When it comes to her own writing, Jayne tends to write about her own personal experiences, sometimes more emotional ones, others simpler. She states "I often try to deliver punchy poetry about things I'm angry about but it never turns out how I want, so I usually default to sarcasm… I'll get better."
Performance Poet
It was when she was a volunteer at the Art House that Jayne learned about events such as Moving Voices, a spoken word open mic which takes place on the last Friday of every month. She was on a shift one day when it was on, and it completely blew her away. She was thus encouraged to actually attend the following month and become unconditionally captivated, above all because Moving Voices received her in such a welcoming atmosphere.
When at spoken word events as an audience member, Jayne will be the most attentive, fascinated person in the crowd, cherishing and absorbing every single word.  She is, in fact, one of the people that make the welcoming atmosphere she admired so much at Moving Voices initially a reality, regardless if she is hosting an event or just sat in the audience.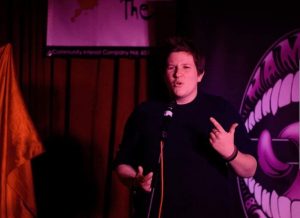 Jayne is a "Stockhampton" poet. That's right! This phenomenon happened after she became one of the finalists for the slam Hammer and Tongue Solent and represented Southampton, along with the two other finalists, Damian O'Vitch and Duncan Green, at the Royal Albert Hall. That night, throughout every performance, there would be a projection with an image of the poets' city, but unpredictably, for Jayne, Duncan and Damian the chosen image was one of Stockholm, which initially confused them (their city suddenly looked quite different), but then became source of many giggles and smiles afterwards.
Jayne, Duncan and Damian wrote material for this overwhelmingly social event and, with the valuable help of Stewart Taylor, they edited all their material, collated it and rehearsed intensely to prepare for this unique experience.
In fact, during our conversation Jayne emphasised several times how much she is thankful to and admiring of Stewart Taylor. She confessed she had never been into drama and was therefore struck by stage fright with this experience, therefore Stewart's help and mentoring, where he taught them theatrical techniques, put her a little more at ease. Furthermore, the material they performed together was the result of attending some of Stewart's workshops.
Even though the Slam Competition didn't take place in the Hall itself, Jayne describes it as still a large imposing auditorium, which caused a lot of nerves, despite the friendly, healthy environment amongst all participants. All in all she thoroughly enjoyed this unforgettable experience.
The Writing Process
Rhythm is the first to appear for Jayne when it comes to creative writing; and this happens to a degree that frustrates her sometimes, as the words struggle to appear. Some other times she has the idea for a topic, but the words fail her again. But despite this struggle, words turn up eventually, and Jayne's compelling and enthralling performances prove how worthwhile all these struggles are.
Projects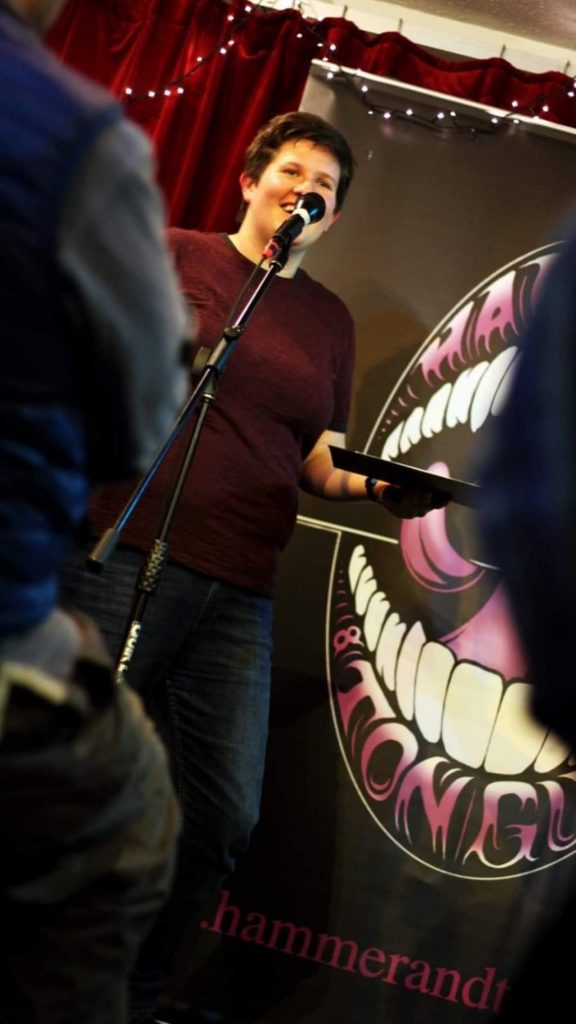 Jayne  has no current projects underway, but has quite a few ideas in mind. One of them is to embark on a collaboration with another poet. Bearing in mind that rhythm is of such utmost importance to her, she would like to work with someone who has similar dynamics, thus making both writing process and performance natural and complete.
As a personal project, she would like to learn how to make electronic music, due to her passion for music and her natural inclination to focus on rhythm before she combines it with words.
Jayne enjoys doing many things and some of them are the source of inspiration and motivation she uses in her writing; namely: music, hiking, walking, and being in the hills, in nature.
One of her other interests is working with young people. When asked how she would guide and what she would advise to a young starting poet, she said: "read and listen to as much poetry as you possibly can; figure out your own style, what you like; set yourself a challenge (for instance, write a verse a day and then complete a poem with these verses by a given time); go to gigs."
Visit Jayne's Facebook page here.
Jayne's poems:
1
If you don't mind I'm gonna vomit up a brief description 
Of a grief depiction. 
And what I write is an experiment to ease the symptoms
And relieve the friction
Amid the crisis of the purest heart that beat extinguished
In the briefest instant
And I won't try to be polite and I don't need forgiveness
Over these opinions
So lets begin then
Every muscle conjuring a screaming infant 
With fever sickness
And waves of protest
And thrashing in an effort to escape the moment
Loss of focus
Loss of form
A shapeless wretched for the stars to mourn
Maybe some of you experienced complete rejection
Of those waking seconds
Where every morning is a ritual of deep reflection 
As you greet the bedroom
Eyelids leadened 
Prised with sticks
Irises symbols
Like we watched as kids
Cluster headaches 
In clockwork sequence
Stomach acid
And Gut secretions
Growling deeply
Beneath the belt
Releasing each time I repeat myself
Repeat the news
Repeat the headline
Repeating letters and repeating enzymes 
And perhaps you are familiar with the deep unease 
That comes from absent feelings
Or the wonder if this emptiness is self-relieving
Or a part of grieving
Yet in the freedom
Of quiet evenings
Pelagic species
Attempt to breathe and
The very air and that which sustains us
I took for granted as being painless
Have formed and reformed in neutral spaces
As mesh and cables 
In which to cage us
And I still see him
In notes and margins
And lists of questions I would have asked him
In conversations
And dragonflies
In pints of cider
And sea and sky!
The other night I had this dream that I was in the office
And you simply walked in
And god, I knew I was asleep but I still walked across
And then you started talking
You looked as good as last I saw you in the days before this
And your smile was gorgeous
And your hand was sat in mine and it was soft and warm
And it was fucking awesome
2
If you can study hard
Get your grades
Memorise important dates 
Describe the formation of an ox-bow lake
Work on your handshake
In amongst your study breaks
Quote a couple acts from a Shakespeare play
Read the back catalogue of AQA
In past papers get 9s and 8s
(In my day they were B's and A's
I'm sure that's an important change)…
If you can spend a little time on your interview skills
And a maximum of 2 weeks ill
Get your 5 a day 
Get your nine to five a day
Get some numbers anyway
Stack them up and generate
A tabulated paperweight
To help you differentiate the hours you're awake
And eight
Should be asleep or counting sheep
And you can track it in an app and get your stats throughout the week
If you can keep your social media profile up to date but sanitised 
And any pets you have alive
And view yourself as one of 16 categories by Briggs and Myers
Or 4 outdated learning styles
And pigeonhole yourself inside despite the fact you're still a child
Be good at sports keep pure your thoughts follow your ones with double noughts 
If you can do it all before those sine waves leave the quartz
Well then I swear to god you'll have the most employable corpse
n
There is a creature 
I've seen her
She's armed with feathers and claws
Moves with a curious demeanour
Just a foot from the floor
They call her raptor and she captures 
In keratinous jaws
She's my carnivorous ridiculous expression of force
She's snatching maggots and lice 
And catching serpents and mice
And she is chopsticks and Miyagi and unfortunate flies
I say they're rolling the dice
If she's patrolling her zone
She'll rip a spider from inside her two dimensional home 
They made a murderer and furnished her with wattle and comb
And her relations are cretaceous through a common genome
Now I don't claim to be the expertise in digging up fossils, see
And I don't believe I need degrees in paleontology
It's just easy to conceive she shares a certain biology 
With a species from a piece of recent cinematography
From skeletal morphology 
To the way that she walks
Or the ingredients she seems to keep obsessively warm
She's the nearest to velociraptor I ever saw!
So listen up;
My pet chicken is a dinosaur.
Now the best of her you could decide is not very bright
But her ancestors straight up survived a meteor strike
And if I had to make comparisons and keep it polite
You and your four legged domesticate are bark and no bite
See every morning we've been drawing up a wicked rapport
When I'll be yawning she'll be calling out her avian roar
And legend has it that its magic makes a meal of the lion
And when the devil heard my bird it sent him fleeing and crying
She's always digging and she's scratching and she's picking up jewels
And getting rid of them because they have no practical use
She's perched in figurative birch and steals the wits of a fox
And shoots the breeze with ancient peoples and celestial Gods
This enchanted winged biped makes my breakfast and more
She is my prehistoric mythologic miracle cure
And like I told you before
Something you shouldn't forget
Though you maybe used to take the view of poultry and eggs
She is descended from some fellas that will tear off your head
So where you see an easy meal I see a tiny T-Rex