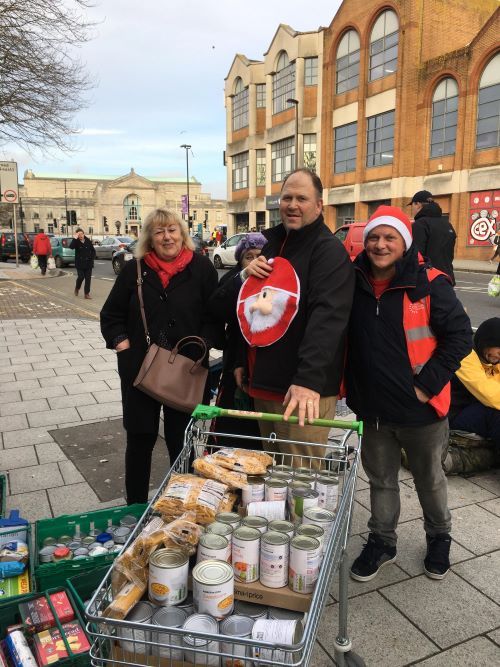 A collection for a Southampton food bank saw generous shoppers donate more than 18 crates of food to help those in need last week. One couple even donated an entire trolley full of food to the collection for Southampton City Mission, which was held on December 23. Meanwhile, cash donations from shoppers totalled more than £110.
The collection, which was held outside Asda in the city centre, was run by volunteers from Southampton Momentum, made up of Labour Party members on the left of the party, and Southampton People's Assembly Against Austerity.
One of the organisers, Charlotte Ndupuechi, said: "I wanted to do something positive after feeling so sad after the general election results. We know that many people are going to face a tough winter, continuing to live under the austerity of Tory cuts.
"This was a way of bringing people together from different campaign groups to try to do something positive. It was really great to have so many amazing volunteers from the People's Assembly and Southampton Momentum. I'd like to thank the manager at Asda Ryan Smith for his support and to all the kind people of Southampton who gave so generously on the day. "
A further collection was held at a Labour Party event, where around ten bags of food and some children's toys were donated.
Jake Radwell, who organised that collection and also volunteered at the Asda collection, said "We decided to do a food collection for the basics bank due to recognising that universal credit is causing real hardship, not only to people who are on just universal credit but also to people who are in work and still on poverty, due to the government's austerity policies, stagnant wages and so on.  We are sad that in this, the 5th richest country in the world, people should be in poverty – this is completely unacceptable. We are helping the communities that need help the most. That is what we are all about."
Royston Smith, Conservative MP for Southampton Itchen, was contacted for a response but had not done so at the time of publication.
There are currently around 2,000 food banks in the UK, with the number of items being distributed by them rising by 73% in the last five years. The Trussell Trust, which runs a network of food banks across the UK, said last month that it was braced for the busiest December on record.