by Lewis MacLean.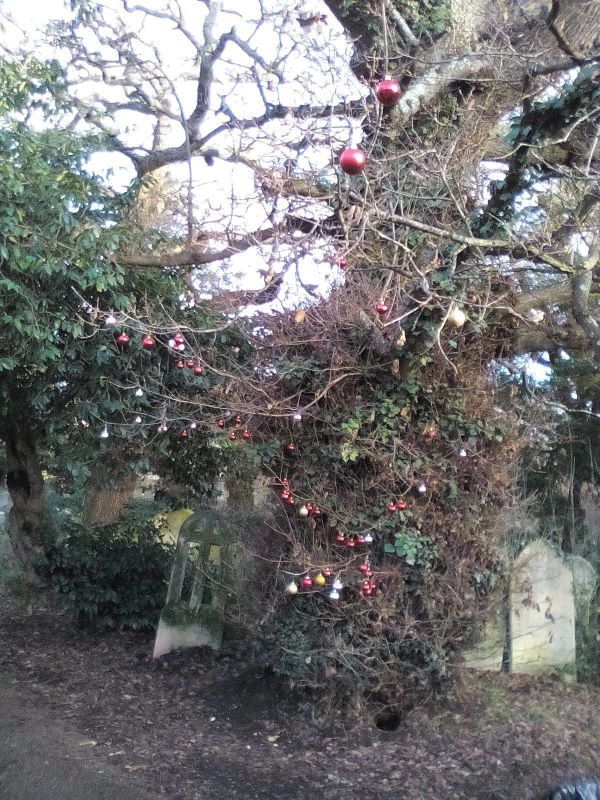 The old cemetery site on Southampton's Common is quite an extraordinary place. It serves as both a historical monument and functions for people in the city to exercise, quietly reflect and sometimes even just cut through on the walk to work. It has been a vital part of Southampton history and still has practical use on a daily basis, and has offered a pleasant surprise for anyone walking nearby the last few years during Christmas.
In recent Christmas times, it seems some festive spirited people have taken to sprinkling Christmas decorations. As you walk into the main entrance gate off Hill Lane you will witness a spectacle of shiny bright baubles that lights up the already picturesque surroundings. Almost like a form of bright shiny ivy that grows all over the place. There are shiny Christmas baubles on almost all the branches of the huge trees at the entrance. There are even some sprinkled sensitively around the graves themselves, transforming the place from graveyard to grotto.
Such an act serves to remind us that the spirit and morals of Christmas applies to all of us, living or dead, throughout eternity. To this day I have not seen or heard anyone take credit for this voluntary act but it certainly brightened my day a Christmas or two back and I've since seen it pop up on many Instagram accounts. Let's face it, in the current negative climate, cheerful deeds like this that spread positivity are beyond any value and really help to bring out the Christmas spirit. Head down and see them for yourselves, hopefully before the harsh weather taints the cheer.
Peace on earth and good will to all.