by Charlie Hislop.
There can't be any band in Southampton whose first ambition wasn't to play at the Joiners. And there are few successful UK bands who haven't played there on tour. What they all remember is the big guy inside the door: Pat 'the Joiners' Muldowney. 
For twenty years, Pat has been the heartbeat of the Joiners, and the soul of the Southampton music scene, providing opportunities for young bands, bringing small venue bands to the city, and even keeping a roof over the Joiners' head.
Pat's involvement in the venue scene didn't start at the Joiners. He was called in one night to help out on the door at Talking Heads – 'advising' skinheads that they really didn't want to upset the Quiz Night or harass gay customers. Then when the manager moved to the Joiners, Pat went too – helping to clean it up, getting more involved, and turning it into the venue it is today: from a pub with a music room to one of the UK's best loved venues – a winner of the prestigious NME Best Small Venue award.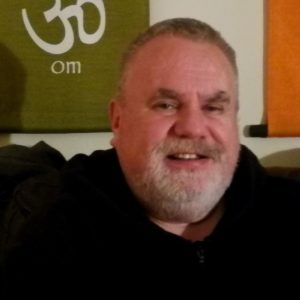 Music has always been a big part of Pat's life. His first album? He'd probably prefer that we didn't go there, and live gig it was UFO at the old Gaumont: "It was terrible, I hated it". But then he was on to punk, and The Clash, and he's still still a punk at heart.
His current musical obsession is Idles – punks of this decade. Last year he travelled to the USA to see them four times, and that's on top of some gigs in the UK.  "Best band in the world at the moment" says Pat, enthusing about the energy they have on stage, "Good politics, and they're nice guys. They won't have any trouble in the crowd. They watch out for people". 
But his tastes are wide. The best gig he ever saw at the Joiners was Coldplay: "I just stood there thinking that these guys are good", but he loves local alt rock bands too. He talks of local legends Stout, and he sits enthusing about CLT DRP,  the new band of local guitarist Scott Reynolds who was 15 when Pat first let him on the Joiners' stage as a Rival Jousta fifteen years ago. 
Successful local bands like Delays, Band of Skulls and Sean McGowan have all had great nights there, while Billy Bragg, Frank Turner and Pete Doherty  have all wanted to get Pat in their photo. 
He also tries to see Christy Moore a couple of times a year. A portrait of the Irish singer, painted for him, hangs over the fireplace in his back room. Most of the rest of the walls are taken up by music – CDs and vinyl, and not just in the back room. Pat's a collector, and he searches the Internet for memorabilia too. When we talked he was excited about finding a rare gig poster he had been looking for. 
Is he musical? "No, but I have a musical family, " he says. "One sister plays in a orchestra, my other sisters sing." Going to see Christy Moore is a family thing: the Muldowneys are Irish.
"I was born here, but my father said to me 'We are Irish, don't forget that," he explains, and Pat hasn't, taking trips to Ireland when he can, and making the most of Irish tradition and culture.    
His life changed dramatically after a scooter accident. ( I quietly wonder if you can be a punk and a mod at the same time –  apart from the Lambretta, the King of Mod Paul Weller features big in Pat's life too.) The biggest fear of two-wheel riders – car drivers opening their door without looking – struck, and Pat was left in hospital with a shattered leg. The surgeons argued whether the leg was a lost cause, but they operated and Pat was left with his leg in a frame, unable to move for months as it reset. He is still in constant pain with it, and his mobility is limited, but he's determined to get about. As well as the USA gigs, he's travelled twice in Asia with his wife Marcie. 
The one thing he's given up on is going to St. Mary's Stadium, although he still watches every Saints game on TV. "Getting round in the crowd would be too much", he says, although then he lets on the real reason – his mates all sit up behind the disabled section, "and they'd just be taking the piss all the time!" 
Pat and I talk about the local music scene today – it's not the same as a few years ago. We agree that a lot of young people want 'live' music on Youtube; they don't like paying; and fewer bands are forming and coming through, a result of changing music technology. But it's February and Independent Venue Week, and the Joiners, like all the small venues in the city, has a great programme of gigs. 
You can't beat live music, so get out and see some, and help keep the scene, the venues, and the people involved alive. Not just this week. Make it Independent Venue year – and if you visit the Joiners, celebrating its 50th year , say hello to the big guy at the door, Pat Muldowney.