by Lucy Rose.
A few words before we start…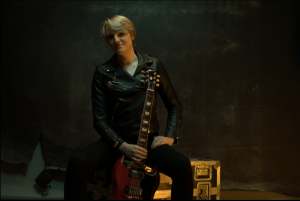 Firstly, I want to thank you for taking the time to read the latest entry of my series, Transgendered Substantiation. The series has been adapted from blogs I wrote for my website during my transition, based on my thoughts and feelings at the time. They almost represent, then, a time capsule for that period of my life. I have done my best to edit and update them for this publication, but some areas may be out of the date, especially regarding the administrative side, as some parts of the process may have changed since I went through it myself.
My ultimate aim with this series is to help people by shedding a light on the transition process. While everyone's experiences are different, and this is but one person's perspective, if this is something you are going through yourself, it is my hope that it helps you know that though it may be a daunting process, it is not insurmountable and there is nothing that cannot overcome. Or, if you are a friend or loved one of someone going through the process, it helps you understand what they may be thinking or feeling or the challenges they are facing.
With everything said, please enjoy this week's entry.
Transgendered Substantiation volume 9: Getting a referral
For the next few entries in this series, we'll be covering the more bureaucratic side of the transition process. This will only really apply to the UK's current system and we start this at the stage of seeking referral.
This is a very daunting moment, when everything sort of kicks off and becomes 'official'. I had to bring a friend to sit with me in the GP's waiting room. If you have any sympathetic friends you can ask, I'd very much recommend doing the same thing, as it's an intimidating prospect to tackle alone. There's a great sense of uncertainty here. The fears and doubts I've done my best to explain in this series come to the fore and stronger than ever. There's a peril in embarking on something new and perhaps irreversible. Is this really for me? So much needs to be done and how will people react now it's in the books? It feels like it's up to the system now. However, it's important to remember that this is your journey, and this is just one more step on the path to your destination, wherever that may be. 
A beginning
For most, this may be the first instance of a concrete declaration and may feel like the point of no return, a fifteen-minute chat after which everything changes. But this isn't the case. While it does begin the whole process, it's a slow process. I'll go into this more in my next entry on The Wasted Years, but how I was advised to see referral and the 2+ year waiting-list was just to get the ball rolling and then use the time in-between that and my first appointment at the Gender Identity Clinic (GIC) to figure it all out. I prepared myself mentally, got used to dressing day-to-day, came out to my family, got a job, found somewhere to live, and basically just built everything up I'd need around me piece by piece. I didn't know what the future held, but I did know that it was going to be the first few years of the rest of my life. And for that: the readiness is all. And while the timeline won't be the same for everyone, this is how I advise viewing this part of the journey, and if you wish to double-back at any point, a phone-call to either your GP or the GIC is all it takes. It's far easier to drop out than to get in. 
The actual process of seeking referral is done through your local GP. You simply say that you wish to be referred to the Gender Identity Clinic. If you're under 18, you'll need the consent of a parent or guardian and you'll be referred to the Tavistock clinic as they deal with pre-teen and under-18 referrals as the medical process is slightly different (I'll explain this more in a future entry on Hormones). Otherwise, you'll be referred to the clinic near Charing Cross hospital in London, or whichever is closest to you. After discussing this with your GP and explaining the extent to which you're experiencing Gender Dysphoria and maybe talking about the series of events that led you to this decision, you'll together fill out a referral form that'll go to the GIC with all the information they need to know. You can download this form from the GIC website (https://gic.nhs.uk/referrals/) and bring it to the GP yourself. However, this won't be sent off straight-away, but is instead held until after you've seen a psychiatrist to vet your referral and discuss more in-depth what you're feeling and what you're thinking.
Experienced and understanding
I found my psychiatrist very experienced and understanding. He told me that he saw people going through this process about once a month, and knew the questions to ask to unlock the trickier aspects of Gender Dysphoria. Even if, in the end, the full transition is not something you wish to undertake, it may be worth going through this step to understand it yourself and to talk it through with someone knowledgeable and impartial. Or you may wish to explore seeking private counsel. It's up to you. 
After this point, I'd very much recommend keeping in contact with your GP's referrals department. After the meeting with the psychiatrist, I received a letter saying that he'd approved my referral and I thought it was all done and dusted. However, after several months of not hearing any form of confirmation from the GIC itself, I double-checked with my GP and it turned out he hadn't actually sent anything off. I'm not sure why this happened; maybe he needed my continued interest as a sign of confirmation, but that choice on his part put another five months onto an already extensive timeline. So, as soon as you receive approval from the psychiatrist, get on your GP and pretty much demand the referral form is sent to the GIC. Within a few weeks, you should receive a confirmation package with several forms you'll need to sign and send back. The GIC has an on-going problem of people not turning up to their appointments, so they require a signed consent form stating that you're going to attend, and that if you don't, you're out and will need to re-refer. This may have changed by the time you seek referral, but that was what I received back in 2017 when I went through this part of the process.
The wait
Once you've sent off this consent form, the waiting begins. It may be worth checking up with the GIC every now and again, either by letter or by phone. Due to their limited resources, the GIC, at the time of writing this, doesn't have an interactive online presence beyond their website (https://gic.nhs.uk/), so contact is done either by post or by phone. Post is the most reliable way, as most of the time I tried to call it went to answer phone or pre-recorded messages and I was left unanswered. It was more by chance and good fortune than competent administration that I actually learned the date of my first appointment. I managed to get through to a human being rather than a recorded message and asked how my referral was going and learned of the date. So, I'd recommend making it perhaps a monthly or bi-monthly routine to get in contact with the GIC to keep tabs on things. You never know, you may even get lucky and get an earlier slot because a previous person has decided to cancel.
That, in a nutshell, is the process of seeking referral. The form itself that you and your GP will fill out is very in-depth and can get personal at times, especially when it discusses sexual activities, libido, and your ideas towards gamete storage (again, I'll discuss this more in a future entry), but it will be confidential and only used to help you in the end, and nothing's set in stone. You're allowed to change your mind. You're allowed to re-examine yourself and your feelings and this whole situation. The people at the GIC are very understanding and aware of this and will double-check with you over your responses and talk through the outcomes of every option going forward.
You are in charge
While it may feel terrifying, that moment when you walk into the GP's to first seek referral, remember that whatever happens after that, it's under your control. You own the speed at which you take the process, the final say of whether you wish to undergo it or not, and the very act of seeking referral becomes the formation inside of which you can begin to build your life the way you want to have it. Rather than seeing it as an occasion when you shed off responsibility to bureaucracy and outside influence, it's more an act of determination and the practise of agency and realisation.
This may be difficult, as I know it wasn't in my nature to make such a splash. I was, and to an extent still am, a person who likes to take things as they come rather than instigate them myself and risk rocking the boat. I feared bearing the consequences of whatever happened next, but this is a moment when you must do just that. It's up to you, but I promise that, in this instance at least, the assurance and maturity you must show to undergo something so difficult and life-changing will help shape things into how they were always meant to be. The years that follow, as you wait to be seen, will be a time when you can act upon this growth and become ever surer in yourself, each new day an exercise in control over other your life. As such, the outcome you reach, in whatever form it takes, will be fulfilling, defining, and glorious.  
I wish you the best of luck.