by Martin Brisland.
We 260,000 Sotonians are lucky to live in such a wonderful part of the country.
Here are ten reasons to be proud of our home city and some activities to look forward to when we come out of lockdown.
Heritage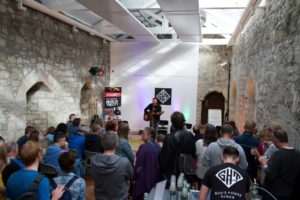 The Romans, Saxons, Vikings and the Normans have all left their mark on Southampton. How many cities have medieval walls, towers, many wine vaults, a refurbished God's House Tower and a church such as St Michael's founded in 1070?
These are all available for us to enjoy.  We are connected to major events such as the sailing of the Mayflower to America 400 years ago.
Transport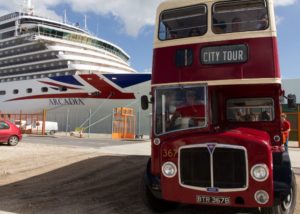 The old Docks were started in 1838 and the railway came from London in 1840 to the former Terminus station. Aviation pioneer Edwin Moon built his Moonbeam planes in the Wool House. He used the area now known as Southampton International Airport, to test his planes in 1910. Later, the Flying Boats connected England to the British Empire. Southampton became the "Gateway to the World" for shipping. The M3 and M27 today provide good road links.
International Character
With two universities, including a world renowned Oceanography Centre, attracting at least 44,000 students including many from abroad, we are a cosmopolitan city.

Location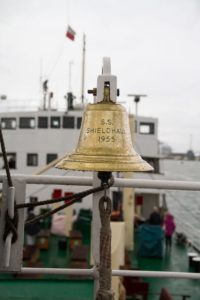 Take a SS Shieldhall cruise around the Solent. You can see the Isle of Wight recently voted, by the BBC's Countryfile programme, as the UK's 'Best Holiday Location'. The Beaulieu River on the west and the Hamble River to the east of Southampton are renowned for yachting.
We are only 1 hour and 20 minutes to London by train and a short drive from historic Winchester.  We are in close proximity to the open spaces of the New Forest National Park. It has 'chocolate-box' villages and towns such as Bank, Beaulieu, Burley, Lyndhurst and Lymington and there are many great country pubs.
Southampton is sheltered by the Isle of Wight and Southampton Water.  We have a double-tide with up to 17 hours of rising water. This is one reason why Southampton is now the country's premier cruise port and second busiest container terminal.
Parks, Recreation and Culture
We all benefit from facilities such as well maintained central parks, a Sports Centre, a municipal golf course, a 365 acre Common; the Mayflower and Nuffield Theatres; the City and John Hansard art galleries; SeaCity, Solent Sky and Tudor House museums and the Harbour Lights cinema. 


International cuisine
Trip Advisor suggests you could eat out at a different local restaurant every day for two years! There is a rich variety of international cuisine including Lakaz Maman in Bedford Place, a Mauritian restaurant run by Masterchef winner Shelina Permaloo. The Dancing Man Brewery is set in the medieval Wool House building and there you can savour award-winning beers. Not forgetting traditional New Forest cream teas!



Sport

Southampton FC is a Premier League club. Hampshire play first class cricket at the Ageas Bowl.



The Old Town Walls
The Bargate, the iconic symbol of Southampton, stands at the entrance to the Medieval Town. So why not  'Walk the Walls'? A series of recently refurbished plaques give background information at key locations. Also try a guided walk where your guide will have access to some of Southampton's 'secret' vaults.



Architectural Legacy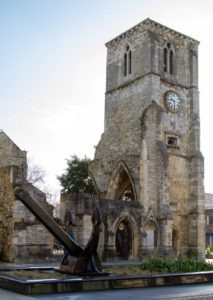 Southampton was one of the most heavily bombed places in the Second World War, with 45.000 buildings destroyed or damaged. Yet you can still visit buildings such as the 15th century Tudor House.
Others represent different architectural styles, such as Georgian houses in Bedford Place and the Brutalist ocean liner design of Wyndham Court.



Climate

Southampton rarely has severe winds, snow, only a little frost and enjoys a mild climate all year round. The average annual temperature is 10.6 C/51 F. This compares to Newcastle which has an average of 8.5C/47.3F. Our average rainfall is 774 mm compared to 929 mm in Manchester.