by Katie Isham.
Join our travel writer on her close to home expeditions.
I love travel. My summer months are usually filled with adventures: far-flung holidays, long weekends immersed in a festival, a few days by the coast, or up-at-the-crack-of-dawn day trips to bustling cities. This year, my passport is languishing in the kitchen drawer whilst my backpack slumps in the corner. And I'm definitely not alone. 
Travel opportunities may be opening up again, but with all the safety measures in place and worries rattling around your brain, you may not feel like chancing it. Me neither.  So let's go on some local explorations together. I will take you to locations in and around our fair city, where your imagination can take you on more exotic expeditions. 
Some will be hidden treasures; some will uncover long-forgotten memories; some may be overlooked options that you'd never have considered under "normal" circumstances. But as we've been told countless times, we're not living under "normal" circumstances. Therefore, we have to think outside the box, step outside our comfort zone and explore outside our fixed mindset of what a "holiday" is. 
A holiday is just a break from the routine: a chance to escape from reality, even for a short time. It's not reliant on aeroplanes or travel reps; having a break is all about your state of mind and so the location is incidental. It's what you do and how you feel on your adventure that counts. 
Adventure can be wherever and whatever you want it to be. It doesn't have to be overtly grand. I'm a great fan of the mild adventure. Anything that gives you a warm fuzzy feeling, makes the edges of your mouth curl up or urges you to snap a photo is worth stepping out the door for. 
So don't be like the backpack slumped in the corner. Pull yourself up, pack your facemask and hand sanitiser (the new normal and all that) and leave that suitcase at home. Where we're going, we don't need passports… 
Golden Jubilee Butterfly Walk to Weston Shore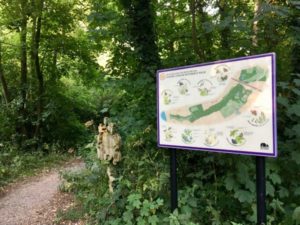 Walking through dappled sunlight beneath the canopy of beech trees was when I first thought of finding other worlds in our own familiar, suburban landscape. I'd been there years before and if I wanted to, I could have a daily visit, it's so close to home. But on that particular day, I felt like I'd been transported in body and mind, for a short escape from normality. I returned home feeling like I'd been "away". 
A friend and I started our leisurely (socially distanced) wander from the entrance to the Butterfly Walk section of Shoreburs Greenway, entering opposite the railway bridge by Miller's Pond on Portsmouth Road in Sholing. The midday sun was strong overhead, but we were sheltered by the shade where the butterflies flutter by; there's a reason for the name.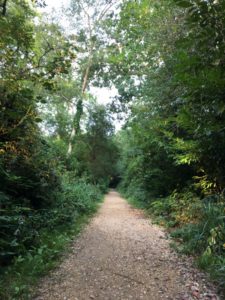 The journey through to where the trees surrender to the shingle at Weston Shore is a little over a mile, but it might as well be a trail into another world. The path winds along the stream, past looming branches and secret dens where fairies and trolls reside – literally in some cases. In the early lockdown days (seemingly years ago now) fairy houses, doors, rainbows and an array of bunting arrived to festoon the foliage. Whether or not the magical creatures were the decorators, we'll never truly know. But there it remains and is a great distraction for small humans on the long walk for little legs. Even if you should know better as an adult, a fairy fire station will surely brighten your day. 
Later, the track widens and there are large clearings of trees ripe for climbing, if you fancy channelling your inner Enid Blyton hero. But soon, you reach the opening to the water. Sure, Weston Shore may not be the most postcard-pretty vista, but there is a certain joy in watching the industrial cranes and carriers and cargo ships and cruise liners coming and going. There are indeed many comings and goings to observe when you stand still. And if the sun is sparkling off the waves as you do so, it can hypnotise you into believing you're far away from the daily grind.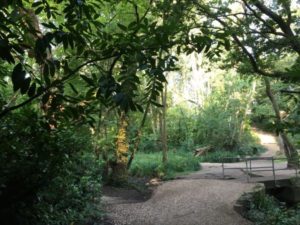 A little stroll along the coast and On The Water Café can provide you with hot and cold drinks, snacks, ice cream and the true adventure staple: cake. Grab your supplies, find a spot on the stones and park yourself to watch the water. Wave at the Red Funnel ferry, even if they can't see you. Smile at the jet skis churning up the waves. Squint into the sun as you try to tell what type of bird is performing aerial acrobatics. There's so much to notice at the edge of Southampton Water even if you've seen it a million times. 
So put your "tourist" head on and take the walk through the magical woodland to the industrious waterways of Southampton with a cake reward. Sounds like a pretty good way to spend a few hours, right?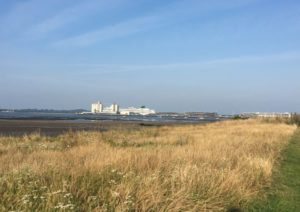 Cost: Free for the walk; some money needed if you visit the café.
Accessibility: Gravel path through Golden Jubilee Butterfly Walk which narrows at some points. 
Facilities: On the Water Café is a takeaway with outdoor seating. Public toilets next door.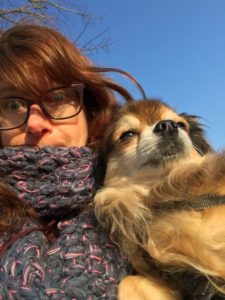 About Katie:
Born and bred in Southampton, I try to escape but it always seems to pull me back. Maybe it's something to do with the pull of the sea; I'm always happier near the coastline.
Life working with teenagers in a Southampton school keeps me busy and fortunate to see the diverse nature of our city on a daily basis. I believe that kindness is a superpower and that dogs are better company than people.
In my precious spare time, I am a writer and I love taking part in the creative groups in Southampton including So:write women writers and Artful Scribe's Writer's Café. If I can ride my bike or listen to Springsteen, it's a good day. I love cakes, drumming and going on mild adventures.
To read more of Katie's Suburban Safari adventures,
click here
.