by Katie Isham.
Somewhere nestled between where the tarmac triceps of the M27 and the M3 lock in an arm wrestle, is an unexpected oasis of calming activity.  Lakeside Country Park, Eastleigh, is a mere mile from the M27's junction 5, but it seems like lightyears away from the angry driving of reality. If you listen carefully, you can hear the gentle roar of the average speed restricted traffic, but mostly you are cocooned by the soothing song of the wind blowing through the silver birch trees that touch the clouds. 
A visit here immerses you in both relaxation and leisure. If you want to do nothing, you can do that in spades. Sit on a bench (more of that later), commune with nature. If you want to do something, you'll find an array of options here. 
Lakeside could be considered a nature reserve for hobbyists. As you stroll around the lakes, you can peek into the whimsical world of the amateur enthusiast, and maybe try your hand at something. Something new, something you'd forgotten about or something you've never dreamed of trying.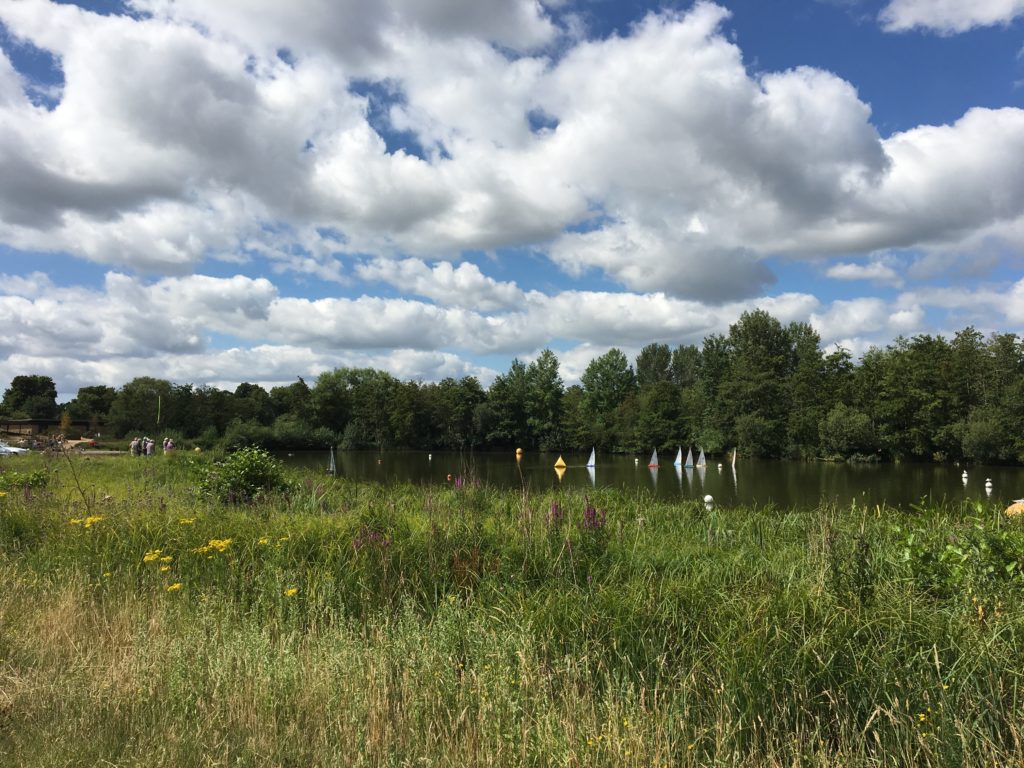 On our visit, we wandered down to the water from the car park with a flock of seniors carrying chairs and armfuls of luggage. It transpired that they were setting up a mobile art studio. They staked out their viewpoint above the lakes and out came the pencils and watercolours. Included in their scene, at the water's edge, was a congregation of Radio Sailing disciples. Each brightly coloured yacht on the lake was controlled by a face of an intensely concentrating human counterpart. It seems that despite being an amateur sport, it's taken pretty seriously. And it's infectious; within five minutes of watching, we each had our favourite vessel and every time the klaxon went, we urged it on despite having absolutely no idea of the rules. They race three mornings a week, so it's easy to catch some of the action. 
Continuing the walk around (and across, thanks to a network of bridges) the lakes, we stumbled upon some fishing. Pairs of people sat with their rods, waiting for the universe to bite. I was particularly impressed with the gentlemen, deep in conversation whilst cooking a full English on a camping stove. If that isn't the point of sitting by a lake in a park all day, I don't know what is. 
The park is also home to Eastleigh Lakeside Railway. The miniature railway welcomes everyone to hop aboard and trundle somewhere and back again. It doesn't matter where that somewhere is; it's all about the journey. You sit astride the locomotive as the smell of smoke fills your nostrils and you wave like merry hell to all you pass. When you must disembark (I'm afraid that's part of the deal), you'll feel like you've been transported back in time as well as location. Luckily, the station is next to the café, so you can treat yourself to a most delicious cake to curb the post-holiday blues. 
There is so much to do at Lakeside that you could spend the whole day there. I still haven't mentioned the more physical activities such as water sports, cycling and weightlifting (really). But it's also the perfect place for watching other people do these things whilst you content yourself with the joy of nothing. 
Mindfulness is something that we are bombarded with, but at Lakeside it seems to be present in every step you take, every fish you catch or every big bench you sit on. Yes, there's a giant bench for comedy photos. More interestingly, if you look closer, the inscription reads, "Life is not measured by the number of breaths we take, but by the moments that take our breath away." Well said bench, well said.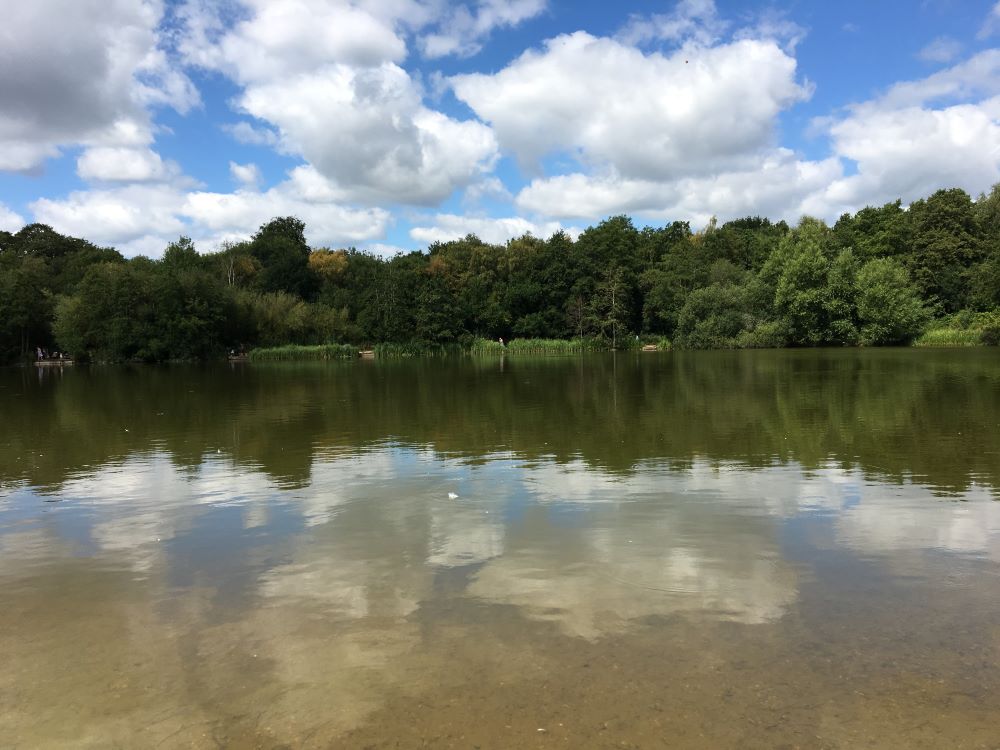 Cost: Free for the walk. Free parking for four hours during the week and all day at the weekend. Pocket money needed if you visit the café. Train fare if you want to ride the rails. 
Accessibility: Gravel tracks around the lakes. 
Facilities: Toilets are open 9am-5pm. Café is open 9am – 3/4pm. Steam Railway runs 10am – 4.30pm. See links for details. 
https://www.eastleigh.gov.uk/country-parks-and-open-spaces/lakeside-country-park
https://radiosaileastleigh.com/
https://www.lakesideweightlifting.com/
To read more of Katie's Suburban Safari adventures, click here.