reviewed by Charlie Hislop.
Can you do jazz without sound? Hot Jazz Special comes very close. In sketches, painting, words, and colours it captures all the excitement; the buzz, the characters, and the clubs. Featuring jazz greats like Billie Holliday, Charlie Parker, Duke Ellington and more while mixing song lyrics with pen pictures. It references sayings, fashions, and the nightspots over 20 beautiful pages. All capturing the spirit and joy of jazz.
Hot Jazz Special is a pretty special deal. Unique works of art and posters in one book raising money for Southampton's Black History Month (BHM2020).
Author and illustrator, Jonny Hannah is internationally known for his art, and works as a senior lecturer of Illustration at Solent University. Passionate about music, his unique illustration style has appeared in The Independent, The New York times, Royal Mail stamps and books accompanying his many exhibitions.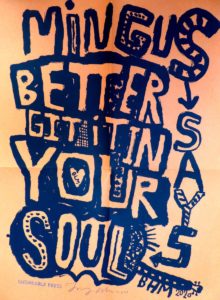 Hot Jazz Special comes with a wonderful poster, designed (and signed) by Jonny especially for BHM2020. "Better git it in your soul" is a timely call, relevant to the current Black Lives Matter movement but was written by the great American jazz bandleader, pianist, double bass player, and composer Charles Mingus back in 1959. Mingus was an outspoken Black justice activist and musician until he died in 1979.
This year has emphasised the importance of Black History Month, and the need for conversations to continue. While we all miss the usual shows and entertainments, limited by coronavirus, you can help make sure it comes back bigger and better next year. Show your support now for Southampton's BHM2020 by buying this wonderful book.
While it is a beautiful Art book fit to grace any coffee table, it is also a great book for children – introducing them to some Black history, musical instruments, art, and illustration. A perfect gift for anyone who loves art, illustration, or just loves jazz and with Christmas just around the corner how can you resist?
Published by Candlewick Press and available to buy now for £10 plus £3 delivery/p&p. Please visit Black History Month South's website to buy and for more information.