by Joe Dukes, Chairperson – Southampton People's Assembly.
Volunteers working at Southampton City Mission know all too well that Christmas is a time for giving. Foodbank distribution centres are providing unprecedented amounts of food parcels across the city – and demand continues to rise over the festive period.
Southampton Unite Community and People's Assembly have once again teamed up, in support of the City Mission project, to raise much needed funds and food – helping to ensure nobody goes hungry this Christmas.
Last year's collection achieved thousands of food items and cash donations kindly donated by the public. It was truly heart-warming to see the community come together and share in acts of kindness to help those most in need. Organisers welcome recent steps made by the government to prevent people from falling into destitution – including the announcement of the £170m Covid Winter Grant Scheme for England which is an important boost for local welfare assistance.
Rishi Sunak, in his spending review, announced that unemployment is predicted to rise to 7.5% as a result of the coronavirus pandemic. This means even more families will be plunged into debt and poverty over the coming months. There is widespread concern that foodbanks will become overwhelmed this winter – particularly as Covid related redundancies are expected to rise.
This year's foodbank appeal campaign aims to see out 2020 in style, and exceed last year's collections – but your help is needed.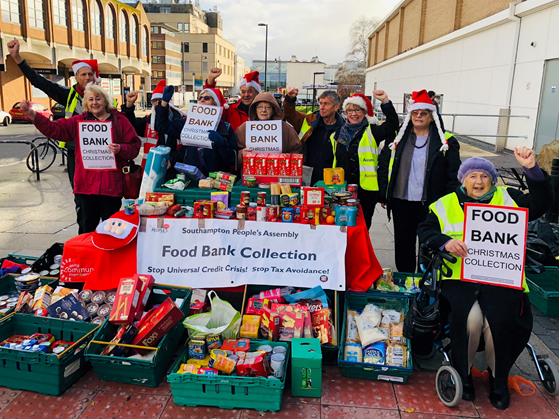 Local people are being asked to rally again and donate whatever they can towards this year's local Christmas Foodbank Appeal. All donations, big or small, are warmly received and will make a real difference for the Southampton City Mission foodbank project.
Volunteers are willing to collect food donations and/or money from people wanting to donate – email to arrange a suitable time: spaaa4ever@gmail.com.
You can also make a BAC's payment to the Southampton People's Assembly – Christmas Foodbank Appeal: 60-83-01 – 20335713, please reference your transaction with 'foodbank'.
If you see donation collectors in Santa hats at the collection points outside your local supermarket, say hello and support the appeal. They will be collecting each Saturday afternoon, from 12:30-2pm, during December at the following sites: Shirley precinct (5/12/20), ASDA Central (12/12/20), Portswood – Sainsbury's (19/12/20).
Merry Christmas everybody – Let's ensure nobody goes hungry!