by Claire Dyer.
There's a poem in Yield called 'Trans'. It imagines travellers from another planet who, on reaching Earth, see for themselves some of our ideas around gender stereotypes. There are two types of mother in this poem:
and there are those they call mother who sometimes stand
triumphant, waving banners from high places;
sometimes hide in corners, hearts splintering
the carpet.
I am now the first mother, but I was once the second, and 'Yield is my story.
As a poet, I see in poems; they give me a way to catalogue and chronicle my experiences, thoughts and feelings. Attending to their craft also assists in analysing, containing and deflecting those same experiences, thoughts and feelings. In addition, sending poems out for publication, I believe, makes them more universal than personal. As soon as they leave me, they stop being totally mine and begin a new life in the experience of the reader.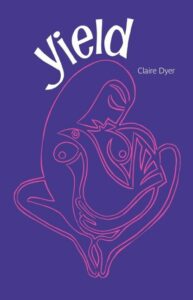 Therefore, if I am fortunate enough to have my poems published in magazines, e-zines or, as in the case of Yield, a full collection, they can, I think, become vehicles for others to read from them their own meanings. Poems can be like a gift, in the giving of which the poet is saying, 'Here, take this, read yourself into it, take from it what may prove useful or interesting or challenging.'
That's the theory anyway! When it came to writing about my child's transition, however, I found I couldn't write about it. I didn't want to commit my feelings to paper or my thoughts to the scrutiny of others.
My child was 21 when they told us they were transgender and my first thoughts were those of grief over what I was thought I was losing, and guilt that I hadn't known that my child had struggled so fundamentally. I was also scared of living in a paradigm I didn't understand and fearful of the censure of others. And I was worried for my new daughter, Lucy, and her safety. Although understanding around gender identity has come a long way, there's still much further to go.
It took years of patient negotiation on both our parts to come to a place of acceptance with the changes to our family. Underpinning these years, fortunately, was love. As the poems testify, that's what mattered most. For both of us. 
But the poems took their time in coming! It was only when I started a class at The Poetry School and saw each assignment through the lens of this experience that I began to navigate my way through to committing my thoughts to paper. My tutor and colleagues were supportive and, when I felt I had a body of work, my poetry publisher, Two Rivers Press, were enthusiastic about my tentative new collection.
So how did I go from being someone who couldn't write, didn't want to write, certainly didn't want anyone else to know what we, as a family, were going through, to a poet dedicated to putting her work out there for the scrutiny of others? How did I go from the mother in hiding in my poem 'Trans' to one waving a banner from high places?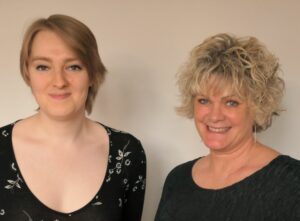 From the distance of the six years it's taken us, as a family, to negotiate the new world we're living in, and the five of these years it's taken for the book to take shape, I think the answer lies in the fact that I wanted to say 'sorry'. Sorry for not understanding as I should have done from the beginning, for taking the missteps I took along the way, and to celebrate the place of togetherness Lucy and I have now reached. I also want to offer up the poems to others in the hope they might read themselves in them if they need, and that they might help. 
The poems in Yield are structured around three definitions of the verb 'to yield' – to bring forth, to give way, and to gain something valuable – and form a narrative: a beginning, middle and end of the journey Lucy and I have taken. 
But what I've discovered most is that as well as gender not being binary, neither are our reactions. I said to Lucy early on that I would need time to work through becoming a mother to my new daughter. If I said and did things, these were not my final words or actions. They were part of a process, a process I hope I've catalogued and chronicled in Yield, a book that's allowed me to say what needs to be said.
Yield  will be published on Sunday, February 21. For more information visit https://tworiverspress.com/shop/yield/
Lucy's catalogued and chronicled her own journey in her InCommon blog, which can be found here: https://www.in-common.co.uk/2019/08/10/lucy-rose-writer/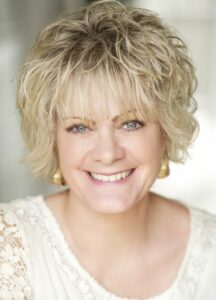 Claire Dyer's poetry collections are published by Two Rivers Press, her novels by Quercus and The Dome Press. Her novel, The Significant Others of Odie May is forthcoming from Matador in summer 2021. She curates Reading's Poets' Café, teaches creative writing and runs Fresh Eyes, an editorial and critiquing service. She has an MA in Creative Writing from Royal Holloway, University of London and is a regular contributor on BBC Radio Berkshire. Lucy Dyer first read the manuscript of Yield, in December 2019 and has supported it ever since. Claire's website is: www.clairedyer.com