by Katie Isham.
Last weekend I went on holiday. Hold on, you might scream, we're in lockdown. How did you wangle a holiday? Okay, you got me; I didn't actually go on holiday, but I felt like I did for an hour.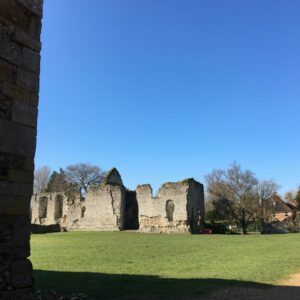 I embarked on a fifteen-minute drive (hedonistic, I know) to the town of Bishop's Waltham. Combining it with my weekly shop, a petrol pitstop and a jam pick up, it seemed rude not to take my daily exercise at the foot of the South Downs. Even the drive through glorious sunshine (not always guaranteed) was a tonic. I didn't even mind slowing to a crawl before passing the legions of cyclists also heading out for their own adventure. It was the type of drive, after so long as a pedestrian, where every unfamiliar tree, building or fleeting sighting of a bird elicited a squeal of excitement. 
Bishop's Waltham is a medieval market town that is also the springboard for many walks and cycles. Future adventures when restrictions allow may well offer longer expeditions, but for this outing, may I recommend a short loop to include some living history, a lovely pond and a very fine bakery? 
The town is perhaps most famous for the palace frequented by the titular bishops. Don't go expecting Versailles style grandeur: this palace is more of a do-er upper. But do go. Start your trail entering the grounds from the car park. A big open green carpet leads up to the crumbling stone walls of what was once the grand residence. Against the pure blue skies, the sharp squares of bleached brick were more beautiful than any grand heritage site. Wander amongst the walls; stand in the rooms and wonder who else has stood here over the centuries. The joy of a place like this is that you can be part of history.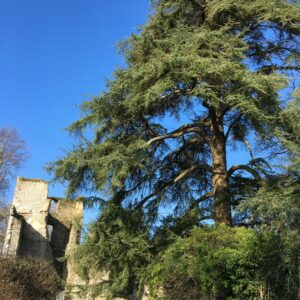 Once you've played make believe as a royal, exit the grounds through the opposite entrance and you find yourself facing the duck pond. Greet your feathered friends and continue clockwise round the water's edge. You'll leave the shore briefly, but it's worth it. The first throes of spring are emerging everywhere and here sits a picnic area festooned with a carpet of daffodils and crocuses. Even the lay-bys in Bishop's Waltham are picture perfect. 
A curve in the path leads you to the boardwalk. If you visit on a day as clear and calm as I did, it's like walking on a mirror as you trot over the magical boarded walkway. Marvel at the mossy green trees wallowing in the shallows in Hampshire's version of the Everglades. Stare down into shallows so clear you can peer into the underwater world. 
Finish crossing the boardwalk and follow the path to a cut way through some houses. I'd suggest swinging past Hoxton Bakehouse on Brook Street as you head back into the town centre. Here you'll be faced with a dilemma even the pious old bishops of Winchester would've struggled with: cinnamon bun or danish?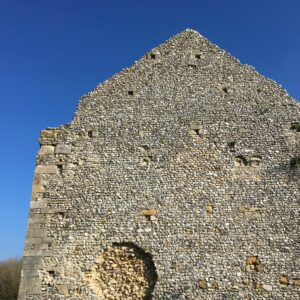 Whatever your preference, enjoy your selection as you wander on through the streets to complete your loop back at the palace. Sure, I was still bundled up in coat and scarf, but the spring sunshine seemed to cast a spell of optimism and (mild) adventure over everything. Or maybe it was the sugar surging through my veins. 
Whatever it was, I heartily recommend it. A morsel of culture, a flash of nature and a good dollop of sugar is good for anyone's soul. Travel may still be out of reach, but there are still local places where we can escape for a brief burst of that holiday feeling.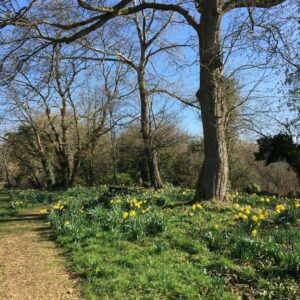 Cost: Entry to the palace ruins is free. Be prepared to flash your card once glimpsing the goodies on offer at Hoxton Bakehouse. https://www.hoxtonbakehouse.com/ 
Accessibility: A short drive from Southampton along Botley Road brings you to Bishop's Waltham. The Palace grounds have some gravel tracks and some grassy areas with uneven ground and stone steps befitting a ruin. Paths and boardwalk around the pond and Bishop's Waltham accessible, if narrow in places. 
Facilities: A museum in Bishop's Waltham Palace open when restrictions allow. https://www.english-heritage.org.uk/visit/places/bishops-waltham-palace/ 
Many shops, cafes and facilities in Bishop's Waltham itself. Two car parks in the town and another at the Palace. Some bus routes from Southampton and Winchester.