by Manthan Pathak.
To mark the docking of the cruise ship Iona into Southampton, a group called Ocean Rebellion representing concerned local residents projected images onto the Carnival offices to highlight the dangers of cruise ship activity. We wish to put pressure on the cruise industry to clean up its act in terms of workers' rights, human health, and the environment.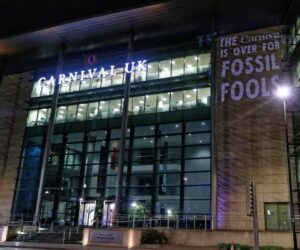 We recognise the benefits to the local economy though we contest the figures which we feel are exaggerated. The £2m figure often given to benefit Southampton are the same figures used by cruise companies to ports around the world with little basis. In reality the spending of passengers onshore is negligible, with the biggest per capita spend by cruise workers bulk-buying food items – suggesting they aren't receiving regular meals on board.
We are not hitting out at ordinary people wanting to go on holiday or trying to make a living, but our actions are firmly directed at operations of the hugely profitable cruise industry.

In particular we are not prepared to accept the marketing of LNG as environmentally friendly. Whilst this fuel is significantly better than heavy fuel oil in terms of air pollution it is still a fossil fuel continuing the acceleration of climate change and in some cases requiring ecologically damaging extraction techniques like fracking. The most popular of LNG marine engines is also the leakiest, emitting 70% to 82% more life-cycle greenhouse gases than marine gas oil over a 20 year period.
We know we need a carbon neutral world by 2050 at the absolute latest so investing in another fossil fuel at this point is no long term strategy. Governments and ordinary citizens shouldn't have to foot the bill on climate change whilst a luxury industry declines responsibility for its role.
Fossil fuel investors are losing money rapidly and it is just a matter of time before extraction industries become non viable. We are calling in the cruise industry to redirect investment into renewable technology such as the recent wind powered cruise ship models unveiled in other parts of Europe.
We demand that Carnival change direction or lose its social license to operate.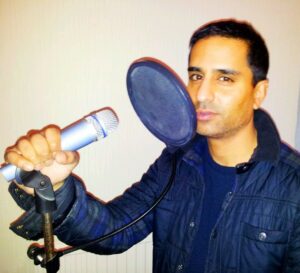 Manthan Pathak, XR Southampton External Local Group Coordinator. 

https://www.facebook.com/XRSoton
https://xrsouthampton.org/