by Nathan Goldsmith.
"The spring is sprung,
The grass is riz.
I wonder where the boidies is.
The little boids is on the wing.
Naa, dats obsoid;
The little wings is on the boids"
There are different variations of this poem – and a number of different people said to have written it – but I like to think it was written on an optimistic, sunny May morning after a week of rain showers and wind, a bit like we've just had in Southampton.
The poem came to my mind on a walk to Shawford on my birthday last week. The sun was shining, the birds were singing, and the rain held off until we made it to the pub. Talk about luck!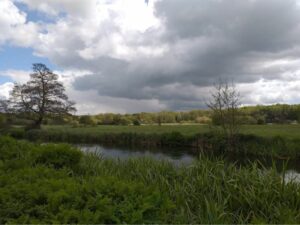 The walk to Shawford is a halfway point on the Itchen Navigation from Riverside in Southampton to Winchester. The beginning of the walk starts on Itchen Valley Country Park's lower fields – where the cows graze – but can also be accessed by Woodmill, through a gate to the right of the entrance of Mansbridge Reservoir. 
The walk is steeped in history and runs the route of the old disused canal system between Southampton and Winchester. The start of the walk runs alongside the M27, the modern version of this once bustling water highway; but you'll escape the noise after just ten minutes along the rocky path. 
The canal, before becoming a popular walking route, was used for transporting goods for 150 years, with work completed to make it functional in 1710. It had always been commercially important since before Norman times, with stone and resources for the building of Winchester Cathedral (back when Winchester was the capital city) transported up and down. 
This canal is rather different to modern-day canals – mainly as it's a sort of improved river, with canal locks thrown in at any difficult sections. Having supported the movement of goods for 150 years, mainly wool and leather, the navigable parts of the river declined once the centres for these moved to Calais and Melcombe Regis. In 1869, the Navigation ceased to operate (also due to the London and Southampton Railway line opening), and at the end of WW2, the towpath was converted into the walkway which remains in place today.
I don't want to go too much into what is beyond Shawford – or even at Shawford – as these will be the subjects of my two next columns. 
I have to say, the walk is a little strange. From Riverside to Bishopstoke, you'll be taken along a beautiful rocky, thin path directly next to the canal. Later on, you'll be taken along industrial estates and gardens. I like to think these are reminders that, whilst yes, there are areas to stop along the way, luscious green fields and birds overhead, this canal was the highway of its time and industrialisation should be expected.
This time of year is brilliant for greenery – and with industrialisation a while away yet – wild garlic permeates the air and runs along the path with elderflower, forget-me-nots and other wild-flower growing in-between. 
It's hard to get lost on this walk, with 'Itchen Navigation Canal/Cycle Route 23' on signposts along the way. Don't worry – you don't have to do the full thing (which is 12 miles from Riverside to Winchester) – you can stop at Bishopstoke to get back to civilisation quickly and there are bridges along the way allowing you to step off the path. 
Top tip – wellies are advised! Even on this sunny May morning, it's muddy and wet underfoot, and a portion of the walk is spent with your feet at a funny angle due to the ground sloping in some areas. I'm happy to report there was no flooding – and the entire walk could be done – but this might not be for you if you are looking for more of a Sunday afternoon stroll!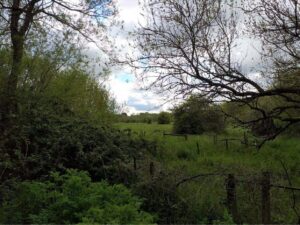 After Bishopstoke, you'll likely see a herd of alpacas across the canal, swans nesting in the reeds, goats and chickens on the farm, and the beautiful houses with rolling hills down to the banks. On this walk I passed nobody – save a jogger and dog walker – and it felt like I was walking Southampton's best-kept secret. 
I do have a love for these types of areas. The simple beauty of a canal combined with greenery, to me, is a place for taking a breather. I love walking but have to remind myself to stop, to take things in, to be in the moment and have the journey as a motivation rather than the destination. It seems in recent years people agree with me – dog-dips have been installed just beyond Bishopstoke, platforms stick out to allow you to maybe see a glimpse of a water vole and resident fish such as trout, salmon and grayling, and sections of the walk spider-web out so you can veer off the beaten path and explore the adjacent woods. 
When you finally get to Shawford – if you are anything like me – a quick stop in the pub (Bridge Inn) is customary. Sip a cider after your 6-mile-walk feat and realise you're in the middle of nowhere, with your options being to continue to Winchester or go back to Riverside. Those two options were closed to me, though, as it was my birthday – and with my friends – drinks were waiting to be drunk…
Cost: Free.  Car drivers can park at Woodmill or Itchen Valley (charges apply).
Accessibility: The walk is muddy and hilly throughout. Thin paths mean you will mainly walk single file. The walk is signposted from both Woodmill and Itchen Valley.
Facilities: Toilets and refreshments open at Itchen Valley, and Bishopstoke halfway between Woodmill and Shawford. Beyond that, nothing!