by Sally Churchward.
Southampton residents have taken to social media to express their horror at the meadows outside the city's Civic Centre being cut.
The sight of the much loved meadows being cut to the ground provoked outcry amongst those who feared a much-loved area of urban wildlife was being destroyed.
However, the council's Green City Lead, Steve Guppy wants to reassure residents that the mow was planned, as part of meadow management.
But, the mow was carried out a week to two early, when many flowers were still in bloom, and before the message could be got out to residents that the much-loved feature would be cut as part of ongoing management.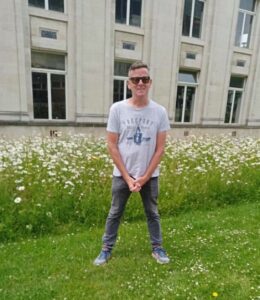 Councillor Steve Leggett was horrified when he saw the meadow being cut, from a window of the Civic Centre. Labour councillor Steve Leggett covered Green City from September 2018 to May 2021, when local Conservatives took over the running of Southampton City Council, and was involved in getting the meadow established.
He said: "the wildflower meadow took two years to get installed, making a significant statement about the (then) council's climate emergency strategy and green city agenda."
He expressed concern that the impact that the cutting would "severely damage an amazing eco system for biodiversity. As the man strimmed his way through the meadow, I could see butterflies being disturbed, so you can imagine what might happen to the insects.
"Using our green spaces to improve our natural environment is so important, especially in urban areas, where we have air pollution problems. We need fewer cars, not more," he added, referencing the Conservative administration's 'get Southampton moving' campaign, which has seen the removal of cycle lanes and pedestrianised areas and the introduction of free car parking at certain times. 
Councillors Steven Galton and Jeremy Moulton did not respond to requests to comment, although Cllr Moulton did state on Twitter that the mow was not authorised by Cabinet and was being urgently investigated.
Steve Guppy said it was unfortunate that the mow had happened before it was scheduled as it meant the council had not had chance to inform locals that it was planned and was an important part of biodiversity management, and that the meadows are not being removed.
He said that there have been a huge flurry of complaints and queries to be dealt with today, in response to the mow.
"A late summer cut in a week or two was planned," he said. "I was conscious that the meadow is much loved and that a late summer cut can look drastic, so I wanted to ensure that this was properly communicated beforehand. A cut in a week or two would have been appropriate," he said, adding that he did not know why it had been done before schedule.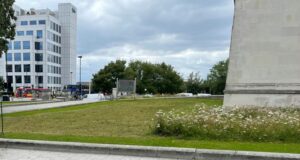 He added that the new meadows require a lot of work and are not uncontroversial.
"A lot of people support the meadows but some prefer amenity grass, cut short. The maintenance and management can be problematic. 
"Meadows are an agricultural landscape which would be cut around now, to provide feed for animals, which we are recreating. 
"It could have been an option to leave them for a late winter cut, which is more unusual, and which has a different impact on the biodiversity. 
"We did suspect that if we did this, we would be criticised for leaving it looking untidy – a meadow in winter doesn't necessarily look very tidy and it can start to harbour rubbish."
Mr Guppy said that the remaining meadow and cut grass would be protected during the forthcoming Pride event in the city. 
He added that while the timing of the cut was unfortunate in terms of getting the message out to the public, it would not have negatively impacted on the site's biodiversity.
"Because it's a new meadow, we don't know quite how it will behave. A late summer cut can offer real benefits. We expect a flourish of growth in late summer to early autumn, so it will be interesting to see what happens." 
What do you think about Southampton's meadows? Email your letter to: editor@in-common.co.uk
Could you help to support In Common, for as little as £1 a month? Please help make us sustainable with a monthly donation. Visit: https://www.patreon.com/incommonsoton