by Nick Mabey.
In football terms it's the worst feeling in the world and, recently, the Saints have been rather good at causing it.  Since our current manager, Ralph Hassenhutl, took charge in December 2018, the team has conspired to drop 71 points from winning positions.  The tabloids and TV experts delight in reminding everyone that we are the best at this in the Premier League by some distance.
Having hopes raised and then dashed can happen in all walks of life of course, but at St. Mary's it's become something of a predictable pattern.  We start fast and strong, take the lead, and then somehow conspire to give it all away.  Recent home games against Brighton and Leicester followed hard on the heels of an away defeat at Norwich.  Seven points missed out on from winning positions out of a possible nine.  The Brighton game, in particular, was painful in the extreme.  Played well, scored in the first half, kept playing well, missed chances, settled into a dull second half.  At 60 minutes we were looking good, 70 minutes we seemed to be hanging on a bit, 80 thought we might actually hold on, 90 started to panic, 98 minutes Brighton equalised.  There was a quiet numbness as we walked away from the stadium, something akin to a funeral.  Yes I know it's only a football match. And yes of course I realise there are far more important things in life.  It still hurts.
After forty years of this you would think I would have developed some sort of immunity to this sort of pain. Losing hurts.  But losing, or even drawing, after being in the lead hurts more.  And supporting a team with a penchant for this is no fun at all.  "It's the hope that kills you" is a footballing cliché of questionable origin and that's about the size of it.  Supporting a football team is an investment in hope.  Not just a financial investment; being a supporter means investing heart and soul in the possibility that today we might win.  We turn up with hope stirring and if we start to play well the hope rises.  When we score our hope-ometer goes through the roof.  Even though we have much bitter experience we can't stop the hope growing inside.  
The wise and the traumatised have an Eeyore-inspired tool for protecting themselves against the pain. "It's all going to go wrong" they think and often say, or "we always mess up in this situation".  When the inevitable happens they at least can wallow in the grim smugness of "I told you so". But for me there is no point supporting my team with that mindset. Each game offers a new hope, the chance to right the wrongs of the past and break this pattern. Is this bounceabackability or simply delusion?
However bad this current trend is, nothing compares to Saturday 19th November 2005. It's without doubt the most painful example of this genre of suffering that I've experienced.  Playing Leeds United at home we were exceptional in the first half and went into the break 3-0 up.  As we stood in the concourse at half-time, our hope-ometers had maxed out and we were in the realm of certainty.  We had already banked the three points and were working out where that would put us in the table. Nothing changed for 25 minutes of the second half and then Leeds scored. From that moment on everything started to crumble. The team, the atmosphere, the certainty and finally the hope. It took fifteen minutes for Leeds to score four goals and, in so doing, break 30,000 footballing hearts. Even as I write this now, sixteen years later, it still hurts.
I was reminded by a friend this week that we must be a decent team to be taking the lead so often in games. This sort of thinking helps with the pain. I think it's Ralph's strategy to go full tilt from the start of games and try and win them early, knowing that it might mean gritting the teeth and hanging on when the energy and creativity runs out. He's had periods of success in his three years at the club, and so perhaps dropping points from winning positions is simply the price we all have to pay for what is otherwise fairly dynamic and exciting football.
With that in mind I guess we just have to expect more of the same going forward. Oh joy!
Could you help to support In Common, for as little as £1 a month? Please help make us sustainable with a monthly donation. Visit: patreon.com/incommonsoton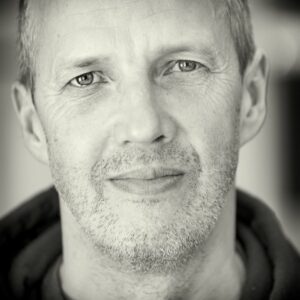 Nick Mabey  is In Common's new columnist, a dedicated Saints fan, sharing his thoughts on the team every fortnight.
"I often describe myself as a father, partner or brother and sometimes a coach, teacher or mentor. I rarely say I am a writer even though I do write a lot, personally and professionally. Most of my writing is self-published and so In Common is a new experience for me. 
I was born in Southampton but left early, only returning here to live six years ago.  This is the city I've always called home and I'm very happy to be back. When I'm not working I run Read Easy Southampton, a group that helps adults with literacy problems learn to read. I also volunteer at the place I was born, Southampton General Hospital.
One of my hobbies, though more like an addiction, is Southampton Football Club. I've had a season ticket at the Dell and then St. Mary's for over forty years, and kept it going even when I lived far away. The Saints bring me joy, sadness and stress in equal measure and so I thought I'd share some of that with you, the readers of In Common."