by Catherine Collins.
Panto is back with a bang at Mayflower Theatre – complete with a flying coach and horses, tap dancing pumpkins, and childhood legends Sooty and Sweep – in a production that entertains the whole family from beginning to end.
It's been a long couple of years and theatre has struggled to survive, so it was a privilege to be a part of an audience which were treated to a dazzling show full of laughter, innuendo, and sarcasm.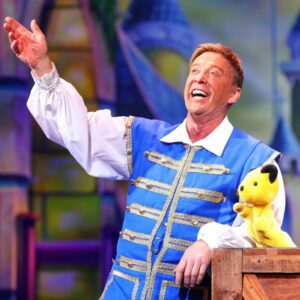 Strictly Come Dancing judge, Craig Revel Horwood, was outstanding as wicked step-mother, Baroness Demonica Hardup, but Richard Cadell as Buttons was mine, and most of the crowd's, favourite. His comedic timing was perfect, and the scene he does with the Baroness where he tells a story using one-liners from dozens of songs had me crying with laughter.
The cast worked beautifully together – Georgia Carr as Cinderella and Will Richardson as Prince Charming were a match made in heaven, with strong support from Daniel Norford as Dandini, Debbie McGee as the Fairy Godmother, and Suzie Chard and Catherine Morris as ugly step-sisters, Claudia and Tess. 
The ensemble ensured the fast-paced choreography was delivered with ease, and the sparkling set design and superb costumes provided a magical experience, which was much-needed by all in these challenging times.
Panto definitely has a few new fans in our family, it was truly fab-u-lous – oh yes it was!
Cinderella runs until Sunday January 2, 2022, tickets available from www.mayflower.org.uk or 023 8071 1811.
Pictures by Stuart Martin, courtesy of Mayflower Theatre.
Could you help to support In Common, for as little as £1 a month? Please help make us sustainable with a monthly donation. Visit: patreon.com/incommonsoton