by Katie Isham.
Fake furs on folks. We're going further afield this week. In a way. Who knew there lies a whole magical kingdom within the suburbs of Bitterne Park? 
Some creative, imaginative kind souls have designed a walking trail to cast light on the tales of Narnia from the glowing windows of Southampton homes. Start the trail at 172 Manor Farm Road where you'll find a magical plastical box to collect a map if you need one (Narnia welcomes downloaded wizardry too) to set you on your way.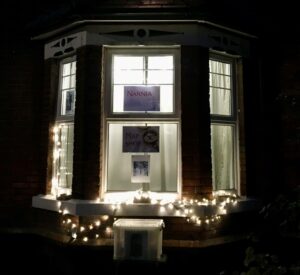 From there you can follow the directions around the streets to each point in the story where you'll find a picture in a window to illustrate a character, location or occurrence in the tales of Narnia. From paper-collaged creatures to hand-drawn cartoons. From toys acting out scenes to a real-life wardrobe spilling open with fur coats and sparkly magic. If you have kids with you, they will squeal with excitement. 
Which is the whole point of this. I don't want to spoil anything for you, but serious adults need not embark on this adventure. If you don't like the idea of walking the streets of Bitterne Park to spot a letter on a window, you're not going to be a fan of this. However, if you have young imaginations with you, the sort who get invested in finding the next clue and delight at spying a silhouetted faun, you're going to have a ball. 
Heck, even if you don't have small folk in tow, if you can suspend your disbelief and launch yourself into a magical wander, there'll be treasures to be found. Literally. There are indeed goodie bags on offer at the end; the generosity of the Christmas spirit is strong in this suburb. I mean, I love a walk, but that feeling is magnified when there's a badge on offer for completing said walk – yes, badges I hear you cry! 
And even if you're not in it for the badges, there's a whole spectrum of beautiful, dazzling Christmas lights to illuminate your way. It's definitely worth adventuring after dusk to enjoy the full glory of the array of sparkles, flashing and neon to celebrate the festive season.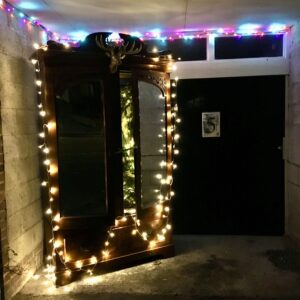 At one point, the trail proceeds through the lesser-known kingdom of Narnia named 'Bitterne Triangle'; if already weary, you could source sustenance from one of the fine food outlets. My fingers were numb yet my face was aglow by the time I reached the shimmering window of Cotton's Bakery. Despite many enchanting light displays, the spotlight on a Chelsea bun was the sight I truly rejoiced in. 
Back on the trail, there are some hills to climb to continue the story. But no one said traversing the whole of Narnia in a night would be easy. Keep your eyes peeled for the lamppost to light your way back to reality, although don't be in too much of a rush to return. 
The joy of escaping into a fantasy adventure for a short while is a much-needed festive treat. Thanks to all who organised this trail and thanks to the guardians of the windows for keeping the lights on and the magic alive in these otherwise dark days.
C. S. Lewis once wrote, "What you see and what you hear depends a great deal on where you are standing. It also depends on what sort of person you are."
So come and stand on the streets of Bitterne Park and gaze at the light of creativity in the community. Be that sort of person.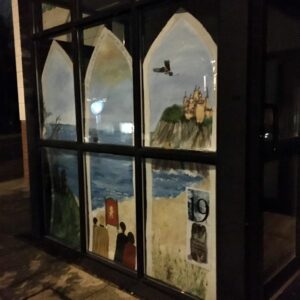 Cost: Free for the trail. Refreshments in the Triangle are worth a small outlay for some Christmas cheer. 
Accessibility: The paths of Narnia are uncannily similar to the streets of Bitterne Park. Start your trail from 172 Manor Farm Road (whilst picking up a map if you haven't downloaded one) and continue on from there. 
Facilities: The trail passes through Bitterne Triangle where you'll find a whole host of shops, cafes, restaurants and the all-important bakery. 
https://www.facebook.com/Bitterneparkcommunity
Could you help to support In Common, for as little as £1 a month? Please help make us sustainable with a monthly donation. Visit: patreon.com/incommonsoton