by Anita Foxall.
Brighton duo, Blood Red Shoes, started this year with the heartbreak of seeing their European tour being cancelled, for the obvious reasons. Musicians are not unfamiliar  with cancelled tours and gigs, with album launches being postponed hoping for more social, better times to do so.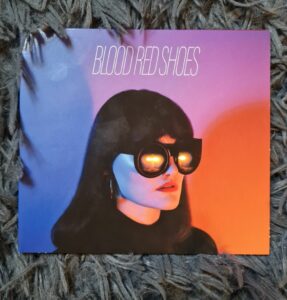 Blood Red Shoes decided that, finally having a new album out, they would not be stopped, and decided to do album launches in various independent record shops across the country. A long gap without live performances was taking its toll, and luckily for Southampton,  Vinilo Record Store was the first to host this venture, where Ghosts on Tape saw its first performance in an intimate unplugged gig on the 14th of January for a small, but enthralled, audience of arond 20 people. Steven Ansell pointed out this was their first live performance since 2019, which is a wonderful privilege for Vinilo Record Store and for us lucky few audience members.
Blood Red Shoes formed in 2004, and have released six albums and three EPs, filled with the rich power sounds of Laura-Mary Carter's guitar and Steven Ansell's drums. 
These new disturbing times, which have thrown us into a 'new normal', feel nothing like normal at all, forcing us all to adapt, due to the required rules and precautions, but also because listening to live music once again now feels somewhat like the (re)discovery of something outlandishly mesmerising.
This new adapted tour to promote Ghosts on Tape showed us both band members playing guitar, completely unplugged, excited to share their new work and to revisit older songs, with the added nervousness of having to set their raw powerful energy aside, modifying the songs to fit a quieter show.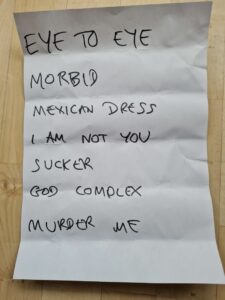 The set was short, but the evening included the band making themselves available, even if behind masks and a Perspex screen, for record signing and quick chats with everybody. Our CDs were autographed, smiles and words exchanged, though smothered behind masks, but it was certainly a memorable evening for those attending and undoubtedly for the band.
Blood Red Shoes certainly deserve a whole lot more exposure and recognition than they have received, but Covid times have been cruel to all, and it's admirable the effort bands and venues are putting in to bring back some comfort to help endure this long suffering, until we hopefully see some brighter times. 
Could you help to support In Common, for as little as £1 a month? Please help make us sustainable with a monthly donation. Visit: patreon.com/incommonsoton