by Simon Oldham, founder of Southampton Social Aid Group and Saints Fans Supporting Foodbanks.
During the last couple years with the ongoing Covid-19 pandemic, we have seen a massive increase in the need for support across this city and country. However, it would be untrue to say this level of poverty and need was because of Covid, or that it was created in this crisis alone – rather, it was exacerbated by it.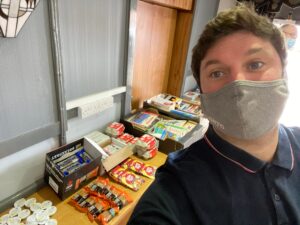 Years of cuts in services, a housing crisis, pay that is no longer linked to cost of living (or productivity) and increasingly precarious work have created a combined flood of insecurity for the people of Southampton. We are often told the path to financial security is employment, but when wages no longer cover rent, weekly shopping bills or increasing energy costs how are people expected to cover it all? Quite frankly they can't.  This leads to households having to choose to pay rent or bills, food for their kids or have the heating on, often reducing what they eat to ensure the children are fed. How is this acceptable in 2022?
As a Millennial I'm bombarded in the media with the idea that refraining from the much-vaunted avocado on toast (personally not a fan!) will vanquish all our woes. This in itself has become a great myth of our time when in the reality the difference between house prices and income has massively diverged. We're now seeing people pay years of high rent in precarious housing without being able to save for a deposit, let alone get on the housing ladder. There are signs too where former council houses now in the hands of private landlords are at a potentially higher rent in often worse condition than their neighbours' still Local Authority owned property.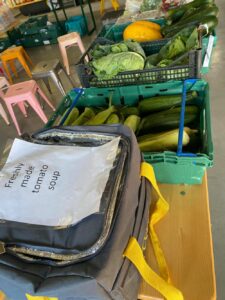 Unfortunately, I don't have all the answers, very few of us have the know how either, especially with the various streams of crises currently befalling our communities.
What I and a group friends decided we could do was take action rather than lament on the issues facing our city. That's why last year, following from supporting the Coronavirus Mutual Aid group, we set up Southampton Social Aid Group (SSAG). The idea being we create a volunteer run community co-operative that is based in and for our community. Our first step was the creation of our Food Club, a pantry model food organisation, that for a low price each session allows members to access variety of grocery goods (tins, sauces, rice, pastas, cereals, fruit and veg, cleaning and hygiene products, etc.) of much greater market value. We are based on the idea of solidarity not charity, meaning that we are there to help support people from dropping down into food poverty and lift them out of food insecurity. Basically, a hand up not a hand out. We support and compliment the work of food banks, which act as an emergency route for people that need their support. we work alongside these organisations and share our goods with them to foster cooperation between Southampton based organisations. 
I am proud to say SSAG has now grown to have two hubs, Northam every Tuesday and Shirley every Thursday, with a new hub in Itchen in the works. At Food Club we also now run a Community Café, free monthly haircuts and an Advice and Support table for our members. In these more financially perilous times we have gone from a good to have to a lifeline to many our members.
BUT We haven't stopped there! 
From April 9th, the day of the Saints vs Chelsea home game, we're starting the new Saints Fans Supporting Foodbanks (SFSFB) group. We will be at every Saints home game collecting goods and donations that go to community food organisations in Southampton. The collections will be equally shared between Southampton City Mission Food Banks and SSAG's Food Club. Fans Supporting Foodbanks is a national network of football fans, started in Liverpool between LFC and Everton fans, that show solidarity across their city and across the country. This network brings fans and supporters together to show Hunger Has No Football Colours. They're also the founders of the Right To Food Campaign championed by Ian Byrne MP in Parliament, which is focussed on giving people the right to access to decent, affordable and quality food. Both SSAG and SFSFB will support this campaign locally in Southampton with Cllr Barrie Margetts already raising this in our own city council chamber.
If I could ask one thing for people to take away from this article is this; please contribute and support community groups where you can, support campaigns and put pressure on authorities to support them too. But most importantly, be mindful and open to people who are struggling, it's not for us to know how or why people need support, but in these times it could quite easily be any one us too.
Could you help to support In Common, for as little as £1 a month? Please help make us sustainable with a monthly donation. Visit: patreon.com/incommonsoton