From the opening, I threw myself into this new children's book by first-time author, Yarrow Townsend, a writer with strong family and personal connections to Southampton and the New Forest.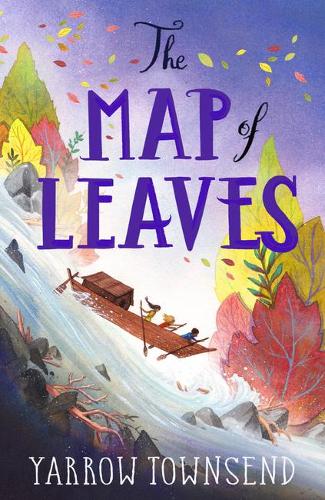 Though I do already have a love of fantasy stories, they have to be innovative and the characters believable. Here there was something that captured my imagination and kept me gripped through to the end – the characters – complex and not too perfect, the setting – mysterious but familiar and grounded in the earth and plants of our countryside, and the growing tempo of the plot – with elements of magic, thriller, adventure and an ecological detective novel. It made me think, laugh and feel deeply, and in the end, happily satisfied with a tale well told.
The plot centres around an orphan, Orla, and her fierce determination to discover the truth about her sickened world. Woven with care, the tale takes us on a journey of discovery and self-discovery, triumphant, yes, but not too slick or easy. Along the way, we learn about plants and we consider our own ecological impact. This is no preachy environmentalism, but a deep love of nature which sings out through the plants themselves – I won't say more in case I spoil it as any hints will reveal the adventure before it's time! However, I really do recommend this for young readers, older readers, families and more.
I was also delighted that I had the chance to ask Yarrow a few questions:
What inspired you to write the book?
I've always loved stories where children have to get by on their own – using their skills and their initiative – and often outsmarting adults along the way. When I was a kid, I went out to play in the garden or the woods, and so often, I was pretending to be characters from books that I read and doing the things they do – like making fires or investigating animal footprints. I wanted to write the sort of story I would have enjoyed then – the kind of story that would get me outside adventuring. 
When did you start writing your first stories?
When I was little, I was shown how to make little books out of folded paper. I drew pictures in them and they became stories – probably before I even knew how to write the words properly. I should really do more of that – I'm a big believer in being playful as a writer. It's a great way to get new ideas!
What does it feel like to be publishing your first novel?
It's been a long journey, but an enjoyable one! I've been very lucky to work with some very experienced and wise editors. Writing is more of a collaborative process than a lot of people realise and that's something I really like. There are so many different ways to tell stories and I feel like this is just the first step in (hopefully) refining my craft and learning how to be a better storyteller in years to come. 
Your love of plants comes through so strongly – is that something you've always had? And how did that lead on to this subtle environmental message?
I'd always spent a lot of time wandering around outdoors, being curious about what's out there. Once I was home, I'd look up the plants I'd seen and the stories about them fascinated me – particularly the plants used for medicine. I started writing The Map of Leaves several years ago and a large part of it was written while I was working for the RSPB in the New Forest learning about our fragile eco-systems. Then the pandemic came along, and I was back in Southampton while editing the book. I discovered some amazing green spaces around the city that I'd never seen before (Frog Copse was a lockdown favourite!),  but I also struggled when I saw over-enthusiastic gardeners mowing down wildflowers, cutting hedges while birds nested, or covering their lawns with fake grass.  As well as writing about the large-scale environmental damage that threatens our planet, I felt it was important to highlight the everyday heartbreak felt by the people trying to protect it. 
I'm interested in the Haulers… they seem to have a French character and songs. Clearly they are complex characters… tell me a bit more…
The Haulers were inspired in part by the voyageurs who travelled through Canada transporting furs and other goods by boat. Though Orla's story is not set in North America (the plants are mostly European) I also did a lot of reading about the Klondike gold rush. I'm really interested in how, historically, environmental destruction was (and is) completely tied to colonialism and the exploitation of the working classes. In The Map of Leaves, the Haulers are, on the whole, the bad guys – but as you say, it's complicated! 
The character of Orla is complicated, which makes the ending even more moving and powerful; you also didn't shy away from the subject of death, which seems important as you are writing for a young audience?
Many of my favourite books for children deal with death (The House with Chicken Legs by Sophie Anderson is one of the best recent examples) and I'm also keen on main characters that aren't necessarily likable at first. While my first priority is telling a good story, I'm also a huge believer that we don't need to patronise young readers. Even when it comes to escapist adventures, it's only fair to reflect the complexity of real life. I think they notice when we don't! 
I'd love a map! Will there be one in the final edition?
Yes! I drew a rough sketch of Orla's world which was turned into a fabulous map by designer Helen Crawford-White. I'm very impressed by how she, along with artist Marie-Alice Harel who did the cover illustration, captured the wilderness of the story! 
And will we see more of Orla in the future? Will you return to the same world?
Interesting question! I'm very attached to Orla. When I started writing my second novel, which will be out in 2023, I found it very hard to leave her behind. So, in summary, I'm not sure of the answer to this yet! 

Finally, where can people find your book?
The Map of Leaves is published by Chicken House Books. It's out now and can be found in all good bookshops! It's also available as an e-book. I would love to recommend ordering from October Books – our fabulous local indie bookshop. And you can follow me on Instagram @yarrowtownsend or Twitter @yarrowtownsend!
We rely on donations from readers to keep In Common running. Could you help to support In Common, for as little as 25p  a week? Please help us to keep on sharing stories that matter with a monthly donation. Visit: https://www.patreon.com/incommonsoton