words and pictures by Katie Isham.
A Suburban Safari should be a chance to explore another side to favourite locations; to make time to appreciate the beauty in the everyday steps taken. But also, provide joy in finding a hidden surprise amongst the familiar. And most significantly, to observe life, in all its forms, along the way. 
This little wander takes game, set and match, ticking all three boxes. 
Did you know there's a lawn tennis club tucked away around a leafy corner of a housing estate in a Southampton suburb?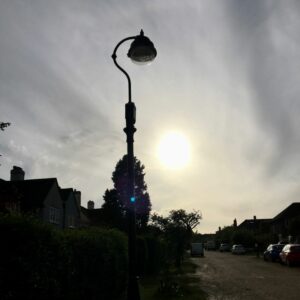 We'll get there, but first, a short snippet of Southampton history: have you heard of Herbert Collins? Born in London, this architect made his mark in Southampton during the 1920s and 1930s designing estates in Swaythling, West End and Bassett. Our focus is on the Bassett Green estate.
His aim was to create "attractive roads" and cultivate a community based on living surrounded by greenery and gardens. Even the Ministry of Health at the time praised his work, holding it up as an example of a good living environment. These days, Herbert's legacy lives on as the bricks age and the gardens mature. Start your journey in Swaythling and discover a pocket of garden city living. 
Ethelburt Avenue is a long gravel drive running parallel to Bassett Green Road. The terrain may be bumpy (strap those babies in their buggies) but the sights are soothing. Turn in off Stoneham Lane and immediately feel the pace of life drop. Technically a through-road, yet there's little real need to pass through. Take a detour for a change and to savour the architecture and layout of this ground-breaking community project. 
The houses are distinctive yet varied in their design. There are classic Collins Georgian style homes with grand doors and shuttered windows; red bricks highlighted by lines of mortar; cottage style with dormer windows; terraces hidden by giant box hedges; bright white neo-Georgian houses with metal porches; and all surrounded by beautiful, colourful quintessential English gardens.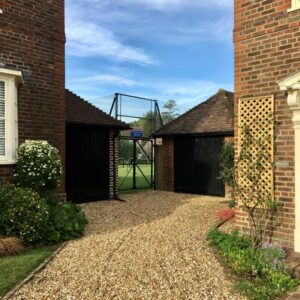 The residences converge around three squares of green along the track. These patches of grass cry out for running children or frolicking dogs. Most are watched over by giant firs to give shade and pinecone treasure. It's perfect for "playing out" and recalls a nostalgic childhood dream to have your own space to meet your mates for a game of tag or to lollop amongst the daisies. 
If your tag days are done, you may wish to stroll leisurely through this world and enjoy the mix of flowers and architecture that brings an aesthetic joy. Just wandering through it evokes positivity, so goodness knows what the residents must feel. 
As you enter the first square, listen carefully for the satisfying thwap of a tennis ball. For hidden in a corner is the entrance to Swaythling Lawn Tennis Club. It may be a members only tennis club, but it's far from elitist. No need to be a pro player to gain membership. Membership is open to all, and the people of the tennis club are friendly and welcoming. 
Divert to the courts during club mix-in times of Monday and Wednesday evenings or Saturday afternoons to find out more. Members will explain all about the club and probably offer you a game if you want to take your safari to a more active level. This is a real oasis of community living with a mix of competition, calmness and often cake. I knew there was a reason to get into sport.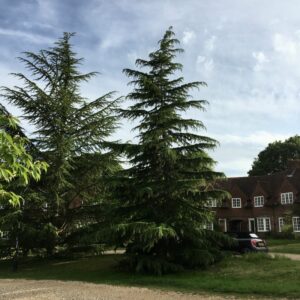 Herbert Collins envisioned a garden city where people could live in affordable housing amongst green spaces. Society may not quite be there yet, but we'll continue to rally towards it. And in the meantime, enjoy the life-affirming facilities we find in our back gardens (almost). 
Sit beside a lush green tennis court on a summer's day, chat with a whole host of people from all walks of life, play the odd game of tennis (perhaps badly but always with joy) and finish off with some well-earned tea and cake. It may not be quite hit the ideals Collins dreamt of, but with everything else going on in the world, it's a good break of service.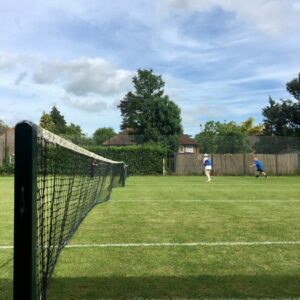 Cost: Free for the wander and to enjoy the architecture amongst the green spaces. Join the tennis club for a nominal fee but it will bring endless joy throughout the summer. 
Accessibility: Ethelburt Avenue is a gravel road with the odd pothole. Stoneham Lane reached via the A335, a main artery through the city. 
Facilities: Southampton's premier lawn tennis club ready for action. Refreshments can be purchased from the shops and takeaways on Bassett Green Road running parallel. 
https://www.facebook.com/SwaythlingLawnTennis
Can you help our funding appeal? We rely on donations from readers to keep In Common running. Could you help to support In Common, for as little as 25p  a week? Please help us to keep on sharing stories that matter with a monthly donation. Visit: https://www.patreon.com/incommonsoton