reviewed by Martin Brisland.
Churches are time capsules containing many graves, artefacts and curiosities that act as a window on the people and events of the past.
Following a career in academia John Vigar worked for the Churches Conservation Trust and he is a Trustee of a national charity, The Friends of Friendless Churches.
John specialises in the study of church architecture. He has written extensively on the subject and leads regular tours to churches across England. He has written guidebooks for several hundred churches and has visited and recorded over 13,000 of the 16,000 Anglican churches in England and Wales. So he is very well placed to write about some of Hampshire's most interesting churches.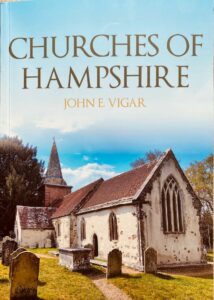 These churches vary from remote rural ones that have changed little in 900 years to those found in medieval market towns or bustling seaports.
Yet the building materials of natural flint, imported stone from Normandy or the Isle of Wight and, later, local brick link these diverse buildings together.
This absolute gem of a book looks at fifty of the most unusual Hampshire churches. It ranges from the Saxon churches of Breamore, Brockenhurst and Titchfield through to Romsey Abbey which avoided the Dissolution of the Monasteries in the 1530s, to isolated churches such as St.Hubert in the folds of the Downs at Idsworth.
Of particular local interest are his observations on St. Michael's in Southampton with its oldest parts dating from 1070 shortly after the Norman Conquest. St. Michael is the Patron Saint of Normandy. Nearly all the original stained glass was blown out during WW2 bombing. The 1949 replacement glass in the east window shows the 5 medieval churches of Southampton. St. Michael's has a rare 12th century marble font from Tournai in Belgium.
Near the entrance door is an effigy of a judge, Sir Richard Lyster who once owned Tudor House. He was closely involved with the turmoil of the 1530's and 1540's as Henry V111 broke from the Roman Catholic church to set up the Church of England. St. Michael's unusually contains two medieval lecterns. One, from about 1450,  was brought here after the bombing in 1940 of nearby Holy Rood church.
I feel sure that the excellent Churches of Hampshire will encourage many to discover the font of fascinating history on their doorsteps.
Available from Amberley Publishing for £15.99.
Can you help our funding appeal? We rely on donations from readers to keep In Common running. Could you help to support In Common, for as little as 25p  a week? Please help us to keep on sharing stories that matter with a monthly donation. Visit: https://www.patreon.com/incommonsoton