Southampton's Still Moving DJs and The Uplifter are hosting their very own all-day festival at the Brook this Saturday, the 26th June, with a programme for all the family.
In the afternoon there is family friendly fun, with Hand to Mouth Theatre, vintage games, face-painting and dinosaurs – outside if the weather is fine. And cake – it's a tenth birthday party celebration for the city's most eclectic DJs – stretched out to a thirteenth through the Covid timewarp. In the evening it's a full-on party with musicians, live percussion and dinosaurs. In fact, it's a whole dinosaur thing – bring a puppet, the dress code is anything with dinosaurs.
Martin Davis – a website designer (he designed and maintains In Common) and one half of Still Moving began working as a DJ to earn some cash to travel but then it all got serious when the bookings came in from festivals, events and parties and it turned into a career. Still Moving is a collaboration with Tom the Uplifter, who has been playing ska, dub and reggae together with live percussion for even longer.
"We are very different and also very similar, so we make a great team, and are very like-minded musically." says Martin.
"We love this venue – we've performed here with some great bands, and seen so many brilliant gigs here. The team are great, so where better to hold it. The new outside area is lovely, which is ideal for the things we have planned."
Hand to Mouth theatre specialises in shows for children, playing festivals and events around the country, while there will be no shortage of games.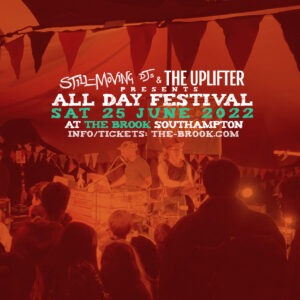 Tickets for the festival are £13, more on the day. Children under 14 go free.
It's Glastobury weekend – but if you haven't got a ticket, so what? The Still Moving DJs all-dayer in on the doorstep for all the family. Proper music from people who are neither small nor far away; proper food, proper beer, proper fun and all for a lot less money!
Still Moving Djs website: still-moving-djs.com
Buy tickets for the festival here:  the-brook.com/event-details/12085325/still-moving-djs-and-the-uplifter-anniversary
Can you help our funding appeal? We rely on donations from readers to keep In Common running. Could you help to support In Common, for as little as 25p  a week? Please help us to keep on sharing stories that matter with a monthly donation. Visit: https://www.patreon.com/incommonsoton