by Katie Isham
What are you drumming for? 
That was the question thrown at me, not for the first time. 
It's a genuine inquiry. Not accusatory. Just curious. Being lucky enough to be part of the Portsmouth branch of the Batala samba-reggae band means I help bring Brazilian beats to events across the south coast; I've seen more than my fair share of fetes, carnivals, parades and even the odd jamboree. It's a wonderful way to visit new places and meet a whole range of people whilst spreading musical joy wherever we bang our drums.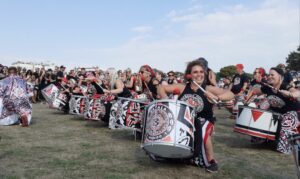 Most summer weekends, I load a big fat fundo into my hatchback and head off somewhere, anywhere, to join the rest of my Batala bandmates to hit a drum for a bit, often whilst trying to shimmy across a potholed field. Believe it or not, there's no better way to spend a few hours.  
And so that eternal question: what are you drumming for? 
Last weekend, I was drumming for some runners. A race gig is always fun. Drum at the start and see the eager faces, spurred on by our noisy rhythms. Drum along the route and see the range of enthusiasm and sweat push these athletes on. Drum at the finish line and we use our beats and bass to push them home. The same faces, redder and framed in sweatbands and grimaces break into grins as our drumrolls chivvy them along. Not being an avid runner myself, I'm forever in awe of what these humans can achieve. Still smiling, they clap us as they fly by. We drum to push people to be their best.  
What are you drumming for? 
A few weeks ago, I was drumming for some revellers. Victorious Festival was in full flow in Southsea. The sun was out and spirits were high. This is a hometown gig and always a banger (never apologising for that pun) so our band was an army. We played several gigs across the weekend, growing rowdier as the days wore on. By the time we spread our usual rows of drummers into a circle and invited the crowds into our collective beating heart, everyone was ready to be swallowed by the party. Glitter-strewn festivalgoers were dancing like their lives depended on it and the conga line lapped itself. Sweat dripping into my eyes, shouldering past over-exuberant air-drummers and unable to see our caller for the forest of arms in the air. It was glorious. We drum for the people who go home feeling like part of a moment in time.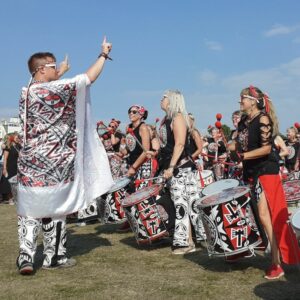 Afterwards, a woman told me earnestly that it was the best thing she'd seen all weekend. 
I got it. 
That was me six years ago. I remember so profoundly the first time I saw Batala, then stalking them all summer until they let me join the beginners group. This is drumming that gets stuck in your soul; a reverberating rhythm that calls you into the tribe. I still feel that every time we play. We drum for all our former selves before we found Batala. 
What are you drumming for? 
That same weekend, we stumbled upon a chain of events (playing for Sunday Brunch, Sam Ryder being the absolutely stand-up legend you'd expect, almost giving the stage manager a coronary – how many drummers?) that led us to play on the main stage at Victorious Festival. Looking out across a sea of people and feeling them clap along with our drums was quite something. An experience I never dreamt I'd have and one I'll never forget. We drum for a rock star and the crowd in the palm of his hand. 
What are you drumming for? 
A few months ago, I drummed for Queen and country. Batala Portsmouth had the honour of taking part in the Platinum Jubilee Pageant alongside the mighty Shademakers from the Isle of Wight. On the streets of London, we began our fastest parade in living memory. Half drumming, half running, we swaggered out of the shadow of the Big Ben tower and down The Mall. As long as I live, I'll never get over the roar of the crowd and the immense wall of people staring down on us from the entrance to Trafalgar Square. By the time we'd conquered The Mall and were pivoting around the Queen Victoria Memorial in front of Buckingham Palace, I was still hoping the Queen was in the royal box. Unable to take anything in by that point, I was just concentrating on not vomiting by the side of the palace (I promise I love drumming) so I had no idea who was watching. Later, I discovered our monarch wasn't there, but I like to imagine her sitting inside enjoying the beats: we drum so loudly, it'd be virtually impossible not to hear us. We drum for Queen Elizabeth II and I'm proud to have been part of these historic celebrations.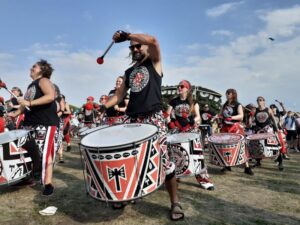 What are you drumming for? 
This weekend, I'll be drumming for a carnival. Every carnival is different, but every carnival has the same kind of magic. The excitement fever as we line up. Looking around seeing kids bursting with energy and adults wearing the most ridiculous costumes they've lovingly crafted for months on end. A carnival is a true labour of love. And the love moves through the town as the parade passes. Each tiny child staring wide-eyed at us, each sullen teenager trying not to smile, each elderly audience member forgetting their arthritis for a minute or two to clap along, even each dog barking at the dangerous Caixa section, feels the rhythm of Batala as we surf the carnival wave. My absolute favourite carnival pastime is to make eye contact with the grumpiest looking spectator. That one face that looks like they've had a hard week and too much on their mind, and I smile my cheeks off to them. I bang my drum and I grin until they crack. We drum for the people who need the carnival magic. 
Drumming brings so much joy to the world. Batala has given me immeasurable experiences and ongoing feelings of camaraderie. Wielding a bloody big drum works every muscle and following the musical patterns calms my anxious mind. The vibrations of the drum carry far and wide. They boost my mood whenever I feel the beat and that's even before our playing has made everyone around burst into smiles. Next time we drum in Holyrood church, Southampton,  or along Southsea seafront, we'll drum for you and anyone who's watching. 
So what am I drumming for? 
I drum for the crowds, the kids, the old folk, the runners, the curious, the blank faces, the barking dogs, the shimmyers, the shakers, the conga line, the rockstars, even for the Queen and always for my friends I get to drum alongside: strength and volume in numbers. I count my blessings every time I'm fortunate enough to drum for any of these reasons, and then I drum and I dance and I do my weird little singalong to the beats. I realise I drum for the joy I get from the joy I create. And then catch the eye of a small child whose mind has been blown by our music and I smile and keep drumming…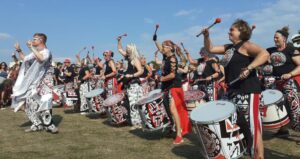 Batala Portsmouth will be at Ringwood Carnival  on Saturday, September 17, in the daytime and will also be taking part in the evening parade with lit drums. For more information, visit: https://ringwoodcarnival.org/. They will also be taking part in Music in the City in Southampton on Saturday, September 24, when they will be playing at Holyrood Church at 3.30pm.
In Common is not for profit. We rely on donations from readers to keep the site running. Could you help to support us for as little as 25p a week? Please help us to carry on offering independent grass roots media. Visit: https://www.patreon.com/incommonsoton