If you've missed the references or don't know much about LGBTQ+ history, then I hope you'll forgive me for reminding you that this year we are commemorating 50 years since the Stonewall riots in New York – the start of the modern gay liberation movement and the modern fight for LGBTQ+ rights. And that's where Pride comes from. It's a powerful concept and, as one Pride-goer told me, it's one we must all make our own.
Those serious marches of the 1970s seem a long way from the carnival atmosphere of Pride events today, but Pride still resonates in our hearts when we march, meet or sing, dance or party! So here's a taste of Southampton Pride 2019…
100% included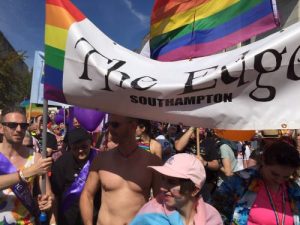 Siobhan moved to Southampton in May and this was their first Pride ever. She told me, "the atmosphere felt so vibrant and welcoming, it made me proud to be part of both the LGBTQ+ community and the local one."
For Darren, who has just launched Southampton Queer Collective, "the city came together in a carnival of colour to celebrate diversity and inclusion" and another visitor, Katie, said "Yet another amazing Pride event. I always feel 100% included around my people."
That's exactly why it's so important – and why those who say "what about a straight pride?" don't get how being LGBTQ+ can still be a marginal place. There are more legal rights than ever before, but there is still violence towards people based on their orientation or choice of partner, there are still young teens kicked out of their homes and families who don't accept… But Pride reminds us that we are not alone, we are included, we can celebrate our uniqueness and feel safe.
Where else do you find grandparents like one couple I spoke to, who brought their daughters and grandchildren to their first Pride. "What stood out?" I asked. "It's amazing – I love the acts and the atmosphere. My grandson was awestruck by that drag queen in foot high heels!"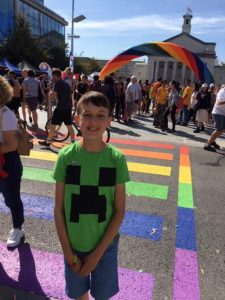 Not just a party
That was the atmosphere – fun and friendly, noisy (maybe louder than some liked!) and something for everyone. I met RMT union workers, police officers and rugby players, goths and fairies, drag queens and singers, pups and councillors – all coming together as a result of the army of hard-working volunteer organisers, like Matt who herded the parade, who said "I reckon it's three times the size of last year," or Danny Langrish-Beard, one of the overall organisers, who told me: "I do it because I want to achieve something for this community. I want to see kids feeling safe and empowered, trans and bi inclusion, faith groups and political statements supporting countries where simply being LGBTQ+ is still illegal. It's not just a party."
Commercial involvement
But it was also a great party and a great event – with lots of community involvement as well as the inevitable commercial elements. Some find this sad, the jumping on the bandwagon by big corporations. After all, where was Barclays in 1970 or what has Ikea got to do with our community? (Apart from stylish Swedish interior decorating which is pretty crucial…) On the other hand, without the big sponsors (like Carnival, the City Council and others) it wouldn't be such a big event, and I believe it makes a statement when large employers are willing to put money and action into including their staff as well as reaching out to the world.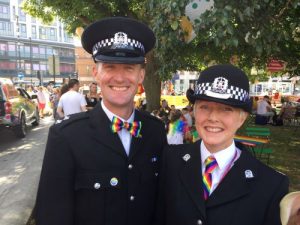 So I acknowledge there are concerns from many who felt it was too loud and too commercial, but it was still an amazing day (and this is the 4th year in the current run; and there hadn't been a Pride in Southampton for maybe 20 years before). I'll leave you with two more comments.
Ash Brockwell felt "it was a great opportunity to network with other charities and social enterprises, and this year also saw the launch of the Rainbow Safe Space Awards" but also feels there are lessons to learn and Jess Haynes, host of Bi-Wessex, agreed. Her words are the best to end with: "It was brilliant to march in the parade with the large Bi Pride flag. Being visible and proud, celebrating together and feeling part of a community. That's the heart of pride."