by Sally Churchward.
African Activities has been bringing art, music and storytelling to people, particularly schoolchildren, across the south for more than a decade. It's a dream come true for Kwame Bakoji-Hume, who felt a strong desire to share African culture with the people around him. "In Ghana, not a day passes without a neighbour sharing something with you," said Kwame, who lives in Eling, near Southampton, with his wife and children. "I thought 'I can bring this into the community'. It's good to share one's culture. It's how we can begin to know each other."
Artist and musician
Kwame is an accomplished artist and drummer. He was born into the drumming and herbalist tradition in Buipe, Ghana. His artistic talent might never have been discovered if he hadn't been injured and sent to hospital. While there, the sister saw him drawing and asked if he was being schooled. When she found out that he wasn't she asked if she could arrange for him to be schooled. Kwame was taken to a city where he lived with other students. His talent was apparent and he was sent to art college in the capital, Accra.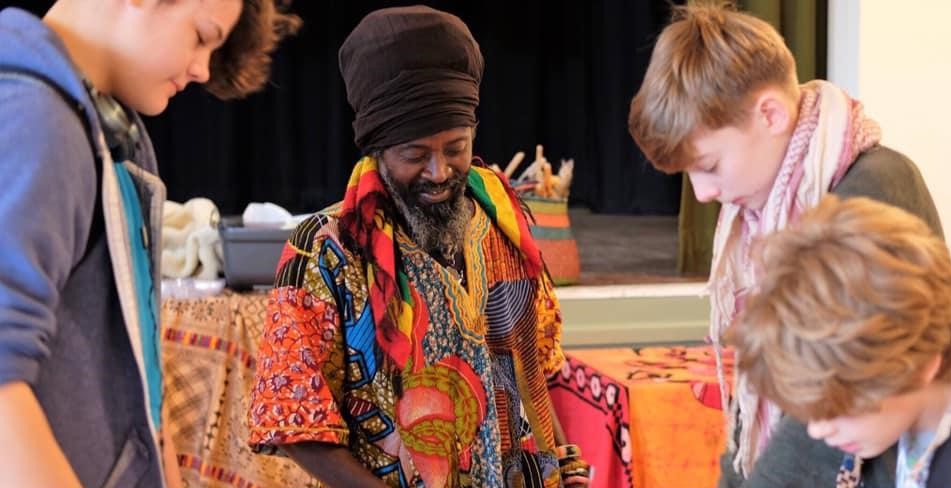 He established a successful art gallery, selling his own art – including paintings, sculptures and creations from recycled materials – and the work of other artists, many of whom were struggling to find audiences. He ran the gallery for a decade but everything changed when he met a young British woman, Lotte,  who was in Ghana doing research for her degree, and the pair fell in love. They moved to England for Lotte's work, at first moving to London, before moving to Lyndhurst and then Eling.
Moving to Britain
"in London I didn't know anyone and life was so fast," said Kwame, but when he moved to Hampshire, he felt far more comfortable. "People said hello and asked me where I came from. When I was painting I would leave my door open and people would stand watching me. I felt like I was home again."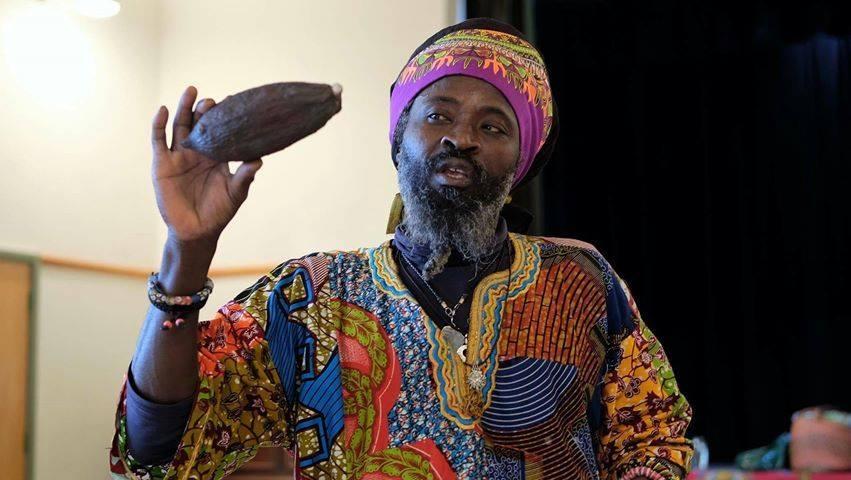 In 2008 Kwame set up African Activities – a group of artists, many from Ghana, who provide drumming circles,art workshops, storytelling, dance and other activities for nurseries, schools, festivals, community groups and private companies. One of his aims in setting up the organisation was to challenge stereotypes about Africa. He also wanted to share Ghanaian culture, reflecting its complexity and diversity, and to pass it on to a new generation. That has happened in a microcosm in his family. As well as Lotte being involved in African Activities, in marketing, one of his children has also joined the team, supporting band performances and workshops on the bell, shaker and Dun Dun bass drum.
"I've found that if you share your culture with people, they begin to open up to you," said Kwame. "People need to share their cultures, so that we can all live together."
For more information, visit africanactivities.org.uk