by Sally Churchward.
Claudia Friend is one of three Southampton-based artists being supported by city-based arts organisation 'a space' to spend four weeks in Venice,  invigilating the Cathy Wilkes exhibition at the British Pavilion at the Venice Art Biennale 2019, and developing their own artistic research. Claudia, along with Laurence Dubé-Rushby and Asten Holmes-Elliott was selected following an open call to visual artists living or working within the SO postcode.
Discarded materials
Claudia has an interest in working with reclaimed and recycled materials, and an awareness of the environment influences her work. "I often use materials which are discarded, left behind or rubbished," said Claudia, who co-founded popular Southampton give-away Facebook group I Need a Whisk. "I'm interested in what's discarded or swept under the carpet, in a more personal, abstract way, as well as in terms of wider social issues," she added.
Claudia creates installation work which reflects on making as a process as well as the everyday, the stories we tell ourselves, the things that are left behind or lost, and " the value and status of what we give attention to and what we throw away (both actually and metaphorically), in the context of our personal and social histories."
Connections and value
Claudia is currently in Venice. She explained that there are two strands to her project – to explore the historical and current connections between Southampton and to Venice and also to explore what is valued and why, by focusing on the act of looking and what we allow ourselves to see and accept. "I'm taking that idea of what we tend to discard, dismiss or not see clearly; the periphery of looking," she said.
Postcards to Venice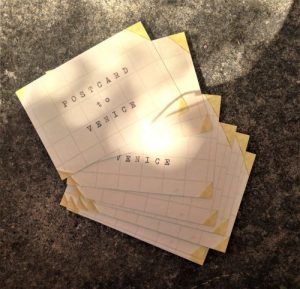 Claudia has been inviting people to write on 'Postcards to Venice,' which were available from a variety of locations around Southampton, on the subject of 'what is the value of art to you?'. She has taken these to Venice with her to distribute and is documenting her progress as she goes. Before leaving, she also spun a large ball of wool from the Hampshire Guild of Spinners and weavers, to take with her as an interactive element to her art. This echos Southampton's trading history with Venice, with wool being a key export to Italy in medieval times. Claudia learnt about Southampton's Venetian connections when she was involved in running the Wool House Project, a voluntary initiative set up by Element Arts to reopen Southampton's Grade 1 listed Wool House as a pop up arts venue. She explained: "I decided to look at those connections further and to reinvigorate them."
Claudia doesn't yet know what will come from the Venice trip but she is looking forward to sharing it with the public through 'a space'. 
You can follow Claudia's progress on Instagram.