by Sally Churchward.
Jeremy Corbyn  pledged to set up a 'people's power company' to 'give power to the people' once his party is in government. The statement concluded his speech to the capacity crowd of Labour Party members at Southampton's 1865 club on Wednesday, October 9, and was met with a standing ovation.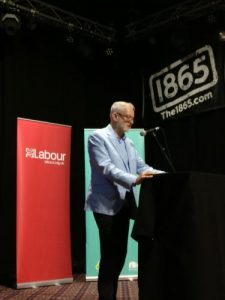 The leader of the opposition was in Southampton, along with Shadow Secretary of State for Business, Energy and Industrial Strategy Rebecca Long-Bailey, to promote the Labour Party's Green New Deal, or Green Industrial Revolution as Mr Corbyn called it.
The two MPs were at the rally following a visit to MHI Vestas, on the site of the decommissioned Fawley Power Station, where giant wind turbine sails, manufactured on the Isle of Wight, are painted.
They were preceded on the stage by Simon Letts, the Labour Party parliamentary candidate for Southampton Itchen, leader of Southampton City Council Christopher Hammond, Labour Party MP for Southampton Test Alan Whitehead and youth climate striker Holly Catto.
All speakers spoke passionately about the transformational power of the Green New Deal, in addressing the climate crisis, revitalising industry and helping people out of poverty, for instance, by ensuring all homes are properly insulated.
Green New Deal
Councillor Christopher Hammond described the climate emergency as 'one of the defining issues of our time and stated that by the end of the year the Labour council will have reduced the carbon emissions of the council by 76%. Simon Letts, former  Labour leader of Southampton City Council spoke about the importance of the Green New Deal for the country, in terms of energy supplies, providing jobs and reducing wastage through poor insulation, which contributes to fuel poverty. He added that from the air Southampton is 25% tree canopy and said that while this was something to be proud of, it's an area where the city could do even better, and stressed the importance of a national tree planting initiative to reduce pollution and global warming.
Alan Whitehead MP stated that green issues have been close to his heart for many years and said "it is a joy to see the change in the country in its commitment to reducing our carbon footprint." He continued: "I believe that our party has the best green policy of any party in the UK," adding "with a Labour Government we will be able to populate what we say with real actions to get us to a low carbon future."
Youth climate striker Holly Catto said that she had been disappointed with the whole country's  attitude towards climate change but that she believed that with the Green New Deal the Labour Party is leading the way forward.  In an impassioned speech which received rapturous applause, she spoke of her fears for her future and noted that Prime Minister Boris Johnson won't have to live with the consequences of climate change that she and future generations will.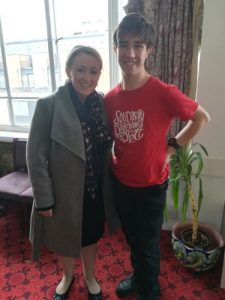 Rebecca Long-Bailey MP gave an impassioned speech, stating "If we don't take drastic action to curb climate change, our future looks bleak." She stressed the importance of not becoming numb to what the realities of food shortages would mean for people in the UK, where we rely heavily on imports – "people will starve" she said.
She said that tackling climate change is a moral obligation but that it also provides an economic opportunity, bringing jobs and investment, adding "our role as a party is the betterment of the people. We have to deliver the best quality of life that we can. This is why a Green New Deal is pivotal."
Jeremy Corbyn MP also stressed that as well as being key to protecting the environment, the 'Green Industrial Revolution' would create jobs for the whole country. "If we don't protect our environment, what's there for the next generation, or the one after that?" he asked, noting that extinction rates are getting faster and faster, global temperatures are rising faster and faster, ice caps are melting faster, rising sea levels are causing flooding and pollution levels are rising to appalling levels.
"Powerful forces are looking the other way," he said. "The Paris Climate Change Accord was a huge step but Trump is walking away from it. A Labour government will not be holding hands with Donald Trump. We want to strengthen the Paris Climate Change Accord."
Brexit
Mr Corbyn went on to talk about Brexit, stressing that his party would do everything possible to prevent a no deal Brexit. He said that people on Universal Credit who are struggling to make ends meet have a lot in common, regardless of their stance on Brexit, stressing that the Labour Party strategy is to renegotiate an exit deal with the European Union within three months of taking office and to then hold a referendum with the choice of "a credible leave option or remain and reform. We want to bring people together, not divide them."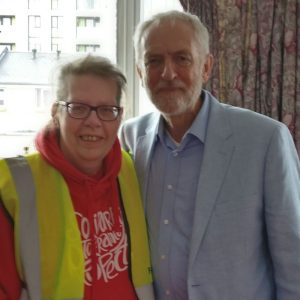 He said that to leave with no deal would create immediate problems, including food shortages and medical needs not being met, adding "Surely to goodness we need someone a bit more sensible doing this than Johnson."He added that the country doesn't want a no deal which puts us in the 'arms of Donald Trump adding "our NHS is not for sale" to huge applause.
Mr Corbyn's speech was one of hope, for his party's Green New Deal, to help protect the environment and provide jobs, hope to end austerity, to nationalise energy and water, to end university tuition fees, and more.
"I want the next generation to be better off – to live in a safer world, with more environmental stability, a world of global peace, not endless preparation for war," he said.
It was a message that was well received by the audience, who rewarded him with a lengthy standing ovation and many of whom queued up for some time to have a selfie with the man who they hope will be the country's next prime minister. His challenge is to take his party to election victory and sense was that he believes that election will be called very soon.