by Sally Churchward.
IT'S a Monday evening in a Southampton pub and a group of football fans are gathering to watch the big game. A flag is hung from a wall, team scarves are unfurled and jackets are removed to reveal tops emblazoned with the team's logo. It's a derby match and there is an air of excitement as the game kicks off.
But these aren't Saints fans, here to cheer on their team against Portsmouth. These are members of the Southampton FC St Pauli supporters group, here to watch a clash with Hamburg SV and for them, what goes on off the pitch is at least as important as the final score. 
Anti-fascist football club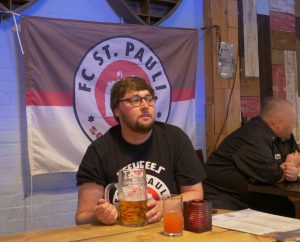 FC St Pauli, from Hamburg in Germany, is an overtly political team who stand for inclusion, and against fascism, racism, sexism, homophobia and all other forms of discrimination. The Southampton supporters group is coordinated by Ryan Wheeler, whose t-shirt features the group's logo, with a picture of the Bargate in the centre and the words 'refugees welcome' written round the outside.
The Southampton group is just one of countless such groups in different countries,drawn to St Pauli's left wing fan-led approach, and its spirit of inclusiveness. The team wasn't political when it was formed in 1910, or for the first 70 or so years of its existence. It was in the 80s that an alternative fan scene emerged, many of whom were punks and wore or carried flags with the skull and crossbones symbol, which supporters have adopted as the team's unofficial emblem. Many of the fans were left leaning social activists and the club itself began to take on those politics, for example, by becoming the first team in Germany to ban right wing nationalist activities from its stadium. 
"I've been a Saints fan all my life," says Ryan. "I saw my dad's friend wearing St Pauli's skull and crossbones tee shirt and asked about it and started researching them myself. "I found out about other supporters groups and started the Southampton group around 14 months ago. I was drawn to their left wing politics and the fact that it's a grass roots, bottom-up, community based group. They are very outspokenly left-wing. In their stadium it says 'no person is illegal'. They work with lots of refugee initiatives and there is a real community atmosphere."
Community and politics
When Ryan first went to Hamburg to watch St Pauli he was on his own, so got in touch with other supporter groups and soon found himself surrounded by new friends. "A group of people said they would be at a particular Christmas market so I went there and within a few minutes there was a tap on my shoulder from another fan and it was like I had known them for ages – with politics and football, we had a lot in common."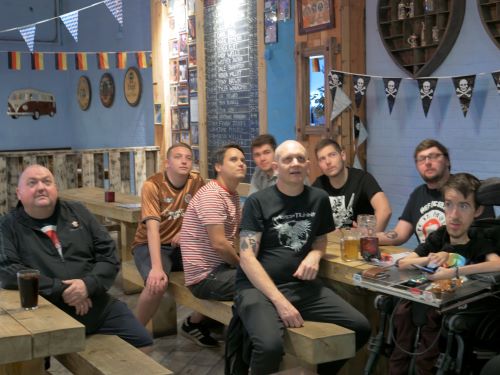 Ryan combines his love of Saints with St Pauli. "I have a Saints season ticket; they're my local team and I've supported them since I was a child," he says. "With St Pauli, it's all about the community and the politics. It's not that the football doesn't mater, I do want them to win, but at the same time the politics and the community are just as important as the score.
"With a team like Saints, fans don't have much influence. With St Pauli, it's very different. For example. They were being sponsored by a men's magazine. The fans said they didn't like it because they felt the magazine was contributing to the sexualisation of women, and the team scrapped the deal."
For Ryan, as with many St Pauli fans, the dovetailing of football and politics is what draws him to the second-division German team. "Politics is a big part of my life," says Ryan. "Being a member of the Labour Party is very important to me. Politics is a big part of everyone's lives, whether we realise it or not. It affects everyone and it's important to make a stand. St Pauli do that. They do things like raise money for charities – they support the Sea Watch Project – and there is a refugee football team with close links to St Pauli, FC Lampedusa."
New friends
For Ryan, a great thing about starting the Southampton FC St Pauli supporters group is that it brings together a wider range of left-wing individuals than those who attend local Labour Party meetings, including anarchists, communists and members of the Green Party as well as the Labour Party, helping to break down some of the potential divisions between different political groups. There are almost 100 people in the Southampton supporters' Facebook group, with up to 30 attending screenings, some live but many delayed, at Stein Garten in Southampton's High Street.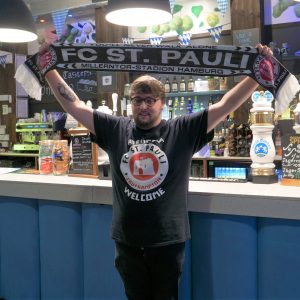 "I think if you weren't at least sympathetic to the left wing, pro-refugee, anti-fascist, anti-homophobic stance of the club, it would be quite off-putting," says Ryan. "St Pauli are different to a team like Liverpool, which has a majority left-wing fan-base but the club itself doesn't make a political stand."
Ryan says that the supporters group is a great way to meet people and make new friends. "At the first screening, I only knew two or three people out of around 15. Now these are people I have been to Hamburg with, to watch St Pauli and I've started going with some of them to watch Eastleigh when Saints are away. You don't have to be into football to come along. For some people it's just a reason to get together and for some of them, they weren't really into football to start with, but have got into it now."
Inclusive
Amongst those gathered to watch St Pauli play Hamburg rivals Hamburger SV are Tom Pickett and Matthew Williment, who have recently started watching games with the supporters group. For them, the team's culture is a huge part of its appeal, as well as the fan scene, and they are planning a trip to Hamburg, where they hope to meet up with supporters from elsewhere.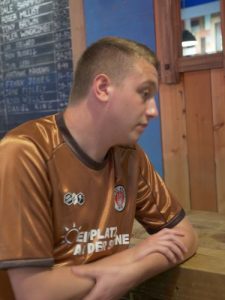 "I like their approach towards communities, for instance flying the LGBT flag. That's really cool," says Matthew. "There can be a lot of stigma in sport in general and especially in football. Sport should be inclusive. I realised quickly that they are a very different team, with the culture and the atmosphere," adds Tom. "The fan culture is incredible."
George Baker is also planning on heading to Hamburg to watch a game. "The club's values and culture are very important,"  he says. "In this county, clubs are owned by billionaires who have no connection to the area and don't have values that mean anything to me so it's great to see this club, with real morals, doing something worthwhile."
Richard Picket's interest in the club grew out of an unpleasant encounter following a Saints match in the 80s. "Saints were playing Hamburg. I was chased through Southampton by Hamburg fans and developed a dislike for Hamburg after that" says Richard. "I discovered St Pauli a couple of years after that, and of course they're rivals. They were starting to develop their political side then and that was how my interest in them started."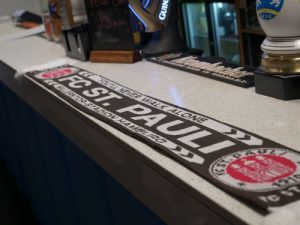 Richard went to see the team and loved the culture around the team, with politics and music. He now goes to Hamburg to watch them play twice a year and enjoys the regular meet-ups to watch the team on TV in Southampton.
As kick off nears, more supporters arrive to join the group. There's a friendly atmosphere, as people catch up with each other and settle down to enjoy the game.
"It's a nice, inclusive, social atmosphere," says Richard. "Whenever you meet up with a group of St Pauli supporters, you know you're going to be welcome."