by Chris Richards.
Atelier n. a workshop or studio, esp. of an artist or designer. [F]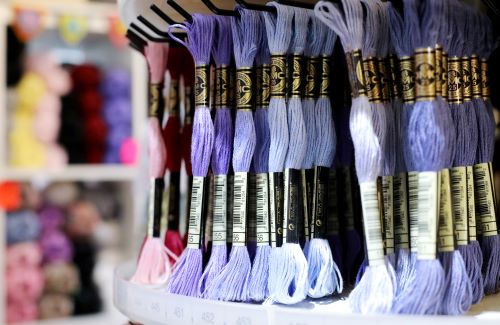 There's a quirky shop front at 19 Church Street, Southampton. Tucked round the corner from Shirley's suburban high street, on a side road where a few small shops soon give way to housing and the dramatic edifice of Shirley Towers, it is easy to miss. But this gem is well worth finding.
As someone who loves all things craft related, I feel an excited joy at taking my first steps inside, to the sound of the tinkling bell. The hush, the precarious order, and the broad scope of colours are tangible. Towering stands full of threads, yarn balls that beg to be squeezed; there are dozens of buttons, and rows of fabrics line the shelves. Meanwhile, Jenny's greeting from the back of the shop makes you feel welcome and at ease.
Jenny Bromley is the proud proprietor of Atelier Needlecrafts. A keen crafter with a background that will be familiar to other crafting enthusiasts, she was initially taught to crochet at about nine years old by her grandmother, then to knit at school and finally to sew clothes by her mother, as she made a lot of clothes at home.
"This was well before Primark" Jenny remembers. As time passed Jenny began to make her own too. "I made a lot of the fashion items, things like hot pants!" She continued crafting and sewing into adulthood, eventually making clothes for her own four children.
Jenny and Howard
Howard first saw Jenny across a crowded tent, while they were both volunteering for the Red Cross at Southampton Boat Show around 30 years ago. He was asked to teach her to drive an ambulance and ultimately plucked up the courage to ask Jenny out. Marriage followed for this ideal pairing. Since then they have journeyed from volunteering together to creating a hub for a crafting community. Being answerable only to themselves, they are both diligent managers and faithful workers.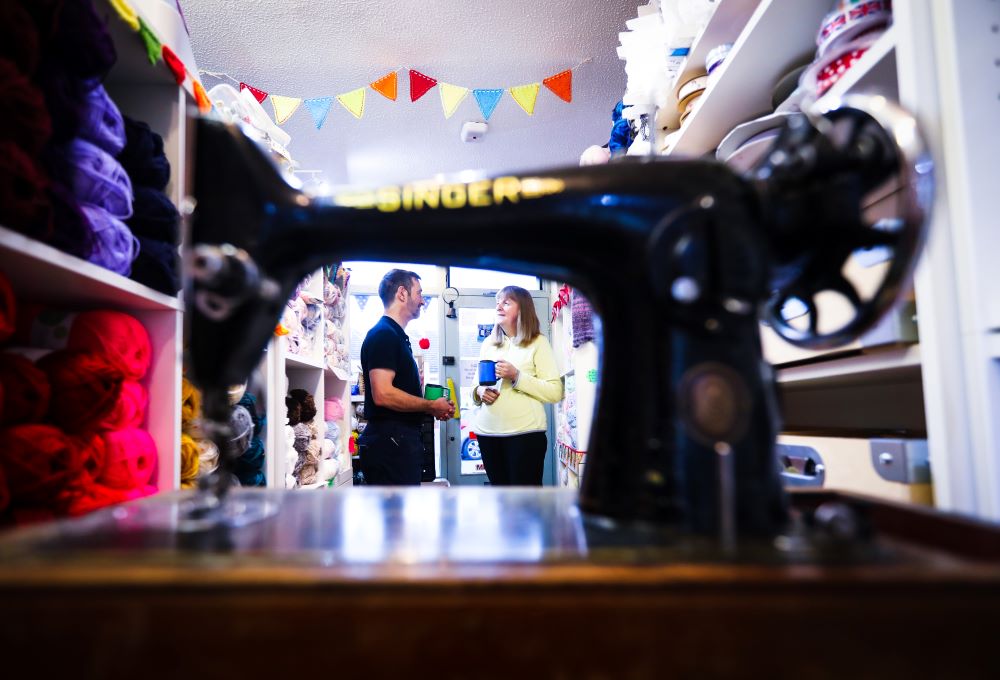 Throughout it all family has always come first. Sundays, family visits and annual holidays are jealously protected. Jenny regularly acts as carer to her mother who still lives locally. It isn't difficult to see that Jenny is innately caring, empathetic, and practically resilient. Whether it is visiting family, making decisions about the future of their business or just listening to a customer's day to day grumbles, it is all met with compassion and a desire to make the best of what is there.
One struggle Jenny cannot always avoid is overthinking once the door is closed. "I find myself sitting up at night wondering if so and so's mother is getting on alright after a passing conversation in the shop. I will fret 'til I know they're alright. …That's the way I am. I like to make time for people. Talking to each other face to face is important." She says.
Partners in life and business
The history of the Bromley's business begins in the 90s before the shop, in their own 'atelier' at home; some would call it an an outdoor workshop, but to Jenny it was "the garden shed." They were making and selling their own costume jewellery for local craft fairs. A friend suggested jewellery repairs as a more lucrative and stable income. Howard packed off to Birmingham to complete a goldsmith course and around a year later in 1999 they opened their Atelier premises as a jeweller, along with renting the flat upstairs, moving in with three of her four children, one 16 years old and the youngest two both under 10.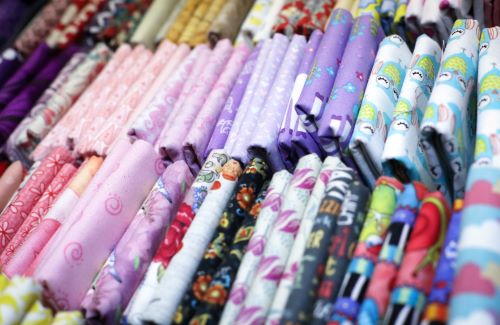 Business was steady for the following decade right up until the, now infamous, financial crash circa 2009. The transition from making costume jewellery and repairing gold to selling fabrics and haberdashery was, to them, obvious. Regulars at craft fairs, it was merely expanding their repertoire. An adaptation prompted further by the downturn of supplies found in the large stores in Southampton such as Tyrrell & Green and the rise of online sales. "I couldn't get hold of the things I needed, so it just made sense," Jenny reflects.
From HGVs to sewing machines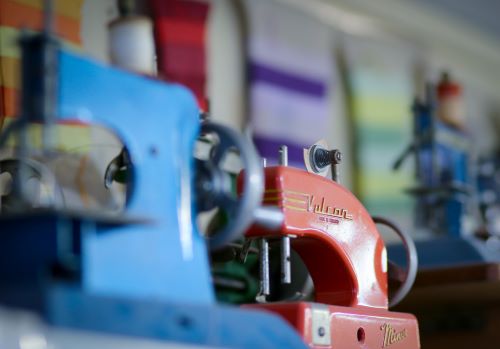 Howard originally trained as an HGV mechanic so when Jenny's Mum talked about her friend's sewing machine playing up and not knowing where to take it for an affordable service, he wondered how different a small engine would be compared to those he already knew? Fast forward six years and Atelier are now the local retailers for Janome sewing machines. They have accepted contracts to service and maintain a fleet of school sewing machines and industrial machines for other businesses in the area.
20 years of adapting
Down the years, Atelier has become the centre of an ever expanding international community; expatriates bring their machines back to be serviced and repaired during their visits to family, and call via skype from abroad for advice about their sewing machines, crafting projects and all things Atelier. Some local, frail but ever-committed crafters, tend to call in their order on the phone and Jenny will endeavour to send them out. Atelier's community are always welcome to the shop with no obligation to buy and can just seek guidance and advice. Jenny believes human connections are paramount, "I don't want people to think they can't come in for just 10cm of ribbon or a couple of buttons. I want to treat people how I'd like to be treated."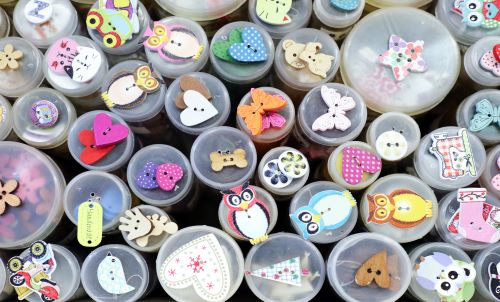 Business is currently steady, motivated in part by the enthusiasm for The Great British Sewing Bee on BBC, but also by the local eastern European population who make up the majority of the younger generation of customers, for mending, adjusting and making clothes at home, like Jenny's own family when she was growing up. Jenny always knows when school proms are on the horizon!
When asked about prospects of either selling, expanding the business or even moving premises, I am met with a sober response, "We are the business. We have no intention of selling the business – it'll die with us," which I cannot help admiring. Any expansion or further online presence would ultimately affect their autonomy, overall control, and risks their reputation.
Jenny is the guardian of their good name which is and always has been key to their ongoing success. How will she be dealing with the new challenges ahead? With an iron-clad resilience, self-belief, chameleon-like adaptability and with the love and support of her family and community. Just like always.
Find Jenny and Howard at their shop in Church Street from Tuesday to Saturday, or check online for more details at www.atelierneedlecrafts.co.uk