by Martin Brisland.
A Christmas quiz to help entertain you and your guests over the festive period. Simply answer true or false to the questions below. The answers are at the bottom, so no cheating!
St Marys Church and Southampton Guildhall clock tower, by Mike Daish

The last public tram service was on New Years Eve 1949.

 After the 1940 bombing of Southampton money received at  the Civic Centre included a cheque from a South African mining magnate for £1,000, which is equivalent to almost £40,000 today.

Blackout regulations in World War 2 meant there was no carol singing in Southampton's streets but pantomimes went ahead.

The song the 'Bells of St. Mary's' was sung by Bing Crosby in the 1945 hit film of the same name. The song was written about the bells of our St Mary's Church.

Southampton FC are nicknamed the Saints as they rarely received yellow or red cards.

King Richard I spent his only Christmas in England at Southampton Castle.

Joy to the World! Is a favourite Christmas carol. It was written by Southampton born Isaac Watts.

Stop the Cavalry was a 1980 Xmas hit for local lad Jona Lewie.

There was an old tradition of seeing in the New Year outside Holy Rood Church.

During the English Civil War Southampton was Royalist as Oliver Cromwell had banned Christmas from 1644.

Writer Jane Austen once lived in a house on the site of the present day Duke of Wellington pub.

Southampton removed a statue of the German Kaiser so as to not offend him on a visit.

 On Boxing Day 1951, American film actor Humphrey Bogart, his wife Lauren Bacall and their son Stephen left Southampton  for New York following the completion of Bogart's latest film 'African Queen'.

There was no pantomime at the Mayflower Theatre for Christmas 1999.

On Boxing Day 1970 Saints played away at Arsenal in heavy snow and on an icy frozen pitch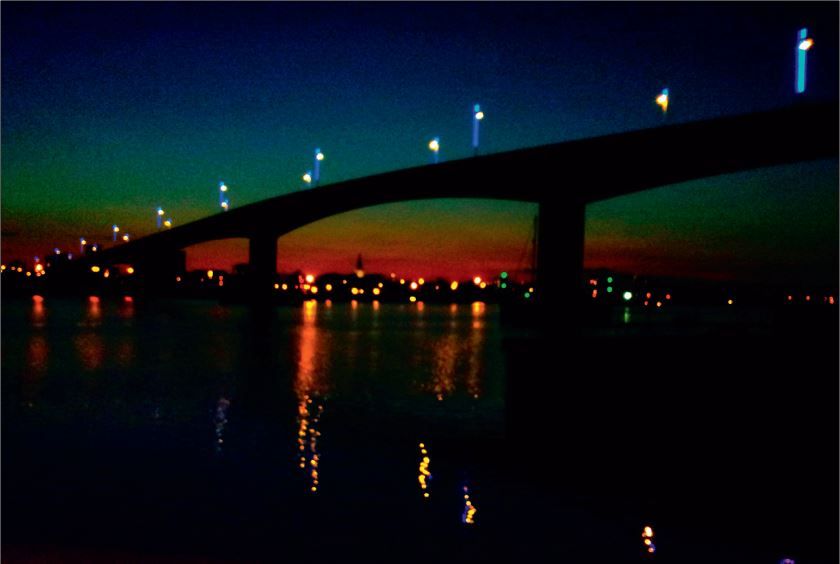 ANSWERS
TRUE – the last tram through the Bargate arch had been earlier in 1938, after that they went around it until 1949. Ben Ventham, 94, is the last known living Southampton tram driver.

FALSE – it was £2,000 equivalent to almost £80,000.

FALSE – both were banned.

TRUE – the song was written by Furber & Adams was published in 1917. They had heard our bells in 1914. Bing actually visited St Mary's Church when he visited Southampton during WW2. A ring of eight bells was first installed in 1914. Cast at John Taylor's Foundry in Loughborough, they were given by Mary Ann Wingrove in memory of her late husband, Robert. A further two bells were added in 1934. Following the destruction of much of the church in November 1940, the damaged bells were taken away for safe-keeping. However, ten new bells were recast from the metal of the originals in 1945, again by Taylor's, and rang again in 1948.

Southampton city walls, by Anita Foxall

FALSE – In 1880, the St. Mary's church football team, began playing on the Deanery field, behind the present vicarage. By November 1885, the Deanery club had folded and a new club was founded by members of the St. Mary's Church of England Young Men's Association playing as "St. Mary's Young Men's Association F.C."; this became simply "St. Mary's F.C." in 1887–88, before adopting the name "Southampton St. Mary's F.C." when the club joined the Southern League in 1894. After they won the Southern League title in 1896–97, the club became a limited company and changed their name to "Southampton F.C." which has maintained its ecclesiastical connection via its nick-name "The Saints"

TRUE – Richard The Lion Heart (1157-1199) was king for only nine years, of that he only spent 6 months in England as he was away fighting and the only Christmas he spent here was at the former royal castle in Southampton.

TRUE – Isaac Watts (1674-1748) wrote around 750 hymns. His 'Our God, our help in ages past' is still rung from the Civic Centre clock tower several times every day.

TRUE – born in Southampton in 1947. Jona says: ""I had no idea it would be a Christmas hit in 1980. It coincided with the death of John Lennon – he was shot on the day Stop The Cavalry was released. The next week, two of his songs were numbers one and two and my record was at three. It's great to have a single that's up there with White Christmas and Slade's Merry Xmas Everybody that gets played every December. Sometimes I hear it in a shop and I'm like, 'Crikey, that's me!"

TRUE – thousands would gather there every New Years Eve up to 1940 when the church was destroyed.

FALSE – Southampton stayed neutral during the English Civil war openly supporting neither the Royalists or Parliamentarians. It is true however that the Puritan War on Christmas lasted from 1644 until 1660. Mince pies, holly, public entertainments and other customs fell victim to the attempt to eradicate every last remnant of merrymaking during the Christmas period.
FALSE – Jane Austen (1775-1817) did live in Southampton from 1806-09 in her brother Frank's house. The present day Juniper Berry pub not the Duke of Wellington is now on the site.
 TRUE –  Sir Frederick Perkins, M.P. for Southampton, presented the town with a terracotta statue of Prince Albert which was placed at the eastern end God's House Tower. Perkins had paid £300 for the statue in 1869. In 1912, the statue was in a dilapidated condition and to prevent offence to Kaiser William II, Prince Albert's grandson, who was visiting the town, the statue was removed. During the First World War, the statue was destroyed by Royal Engineers who found it in the corporation's storage yard.

FALSE – They actually left in September 1951. Bogart however was born on Christmas Day 1899 and died in 1957.

TRUE – the Mayflower was closed from 12 December 1999 to 5 January 2000 being made ready for the Phantom of the Opera show. A panto was put on at the Guildhall that year. 

TRUE – It ended 0-0 and was on a barely playable frozen pitch.