by Sally Churchward.
As the full horror of the coronavirus crisis and, specifically, how under equipped our hospitals and unprotected frontline staff are, Damien Long knew he could help.
The former advertising agency project manager spent much of his spare time creating and sometimes even designing replicas of props from sci-fi films and books on his 3-D printers. And he quickly realised the the skills and equipment that he used to make blasters and lightsabres could be repurposed to make PPE face shields for doctors, nurses and other frontline staff.
"I'm part of a lot of 3-D printing groups and when all this started, there was a lot of talk about files that can be used to print things like face shields," says Damien, from Sholing, Southampton.
"I looked at what I could print and found a design that had been approved for medical use in the Czech Republic. There's nothing like that for here – it can take months or even longer for something to get approval so I thought this would be the best to go with."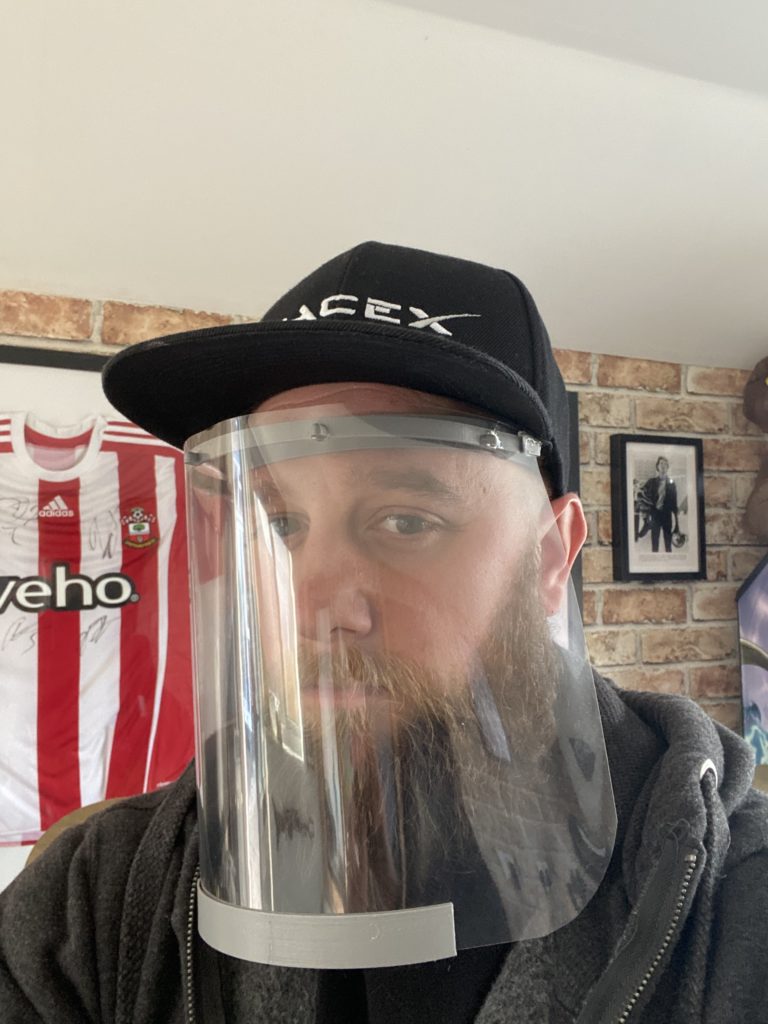 Damien, who this time last week had two 3-D printers, made and assembled a face shield and posted it on his own personal Facebook page on Tuesday, to see if there was interest in him making more. Responses came flooding in, from medical staff at hospitals in Southampton, Portsmouth and from further afield, across Dorset and Wiltshire.
"People said that they were very low on PPE and were having to ration it," he says.
Damien had been intending to make around 200 masks with his own money, in the free time he had having been made redundant following the onset of the coronavirus crisis.
But as he realised the scale of demand, which was not being met by supplies from central government or big industry, he set about raising money for more 3-D printers and supplies to make 600 masks in six to eight weeks, launching a crowdfunding page last Wednesday.
He hit his modest £600 target within 24 hours, and has gone on to raise almost £3,000.
He has been helped along the way by local advertising agency Five by Five and its sister company Dragonfish Consulting, both of which supplied new 3-D printers, as did Whitely-based construction recruitment business O'Neill and Brennan and their clients, Dodd Group. The donated printers will be donated on when the project is complete.
He also bought a further printer with money from the crowdfunder (or rather, on his credit card – the money from the fundraiser hasn't been released yet) and a friend loaned him a printer, taking his total up to eight. He is running the printers 22 hours a day, switching them off at around 4am for him to sleep, while his partner, Beccy Stephenson, turns them back on again at 6am, when she gets up for work. He has tweaked the design he's working from, to speed up the process and is now making around 160 face shields a day, assembling them with his partner in the evening and at the weekend.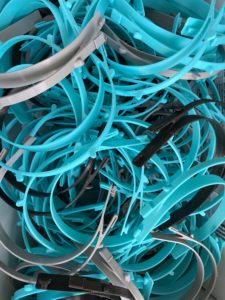 His new target is to make 3,000 to  3500 face shields within a month. He hopes that by that point, conventional manufacturers will have stepped in and will be meeting the need, rather than people like him, running production lines at their own expense in their own homes.
"I don't actually want to be doing this," he says. "I'm bringing large amounts of materials into my home, which is a real concern at a time like this. I really hope major manufacturing can sort out the PPE issue as soon as possible."
He doesn't need anymore cash for raw materials or printers – there's no room left in his and Becky's home – but he is putting out an urgent call for OHP film, used to make the face screens, and .8mm nozzles, mark 8, suitable for Creality Ender 3 and 5 printers. He also needs bowden tube.
"The OHP film is expensive and it's sold out everywhere, as so many people like me are making this equipment," he says.
"I have around 2500 to 3000 thicker sheets being donated by Flight Plastics, but that delivery isn't going to come for a few days, so if anyone can help with some sooner, that would be a big help."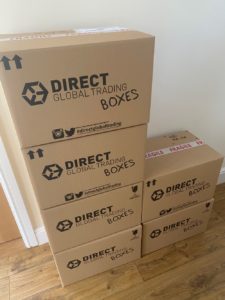 Damien has already sent 650 masks out to local hospitals and other frontline services, such as local homeless shelters. He can supply anything from small numbers of shields for services such as pharmacies, to filling orders for large hospitals.
"Because they are open, they are splash guards, so masks still need to be worn under them, but it does give people an extra layer of protection," he says. "I've had some pretty emotional messages from nurses, saying thank you. There are a lot of frightened people in frontline roles, doing the best they can."
Damien is keen to reach out to others interested in using their 3-D printers to make PPE and to hear from engineers, scientists or other printers for suggestions on how to improve the equipment that he is making. He'd also be delighted to hear from manufacturers if he can help them turn out industrial quantities of face shields.
Damien is glad to be able to help those who are short of PPE but is baffled by the fact that hobbyists like him are filling this huge equipment gap in the NHS and beyond, and hopes that big industry will be stepping in soon.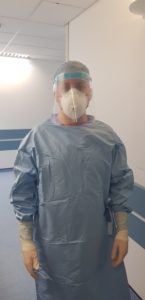 "I'm a hobbyist but I realised I could scale up what I was doing and I'm not doing anything else," says Damien, who has a job offer waiting for him once the coronavirus crisis has settled down.
"But it's crazy – I don't think hobbyists should be the ones supplying PPE to doctors and nurses on the frontline in the NHS, but we are."
For more information, and to visit Damien's crowdfunding page, click here.
To contact Damien to discuss producing PPE or with small orders for face shields, message him via his Facebook page.
The file Damien used for the shields is available here.