by Georgina Morgan.
In years to come, people will have their own unique stories to tell about this period in their lives.
 For me, I'd just started my dream job as a Recruitment Resourcer for an amazing company whose high standards and values reflect my own and then COVID-19 happened. 
As a perpetual worrier who is very independent, like so many of us, I felt sad for my daughter and anxious for the future. However, my manager suggested that I focus on what I could control and contribute to, rather than what I could not. So, I decided to volunteer my help in the local community.
 By volunteering, I have acquired an increased sense of purpose with the ability to see and get to grips with local issues at first hand. Being part of the power when a community works together to look after its own is proving to be a very gratifying experience.
 The Southampton Coronavirus Mutual Aid Group was initially set up by one man with a mobile phone, and the collective now has more than 580 volunteers all over the city – divided into polling areas. The group is not council-run; we are all volunteers from all walks of life who share a common goal of wanting to make a positive contribution by helping those in our city who need a little extra during this difficult time. 
 Many of us are working full-time and or juggling home schooling and childcare. It is organised behind the scenes using team management software, and then each ward has its own Whatsapp channel for communication.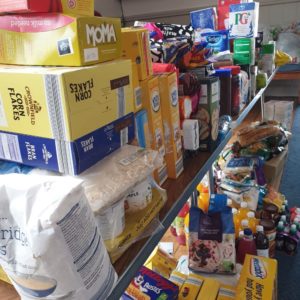 It is a real privilege to meet and work with so many passionate and hard-working individuals. Sophie who organises the emergency food packs, Ana, who coordinates people who are sewing and  so many more great people all working behind the scenes.
 My main focus is to coordinate one of the geographical areas; however, I also really enjoy helping out with everything and anything – usually, this involves supporting food banks and running errands etc. Or it could be assisting with shopping requests for those who are self-isolating or picking up prescriptions, but it really can be anything. One of the coordinators recently received an urgent appeal to get a sick dog to the vets – no one is left out! 
 I have made friends in the most unlikely of places (Fellow coordinator Wahjat is a driving instructor – it took me 17 years and seven driving instructors to get my license, so this was a friendship I never thought I would have!) Then there is Jazz who manages the hotel which is looking after the homeless. 
 Meeting different types of people from a variety of backgrounds requires us to have patience and understanding of each other, and this enables us to communicate and plan effectively. We share equally in the successes and also the occasional disappointment. 
 What I love most is that there is so much expertise between us all that when pooled together, it creates a fantastic force to do good. Most importantly, we are continually looking at ways to improve what we deliver and identify pockets of people who might be going unnoticed or need further support. Mencap recently asked us to help with getting high volumes of activity packs to their volunteer community, which we helped to source and deliver. 
 I was not born in Southampton, but never have I been prouder to be an honorary Sotonian than I am now. We have stood together as a community and looked after each other in a time of great need. 
 Community spirit, however, is not restricted to just one aspect of where we live, it extends to where we work and shop – and that means local businesses. They too need to benefit from community spirit; they need us, you, me, to use their services and buy their products, they in return will employ local people and thrive in our local communities.
 You might not have been able to do anything so far to help the community, but you can now. There are so many local businesses, both large and small, that have adapted their business to adhere to social distancing and continue to operate. They need us. They need you!
 It is these businesses that give towns their own distinctive identities – they help to make Southampton unique. They are the ones that will have sponsored the local football club, donated fete prizes to schools – these businesses have stood by us, and now we owe it to them to give them our support.  
 Local businesses have been the cornerstone of development and innovation in Southampton, they underpin our solidarity, and even in these difficult times, they have continued to adapt and serve us. We all need to play our part and consider different ways to ensure that we look after this valuable asset for years to come.
 For those like me, who are missing eating out, there are so many restaurants that are doing 'take-aways', or fishmongers, butchers, pubs etc. that are reasonably priced and do home delivery. There are even yoga classes online which you can do in your own home. There are so many local businesses doing their part to add value to our lives while trying to keep their businesses operating.
 Being an unpaid volunteer does not mean we are not professional. My career to date has involved working for national organisations that think and act on a large scale. This experience has enabled me to emulate and tailor the best of those practices and apply them locally to deliver real tangible change at 'grass roots' level.
 As a parent, colleague, volunteer and proud member of my community, I initially started volunteering because I wanted to follow my heart and 'make a difference'. Since doing so, I have met people I did not even know were 'out there', I have increased my knowledge and confidence and shared moments of fun and achievement. Most importantly, I know I have made a difference and 'feel' I have made a difference, and that is so rewarding.
 You too can do the same and start right now. Take a few minutes to look at this list which was started by a local journalist Sally who has created an online newsletter. With the help of lots of lovely volunteers, I have managed to add to it. 
 When you next go to click online to order – look at the list first or 'think local'.