reviewed by Chris Richards.
Ben and the Bug is the second book in the Split Perspectivz series by Natalie Reeves-Billing with illustrations by Lisa Williams. This story artfully describes the circumstances of COVID-19 to young children without fudging the facts. There have been many child-friendly approaches doing the rounds on social media to explain the current situation and how best to protect our health; the facts about hand washing, social distancing and who is most at risk.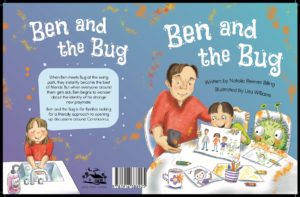 This special book combines bright, friendly, and informative visuals with clear and lyrical verse that demonstrates a daunting and abstract concept for young children to consume in a short reading session. It is one of the best examples I have come across. A nice simple story that doesn't shy away from real life consequences, minus the fear, and backed up with a page of hopeful and comforting explanations accessible to children.
This probably won't become a bedtime favourite; the tone is honest and focused and the intention is to arm parents and guardians against some of the most difficult and complex questions from our young children. The 5-year-old really enjoyed spotting the tiny bugs on each page and quickly connected the orange trail with the spread of the virus. The 8-year-old was listening with a depth of cynicism only plumbed by big brothers looking down on their little brother's 'baby stuff' but he did have a couple of questions which were answered (smugly read out by Mummy) in the 'Did you know?' bubbles on most of the pages. The optimism is cranked up to absolute maximum with the creation of a vaccine in no doubt because the brainy people are working on it.
We all got something from reading this book together. Both my kids were informed but not overwhelmed and I felt comfort knowing the information is all there and written in a way that I don't have to interpret or translate. I whole heartedly recommend this book for early years kids and even up to the end of primary age if clarity is what you're looking for.
Published by Lollipop Lodge via Amazon and is available to purchase now. Check back with monstrousme.com for further details of the upcoming series.