by Charlie Hislop.
It's Southampton Pride weekend! 
It's August! It's Bank Holiday! It's Southampton Pride – but not as we know it. With no outdoor events allowed this summer, Southampton Pride Digital is an afternoon on Facebook live, followed by a not-so-traditional after party, and a full-day Voice FM Pride takeover.  
The on-line Pride Digital show takes place this Saturday, 29th August, and will be opened by the Mayor of Southampton At 1.00pm. It features music, artists acts and an array of speakers and other performers, including the Solent Gay Men's Chorus and the Golden Groove Band.  
On Bank Holiday Monday, Southampton's community radio station hosts Pride on Voice. It goes out on 103.9FM and internet radio from 10am-10pm. The day is being organised by Daniel Langrish-Beard (pictured below) who hosts Voice FM's regular LGBT+ Spectrum Show on Saturday afternoons. He is also one of the volunteer organisers of Southampton Pride, which only began in 2016, but has become a major annual event in the city.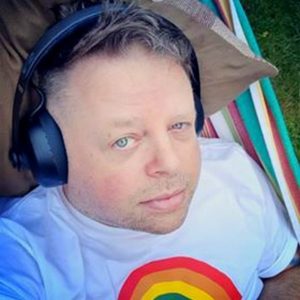 "All of us at Southampton Pride were gutted we had to cancel the physical Pride event due for this bank holiday. But we still wanted to do something to celebrate the day." says Daniel. "So to go alongside the digital Pride, I wanted to have a radio Pride event on Voice FM. I wanted to have live music, chat and create an opportunity to learn about the history of LGBT+ community."
There may be no parade, but Pride on Voice FM is going to be a jam packed day. Lots of live music, local bands and artists including Anna Foye from Chichester, Hunting Hearts the queer punk rock band,  Henry Newbury, and Adam Rens who are also appearing at Pride Digital. With great music throughout the day, Voice FM's regular  presenters Wayne Taw and disco legend Carol Jiani, and the Asylum show are putting on Pride-themed shows. Drag queens Dawn and Mileena Wyntr, The Glitch Queen will be talking about drag, pride and LGBT+ history. 
Pride on Voice FM will also focus on history, where we can all learn a lot. Phil Wilson will be talking about the political history of LGBT+ rights. Sea City Museum will be discussing its Southampton LGBT+ history project, and Dr Clifford Williams will be talking about his work documenting the queer history of Hampshire.  Tash Walker will be talking about The Log Book, her award winning podcast from the archives of LGBT Switchboard.  
Local LGBT charities will be coming in to talk about the great work they do, and adding to the fun and chat. Breakout Youth,  the local LGBT+ charity that supports people between 11 and 21 years old, in Hampshire and the Isle of Wight. Chrysalis,  the transgender support charity will be talking about the fantastic work it does, and Orlagh will be discussing a range of things focusing on the T in LGBT.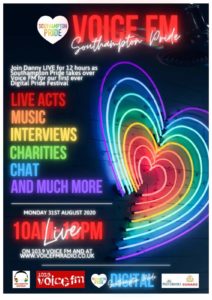 While Pride is a party and a celebration, this weekend has a serious message too. Even in 2020 there are still more than 70 countries where it is illegal to be gay, and in some it is punishable by death. One in five LGBT people in the UK have experienced a hate crime or incident because of their sexual orientation and/or gender identity in the last 12 months, and two in five trans people have experienced a hate crime or incident because of their gender identity. Four in five anti-LGBT hate crimes and incidents go unreported, with younger LGBT people particularly reluctant to go to the police. 
Daniel says, " For me personally, I've been with my partner for over 20 years and we have never walked anywhere in public holding hands, as we fear the consequences. We've come along way but there is still a long way to go." 
To go to Digital Pride:  https://www.facebook.com/events/689279331917328/ 
To hear the Pride on Voice FM takeover, tune in to VOICE 103.9FM or visit www.voicefmradio to listen live, or later on catch-up.