by Katie Isham.
Join our travel writer on her close to home expeditions.
As I mentioned when first embarking on the Suburban Safari venture, a holiday is just a break from the routine. Doing something different for enjoyment. It could be relaxation, or it might be exploration. In an ideal world, it would be a bit of both. 
Think back to your last "holiday" to another city. Could be abroad but it doesn't have to be. What did you do? I reckon you checked most of these points: 
A wander around the city centre. 

A detour through a beautifully landscaped city park. 

A bite to eat in an outdoor eating establishment. 

Sipping a cool beverage as you watch the city living around you as you sit and take stock. 

Passing a historical monument and wishing you knew the local language well enough to read the plaque. 
Well it's time to do all these things in Southampton city centre. You can even go one step better by being able to digest the information on the plaques without furiously rifling through a travel dictionary.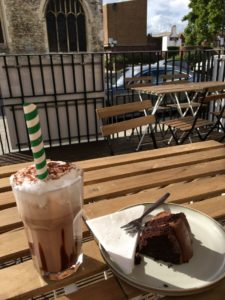 I spent a delightful afternoon with my tourist head on, trundling through the various parks that our city is blessed with. I strode swiftly through Houndwell Park due to it resembling Piccadilly Circus on Christmas Eve. If you have small humans, the play park and the ice cream van are a homing beacon. But I was after a slightly more sedate tourist experience. 
Continuing north, I passed an army of ancient trees in Palmerston Park, then made my journey more magical by passing underneath the pergola walkway in East Park. It transports you to childhood, discovering The Secret Garden. I made a note to pay my respects to the Titanic Engineers Memorial before making a turn into Watts Park for another moment of humility past the Cenotaph. There are new information boards up to label points of interest in the parks, which is great if you value a little education in your recreation, but you can be just as content with an aimless wander if you're treated to sights as rich as these. 
Once the wandering is done, it's time to find a spot to sit and watch the world go by as you quench your thirst and sate your appetite. Whilst the summer is just about holding on (hopefully I won't curse it), parking up al fresco is a treat.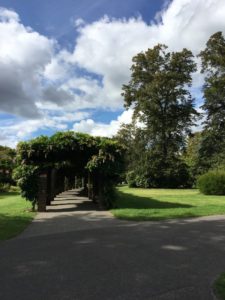 Southampton is not short of interesting street dining. There are establishments a stone's throw from all the parks: in the Guildhall area; a little distance further down by the walls; and around the Bedford Place area, the council has closed some roads to facilitate more outdoor dining with social distancing. I opted for my usual tipple of a milkshake with a decadent Ferrero Rocher cake, but you have to make your own choices.
If you strike now, you can capitalise on the last week of the government's 'Eat Out to Help Out' scheme. Bank Holiday Monday is included. What could be better than having a stroll through a park in bloom to a city bistro where you can sit outside and people watch as half price food and drink is brought to your table? 
You could be in a piazza in Rome or a side street along the Seine. But no, all of this can be found much closer to home. 
When in Southampton…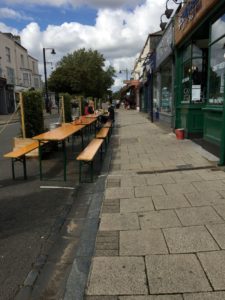 Cost: Free for the walk. Money needed for whatever your taste buds dictate but with 50% off food and drink this Bank Holiday Monday with the government scheme. 
Accessibility: Standard pavements and paved paths in the parks. 
Facilities: Cafés, restaurants and bars have various opening times and facilities. Check for details. 
To read more of Katie's Suburban Safari adventures, click here.