The days are getting shorter (and wetter by the current forecast) so it's time for a snappier safari. Sometimes you don't have whole day to wander and discover; sometimes you want to escape the daily grind and pop to a nearby location where you can immerse yourself in nature and treat yourself to an autumnal amble, but still be home in time for dinner.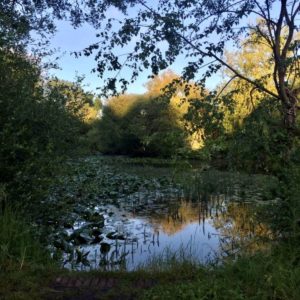 Well, I have just the place. Mansbridge Reservoir is a hidden gem of a snack-sized safari. A local offering of escapism where the tributaries of both the River Itchen and the A27 flow. A welly-wearing toe dipped into a woodland walk. A circular stomp around a lily-padded pond. 
I'll level with you. I didn't even know this existed until earlier this year. I've hung my head in shame for long enough, so now we need to move on. The first time I found it, I wondered what I had wandered into from the tucked away car park leading through a car barrier almost overgrown with trees and bushes. The entrance leads onto a small open space that barely hints at the body of water behind. Once again, the foliage hides its treasure. It's only when you get closer that you spy the reservoir itself. Part of this camouflage is due to the volume of lily pads and other grown detritus covering the surface of the lake. It adds to the whimsical feel of the place, like stepping into a forgotten land. 
The whole site isn't very big; you could complete a shoreline loop with a PB of under five minutes if you really got a sweat on. But that would be completely missing the point. The point is to take a gentle walk around the water's edge, ducking under branches and stepping over puddles (or sploshing through if you're that daring sort), greeting the folk sat fishing in all conditions, delighting at the array of flora and fauna on and around the water. 
But definitely don't toss the birds your scraps of bread like you used to. Who knew that feeding ducks bread was to turn out to be one of the major indiscretions of our youth? 
If you take the time to do all these good-for-the-soul activities, and especially if you have small people or easily distracted dogs with you, this will be an excellent use of a good hour or more. 
A word of caution: on my visits, I've unfortunately come across some pockets of rubbish wallowing in various watery graves. It seems that Mansbridge Reservoir is in need of some TLC. But aren't we all? That's part of the reason we're looking for a relaxing outing into nature. Maybe if we all made more effort to visit these places and to care about what happens to them, they wouldn't be subject to the neglect that seems to have befallen them. 
Since my discovery of this oasis, I've been back a few times. As the trees start their autumnal colour show and the low sunlight tends to backlight the life on the water from a different angle, I'll certainly be back to circle the reservoir again to add to my time rather than skimming minutes off. It's been forsaken long enough, and now's the time to really see the magic of Mansbridge Reservoir. 
Cost: Free for a stroll around the reservoir, and free parking if you come by car. 
Accessibility: Woodland walkways and paths around the site which can get narrow in places. After heavy rain, there can be soggy ground underfoot. 
Facilities: Free car park just off the A27 Mansbridge Road, and a lot of free fresh air.